Wigan Court Leet Rolls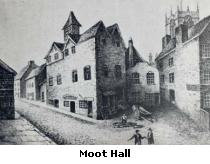 Calendar of Wigan Borough Court Leet Rolls.
Material supplied by Wigan Heritage Services.
Interesting insight into what life was like in Wigan in the 1600s. The court was in the old Moot Hall building, situated off Market Place in the centre of town. Punishments at the time included fines, time in the stocks, wearing the bridle, ducking stool...
Volume 1 consists of 528 pages, starting from 1626.
Roll 1
- Miscellaneous Years 1626-1724