Local Events
Local Events
List Your Event
List Your Event
What's on in Wigan
Ultimate 90s Party Night
Mixing live music, sharp vocals and DJ performance with great hits and high energy they put their own twist into dance and pop music from the '90s.

Includes: 3 course meal, live band, disco with DJ and bar service

£28.50 per person

Events starts at 7.30pm until 1am

To book: Call the DW Stadium sales team on 01942 770455 or email info@dwstadium.com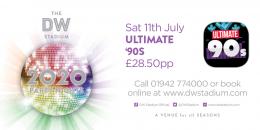 Saturday 11th July 2020
DW Stadium, Wigan, WN5 0UN
Wigan and Leigh Hospice Gardens' Open Day
Sunday 19th July, 11am - 4pm

Wigan and Leigh Hospice gardens will once again open as part of the National Gardens Scheme.

Our gardens have colourful flower beds at the front, and behind the hospice visitors will discover three ponds and a Chinese bridge donated by the Whitworth Art Gallery.

Our Dedicate A Daisy memorial garden offers a chance for reflection and as the gardens are adjacent to Amberswood Common they are a haven for wildlife.

The gardens at the hospice are a hidden sanctuary for our patients and their visitors right in the middle of Hindley.

North West In Bloom awarded our gardens Gold in 2018 and Level 5 (Outstanding) in 2019 in the Hospice category.

The entrance fee is £3.50 & refreshments will be available to buy.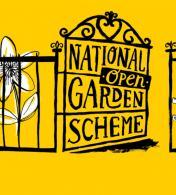 Sunday 19th July 2020
Wigan and Leigh Hospice, Kildare St, Hindley, Wigan. WN2 3HZ
Riff Raff - Epic Rock Covers
RIFF RAFF are a four piece rock covers band from the North-West of England. With over 20 years of gigging experience, they are one of the hardest working bands on the circuit.

Covering all the great bands from Black Sabbath to Led Zep to Deep Purple as well as some unsung heroes like Y&T and Budgie... you won't be disappointed.

Check out the juggernaut that is RIFF RAFF!

Saturday 8th August 2020 | 9:30pm | Free Entry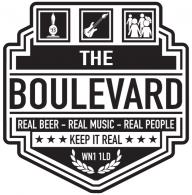 Saturday 8th August 2020
The Boulevard, 19 Wallgate, Wigan, WN1 1LD
Derian House Gardens' Open Day
Sunday 9th August, 11am - 5pm

Derian House Children's Hospice is opening its gardens to the public for a day, as part of the National Garden Scheme.

All are warmly invited to explore the gardens which help create an atmosphere of relaxation, tranquillity and joy. Distinct areas include the Smile Park, the Memorial, and Seaside Gardens, and the two newest creations - an "enchanted" fairy garden and "Jurassic" dinosaur garden - both designed by the children in a shady corner offering a magical place to play.

Admission: Adult £3.00, Child Free
Light refreshments available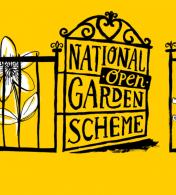 Sunday 9th August 2020
Derian House Children's Hospice Chancery Road Chorley PR7 1DH
Northern Soul All-Nighter at Wigan Roller Rink.
he Wigan Soul Empire all-nighter returns on Saturday 19th September 2020, one of the UK's most popular traditional Northern Soul all-nighters with attendee's from as far away as Russia, Singapore, Australia, Switzerland, Italy & the USA!

Tickets available £12 in advance or £15 on the door. (Please don't leave it last minute as the 1000 tickets get bought very fast!) Search Facebook for tickets search Empire Soul All-Nighter 2020.



Saturday 19th September 2020
Wigan Roller Rink, Unit 2, Eckersley Mill, Swan Meadow Rd, Wigan WN3 5BD
Through Hell into Paradise - Meat Loaf Tribute
A tribute to the rock legend Meat Loaf, with songs from 1977 to present day performed by the multi award winning Paul Lee.

Saturday 3rd October 2020 | 9:30pm | Free Entry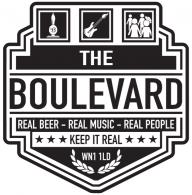 Saturday 3rd October 2020
The Boulevard, 19 Wallgate, Wigan, WN1 1LD
Stephen Bayliss Party Night
Back by popular demand! A magical artist with an unmistakable voice and charisma, he sets the gold standard in vocal performances. A totally memorable evening of world class entertainment.

Includes: 3 course meal, live entertainment, disco with DJ & bar service

£32.50 per person

Arrival time is 7.30pm and the evening ends at 1am

To book: Contact the DW Stadium sales team on 01942 770455 or email info@dwstadium.com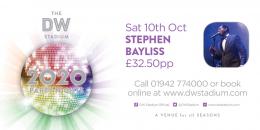 Saturday 10th October 2020
DW Stadium, Wigan, WN5 0UN
Navi King of Pop at The Edge
Sat 24th October, 7.30pm

King Of Pop is led by the world's greatest Michael Jackson tribute artist 'Navi', with his incredible live band and dancers.

Navi is the only tribute artist ever to be chosen by Michael Jackson himself. Don't miss this outstanding production featuring hits such as Smooth Criminal, Beat It, Billie Jean, Black or White, Man In The Mirror and the 'Jackson Five' classics in a show suitable for the whole family.

Adult: £20.90 (£19.00 ticket price + £1.90 fees)

Saturday 24th October 2020
The Edge, Riveredge, Wigan. WN3 5AB
The Spirit of Elvis
Friday 30th October, 7.30pm

Gordon Hendricks has received many accolades. The greatest being crowned 'Ultimate Elvis Tribute Artiste Champion 2017' on stage at Graceland for the second time, competing against global artists.

'The Spirit of Elvis in Concert' tour transports you through time from the '68 special through to the Vegas era, breathing soul into ballads and those iconic jumpsuit numbers that set the stage on fire.

Adult: £27.50 (£25.00 ticket price + £2.50 fees)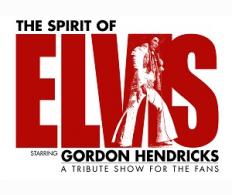 Friday 30th October 2020
The Edge, Riveredge, Wigan. WN3 5AB
80s Sensation Party Night
Prepare to party '80s style! With an incredible band that knows how to get the party started!
Take yourself back in time to the sounds of Rick Astley, Wham, Duran Duran, Spandau Ballet and so many more.

Includes: 3 course meal, live band, disco with DJ & bar service

£28.50 per person

Arrival time is from 7.30pm and event ends at 1am

To book: Contact the DW Stadium sales team on 01942 770455 or email info@dwstadium.com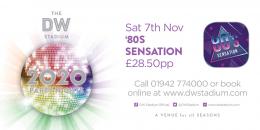 Saturday 7th November 2020
DW Stadium, Wigan, WN5 0UN
---