Local Events
Local Events
List Your Event
List Your Event
What's on in Wigan
Alan Turing's Manchester: 20th Century Industrial History and Social Injustice
The Fire Within hosts a FREE Online Talk: Alan Turing's Manchester: 20th Century Industrial History and Social Injustice by Jonathan Swinton

About this Event:

The Fire Within's latest exhibition: WE WILL ALWAYS BE TOGETHER XX incorporates the SUPER COMPUTER room centred on the life of Alan Turing. Al and Al's Prix de Jury award-winning film The Creator explores Alan Turing's life in the setting of a psychotherapy session. This introduction provides the foundation for #TheFireWithin's first digital talk on Alan Turing!

Join The Fire Within and Jonathan Swinton to answer the question: Manchester is proud of Alan Turing but does it deserve to be?

Alan Turing's story demonstrates 20th Century industrial history as well as the social injustices of the time. Jonathan Swinton will use his recent biography of Alan Turing's Manchester to explore the paradoxical way Manchester takes pride in its role in Turing's life and simultaneously condemns what happened to him when he was there.

Register for and access the event: https://www.eventbrite.co.uk/e/alan-turings-manchester20th-century-industrial-history-social-injustice-tickets-138439792145

See more The Fire Within events on our website: https://www.thefirewithin.org.uk/whatson.htm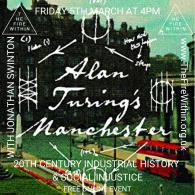 Friday 5th March 2021
Online Event via Zoom
Zoom talk 'Titanic – Saviours Scoundrels and Scapegoats (The Bolton Boys)' by Caroline Heaven
On the 15th April 1912, the Titanic sank just four days into her maiden voyage from Southampton to New York City. Of the 2240 passengers and crew on board, more than 1500 sadly lost their lives in the disaster.

After two enquires, one American and one British, much has been said, investigated and discussed regarding the tragedy. Time, however, is still revealing the secrets of events and of those involved.

The Titanic's plea for help was ignored by a ship that could have saved almost everyone on board from the freezing sea. Two other ships much further away steamed to her aid. One captain would be hailed a hero, and one would be unjustly blamed for the rest of his life for the tragic deaths on that fateful night.

Both captains were experienced, and both came from Bolton. Caroline is privileged to tell their stories and discuss evidence that may unmask the 'mystery ship' and her captain, a captain who stood by while the Titanic and 1500 people sank to an icy grave, leaving others to take the blame.

Caroline Heaven is a local historian and a member of The British Titanic Society. She recently appeared in an episode of Secrets of the Dead called 'Abandoning Titanic' in which she told the story of the Bolton Boys, the two captains who were closest to the Titanic when it sank.

This talk, on the anniversary of the disaster, will showcase Caroline's research in detail and will include rare photographs from the collection of renowned expert and author Senan Molony. One not to miss!
Thursday 15th April 2021
Zoom talk
Hello Again … Tribute to Neil Diamond
Friday 21st May, 7.30pm

The Fantastic Celebration of The Life & Work of NEIL DIAMOND. Starring
Brooklyn Creed & The Salvation Band. Using evocative imagery, video and narration to
enhance the magic, the show takes you on a musical journey through Neil Diamond's
glittering 50 year career.

Tickets: £26.00 + £2.60 booking fee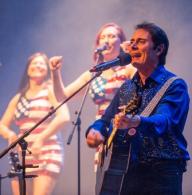 Friday 21st May 2021
The Edge, Riveredge, Wigan WN3 5AB