The Wigan Recipe Book, 1925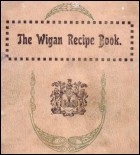 Material kindly submitted by Ron Hunt.
A souvenir "Favourite Recipe" Book collected and arranged by the teachers of St. Thomas's School for the Grand Bazaar "Ye Olde Englishe Fayre", held at the Drill Hall, Wigan in 1925.
96 pages filled with local adverts, recipes sent in by Wiganers, household hints, quotations...
Select a page below:
Cover The Wigan Recipe Book, November 1925.
Page 1 Souvenir Book to raise funds for Wigan C.E. Schools.
Page 2 Goodwin's (ad)
Page 3 Wigan Parish Church. The Nave (photo)
Page 4 F. Russell, confectioner & fruiterer (ad)
Page 5 St. Thomas's Church, Wigan (photo)
Page 6 Cafe Makinson (ad)
Page 7 Thanks!
Page 8 J. Peterkin Ltd., grocers (ad)
Page 9 INDEX
Page 10 Ben Turner Ltd., butchers (ad)
Soups :-
Page 11 Tomato soup, Kidney soup
Page 12 J. Davenport & Sons, tobacconists (ad)
Page 13 Celery soup, Potato soup, Onion soup
Page 14 John Clarke, fish, game and poultry (ad) - J. W. Broughton, confectioner and tobacconist (ad)
Fish :-
Page 15 Baked codfish, Fish souffle, Fish cakes, Potted shrimps
Page 16 Chas. Scott, boot repairer (ad)
Page 17 Creamed fish, Dressed crab, American sandwich
Page 18 Alf Peacock, the Pinafore King (ad)
Meats and Entrees :-
Page 19 Roman pie, German recipe for cold meat, Currry
Page 20 J.J. Broughton's, sports (ad) - Ogden's Pianos (ad)
Page 21 Tomato rarebit, Savoury eggs, Scotch eggs, Cheese souffle
Page 22 E. Dickenson & Co. Ltd., jewellers, clothiers.. (ad) - R. Leach (ad)
Page 23 Beef gateau, Beef roll, Beef galantine
Page 24 Wm. Lythgoe, pawnbroker (ad)
Page 25 Veal cake, Pork cutlets, To cook a rabbit
Page 26 Farnworth & Sons, jewellers (ad)
Page 27 Omelette, Lentil savoury, Mince steak and ham, Savoury pie
Page 28 Coleclough and Massey, millinery, furs, ladies' outfitting... (ad)
Page 29 Beef roll, Toad in the hole, Breakfast for eight
Page 30 John N. Henderson, auctioneer and valuer (ad)
Puddings and Creams :-
Page 31 Leicester pudding, Lemon pudding, Ashfield pudding
Page 32 Banquet self-raising flour (ad)
Page 33 Canary pudding, Fig pudding, Sultana pudding, Three-minutes pudding
Page 34 Atora Suet (ad) - Proe's bakes and confectioners (ad)
Page 35 Judy pudding, Quaker oat pudding, Queen pudding, Treacle pudding
Page 36 Hall's Bread (ad)
Page 37 Plum pudding, Snowdon pudding, Bread pudding
Page 38 Wigan and District Co-operative Society (ad)
Page 39 Queen Mary pudding, Raspberry sponge pudding, Lemon pudding
Page 40 H. & F. Lowe, painters, decorators, signwriters... (ad)
Page 41 St. Leonard's pudding, Bread and fruit pudding, Sponge pudding, Steamed pudding
Page 42 W. Ollerenshaw, hatter and outfitter (ad)
Page 43 Devonshire clotted cream, Trifle, Fruit blancmange, Banana mould
Page 44 Walter Wignall, wallpaper and paints (ad) - Hewitt's florist and fruiterers (ad)
Page 45 Pineapple cream, Lemon mould, Raspberry cream, Pineapple snow
Page 46 Borwick's baking powder (ad) - Preston & Warburton furnishers (ad)
Page 47 Bakewell tart, Sponge cake, Scones, Plum cake
Page 48 The Moot Hall Ladies' Hairdressing and Beauty Parlour (ad)
Cakes and Scones :-
Page 49 Dundee cake, Biblical cake
Page 50 Turog flour (ad)
Page 51 Parkin biscuits, Scotch scones, Raisin scones
Page 52 Houghton's household utensils (ad)
Page 53 Nut bread, Sponge cake, Scotch pancakes, Cocoanut cream cake
Page 54 Jess Baker insurance (ad) - Puzzle
Page 55 Cream for C. cakes, Scotch short bread, Drop scones, Orange cake
Page 56 Shortbread, Lemon buns, Milk tea cakes, Orange cake
Page 57 Girlde cakes, Butter cakes, Sponge cake, Currant bread
Page 58 Channel Island cake, Drop scones, Bible cake
Page 59 Scones, Scotch scones, Raisin scones
Page 60 Lunch cake, Orange cake, Madeira cake, Victoria sandwich
Page 61 French dessert cake, Puff paste, Ginger puffs, Cream rolls
Page 62 Madeira loaf, Rich light cake, Lunch cake, Queen cakes
Page 63 Raspberry sandwich, Shortbread, Quaker oat cakes
Page 64 Scotch cake, Cracklings, Lemon gingerbread
Page 65 Gingerbread, Russian sandwich, Lunch cake
Page 66 Sponge cake, Raspberry sandwich, Sultana cake
Page 67 Sandwich cake, Snow cake, Rice cake, Gingerbread
Page 68 Cherry soda cake, Cheap sponge cake, Simnel cake
Page 69 Christmas cake, Birthday cake, Jelly cake
Page 70 Tomato tart, Madeira cakes, Almond macaroons, Macaroons
Page 71 Sweet butter, Apricot creams, Cream baskets, Christmas cake
Page 72 Red breast cakes, Plain plum cake, Milk tea cakes
Page 73 Swiss roll, Lunch cake, Ginger breads
Page 74 Lunch cake, Short bread, An excellent genoese mixture
Jams, Sauces and Pickes :-
Page 75 Marmalade, Black currant jam, Crab apple jelly
Page 76 Vegetable marrow jam, Mince meat, Blackberry and apple cheese
Page 77 Marmalade, Blackberry jelly, Apricot jam, Black currant jam, Vegetable marrow jam
Page 78 Apple jelly, Lemon cheese, Invalid jelly, Lemon honey
Page 79 Strawberry jam, Rhubarb marmalade, Mincemeat
Page 80 Blackberry jelly, Lemon cheese, Blackberry jelly, Apple jelly, The "Unexpected Guest" scones
Page 81 Pickles, Excellent chutney
Page 82 Rhubarb chutney, Gooseberry chutney, Indian chutney
Page 83 Green tomato chutney, Pickled red cabbage
Salads :-
Page 84 Salad dressing, Mushroom salad, Lobster salad, Chutney
Invalid Cookery, Beverages :-
Page 85 Egg jelly, Milk jelly
Sweetmeat :-
Page 86 Treacle toffee, Butterscotch, Treacle toffee, Toffee, Cocoanut ice
Page 87 Ginger beer, Lemonade essence, Ginger wine, Baking powder
Page 88 Horlick's tablets (ad) - Puzzle answers
Page 89 Horlick's malted milk with white of egg, Horlick's malted milk custard, Gruel, Chicken fillets
Page 90 American fudge, Helensburgh toffee, Everton toffee, Caramel toffee
Page 91 Turkish delight, Peppermint creams, Real scotch shortbread
Page 92 Household hints
Page 93 Sundries
Page 94 Quotations
Page 95 Welco! (ad)
Page 96 Quotations