Interview with Lauren Waterworth
July 2004.
Every now and then an artist comes from nowhere to take the music world by storm - enter Lauren Waterworth, a 14-year girl with a voice beyond her years.
Signed by Pete Waterman the Hit Man from ITV's Pop Idol this is a story of talent versus conscience - a child who sang with the voice of an angel against a music guru who had vowed never again to work with a minor. Pete received a demo tape featuring Lauren's vocals - a track close to his heart, one that he had published a few years before. Upon hearing a demo tape he was stunned, when he finally met Lauren face to face he was shocked. An agonising decision rested on his shoulders - should he sign a minor or let her develop for a few years and risk missing out on the biggest opportunity of his life.
---
Kebabs: Shish, Doner or Wigan?
Doner
What are your favourite websites?
www.ebay.com
www.wiganwarriors.com
What is your favourite word? (mine is blancmange)
Stuff like that, Fantastic.
ding dand doodi av a bit of that!
What is your favourite joke?
Knock,knock!
who,s there?
,bigish,
bigishoo?
,not today thanks!
Do you have a nickname at school, if so, what is it and why?
Loz,Short for Lauren.
Are your mates jealous of you?
No,my mates are so genuine and supportive.
Some people at school are nasty and are jealous for no reason but I'm very careful of who i let myself get close to.
Did you enjoy Pop Idol on telly?
Yes,especially the funny ones.
If you were granted 3 wishes, what would they be?
1,Successful career,
2,Good health lots of luck.
3,Be happy with everything in life.
What question would you like to be asked in an interview and what would your answer be?
What and who would my ideal person be,and i would reply,tall macho rugby player with a soft side to his own personality.
What question would you hate to be asked in an interview and what would your answer be?
Do you have a boyfriend,i tell them it is private and it is none of your business ha.
Mobile phones and txting? n e gud?
Texting is fantastic! i use it all the time, because I'm never off my phone i love talking through text also its much cheaper than talking on the phone for me because i talk alot.
If you won £20 million on the lottery, what would you do?
I would buy my family a stately home, with a swimming pool and plenty of space to invite family and friends for all our family parties. With lots of horses and pets and also would build my own recording studio.
What does it feel like following in the footsteps of such huge names in the pop industry, like Rick Astley, Jason Donovan and Kylie Mynogue? (svjfk)
It is wonderful to be talked about as these famous people,however i am my own person and take each day as it comes.
If you ever do a gig in Madrid, will you come round our house and sign an autograph for my son, and maybe a couple of VIP tickets for t`concert? (svjfk)
Of course i would,and then invite you and your family to the after show party with a nice meal.
What do you think you will be doing in 10 years time? (svjfk)
Hopefully still being successful and still enjoying my career as i am today.
WhatdusthinkoWigandialect?
its brill owd lad,thi cant beet a gud wiginor.
Do you karaoke?
Yes i love it. Once i start there is no getting me off it.
Is being able to sing a gift, or could I learn to do it?
Some are born with a gift,i do believe that anyone can learn to sing if they are reaching for their goal.
Do you like Christmas? What will you be asking Father Christmas to bring this year?
I love Christmas when all our family are together to celebrate,the one thing what i will be asking Santa is for a new mobile phone.
What have you been doing today?
Today is basically a day of rest,after my workout in the gym first thing this morning.
I have been in town for a look at the shops because i love shopping and then later i will probably go visiting some of my very big family.
Do you have any pets?
Yes i have a Golden cocker Spaniel called Holly who is very curly and fluffy and also three Golfish called,Frank,Dallas and Jamelia.
Do you come from a musical family? (funkie)
My family all love music especially my younger brother Liam.
How do your parents feel about your career? (funkie)
Very Supportive and also very proud.
How long have you been singing? (funkie)
I was signed by Pete Waterman at the age of 11yrs,but i was singing and enjoying music much younger than that.
Have you had any weird experiences with fans?
Yes,when i was on the Westlife tour,someone made a nasty grab for me but luckily for me i had my tour manager at the right hand side of me who took care of the situation and gave the guy quite a good sorting out.
Pete Waterman - what is he really like?
this must be the question i get asked the most because Pete is really a different person as to how he seems on TV he is a very private person and very funny he makes me laugh a lot. he also takes very good care of me.
What is the first record (or CD) you bought?
The colour of my love by Celine dion i loved her from a very early age and still think she is amazing now, and maybe something from the spice girls or take that as i was a massive fan.
If you didn't sing, what career path would you take?
I think i would always do something in the entertainment industry i would probably act or present because everyone knows I'm a drama queen or i would also work with horses because i think they are very special creatures.
What is your favourite take-away?
Its got to be our local Chinese or the fast food restaurant such as K.F.C , McDonalds or the Burger king in Euston station in London lol
Will you be willing to do another interview with us when you are more famous?
I would love to do another interview with you! i have enjoyed doing this very much Thankyou take care lots of love Lauren x.x.x.x.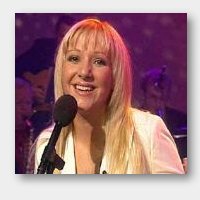 Lauren Waterworth.
---
Top