I remember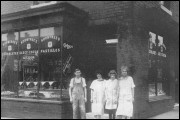 I remember...
the corner shops
Comment by: Anne Slevin (Clapham) (Newburgh, Wigan WN8 7NB, U.K.) pre 2009.
Corner shops in Greenough St area - Joe Jones, Nellie Skimmies (orcherd St), Florries (School St), Mrs Griffiths in Oxford St selling fruit and veg from her front room, Nolans in Regent St. Loose butter, nothing tastes as good - I always buy it whenever I can but it gets more and more difficult to find. Buying bacon by the quarter? I can hardly believe it but I'm sure I was sent for it! Different times but somehow they feel good.
Comment by: Maureen Rutter (nee Green) (Coppull Moor Chorley, England) pre 2009.
I can remember my great Auntie Annes (pronounced Anice) shop at 102 Petticoat Lane Higher Ince. You had to climb three large stone steps to get in and all the toffee jars used to be stacked up on the shop wall and the large square biscuit tins. As I got older I was allowed to "put up orders" in boxes to await pick up and weigh toffee and put them in the little paper bags which would be hung on a hook with a piece of string.
Comment by: Grace Mercer's (Tyldesley, England) pre 2009.
Grace Mercer owned a shop on Shuttle Street, Tyldesley - property now demolished and Grace long since dead. The then laws on Sunday trading restricted the items she could sell on that day. But being the enterprising lady she was she would sell you anything she had available in the shop, but the items she should not have been selling, she would wrap in newspaper so that no-one could see what you had bought. I always felt very daring when I came out of her shop with my purchases wrapped in newspaper. Fond memories of a bygone era, and a very sweet old lady.
Comment by: Sue (Wigan, UK) pre 2009.
I remember Berts at the top of Queen street on Billinge rd my mum would send me with a 10s note and i lost it one day. Some kind lady saw me drop it and picked it up, came into Berts and gave it me back ( sigh of relief ) and not forgetting Beaty's now the chinese at the top of queen street. A treasure trove for kids were you could have the 1d box or the 1/2d box and would ages wondering which sweets to buy. I remember my dad would send me for 5 woodbine
Comment by: B P (WIGAN, LACASHIRE) pre 2009.
'JACKS' SHOP IN THE HEART OF WORSLEY MESNES, TOP SHOP.............
Comment by: marion campbell(nee green) (lostock hall preston, england) pre 2009.
There was a off-licence at the top of gathurst road,can,t recall the name but my dad used to send me there every night for 10 woodbines.Iremember the police coming to our house to question my brother ken about a jar of chocolate limes which they believed he had stolen.I can,t recall who did steal them.Perhaps our ken can,im sure he will.
Comment by: helen armstrong (cummings) (newbiggin by the sea, u.k) pre 2009.
i remember mr prescotts on greenough street,he was the greediest meanest man with a till to match the one ronnie barker has in open all hours,and kellsalls further down on the other side of the street
Comment by: Anthony (Wigan, England) pre 2009.
Annie milligans on Brooke street in Poolstock
Comment by: marion campbell(nee green) (prestonnee(orrell), lancs eng) pre 2009.
Peacocks newsagent on moor road.iworked there in1961.Also cockerans cake shop on the corner of river street
Comment by: kathleen (wigan, lancashire) pre 2009.
mrs fairhurst i think caroline st higher ince and mrs postlewaithe in peel st ince
Comment by: B.P. (WIGAN, LANCASHIRE) pre 2009.
I remember "Horrocks" shop at the end of Holburn ave poolstock, beltin shop would even let you pay at the end of the week,no chance of that know.
Comment by: doreen c (wigan, england) pre 2009.
i remember going in a little toffee shop in caroline st; to get a penny drink, she used to make it, and 'cos i was allowed to sit on the bench and drink it, oh! i thought i was someone it was good
Comment by: julie (wigan, england) pre 2009.
i remember "cranks shop " opposite the corner from the prince of wales pub my grandmother lived next door to the pub and as a child i would run errands to cranks for her he had a large (well it seemed it ) freezer in the back room
Comment by: anita (wigan, england) pre 2009.
i remember my grandad getting my sister and I sweets form Emma Bailys corner shop......2x2oz he used to get...in a pointed bag...
Comment by: chrissie Hardman (bolton, uk) pre 2009.
My Great, great Auntie Maggie, (maggie Gaskell, ran a newsagent's shop at bottom of Enfield St, Highfield) used to take my sister and I to Kane's, where we'd be given a huge bag of "fents" to make dolls' clothes from. Happy days!
Comment by: Just turned fifty (Leyland, England) pre 2009.
My nanna had a corner shop on the corner of Scholes/Warrington Lane. She sold everything from sweets to hairnets. She sold butter from a large block and loose biscuits. She made iced lollies using vimto and orange juice. She also used to open packs of cigarettes and sell them singly. When I was about 7 years old, I used to sit on a stool behind the counter listening to all the gossip. I used to love filling the chewing gum machines outside and taking the loose skin off the onions to make them look better. It used to amaze me when my nanna used a bread knife to flick tins off the top shelf with one hand and catch them with the other.
Comment by: veronica (westhoughton, bolton) pre 2009.
The thing I remember is when the corner shop was shut you could knock on the house door and ask for something. Well this was Jinny Dyke's shop on Vauxhall Rd Scholes and she must have had the patience of a saint to allow this! She sold everything from biscuits in large tins under a glass cover to leather laces for clogs. There was another glass case on top of the counter with shirt buttons and cotton reels and needles and safety pins on cards. There was a small window behind the counter so anyone in the shop could be seen from the living area. Best of all was the shop window with all the toffees on display some in the usual big jars and some in boxes. Cherry lips, pear drops, acid drops,and the lovely twisted toffee - I can't remember the name of it!
Comment by: Oy (Wigan, England) pre 2009.
Fond memories of trying 3 times to buy an old rubber ball for my mate's Corgi from Johnny Moggy's in Ashton. Each time getting chased out of the shop by the famous Mr Moggy himself. I wonder if he ever actually sold owt?
Comment by: Jean J (Wigan, Lancs) pre 2009.
Taking pop bottles and milk bottles back for money for toffee's if lucky. So many things seemed to be wrapped in newspaper, especially mums toiletries. Jublies. Bonfire lollies with a foil tray stuck to the back of them.Big old till with a bell when the items cashed up. Ledger book with everyones debts in,(put it ont slate mum said). Tauplin cover on the outside of the window to help stop the chocolate bars from melting and you had to duck underneath it to see the goodies. I can go on.
Comment by: Freda (Wigan, England) pre 2009.
Where we went to catch up on all the gossip. The shop sold everything from groceries, cakes and bread, to clog irons, pots and pans. From cigarettes and matches to firewood and parrafin. Collar studs, safety pins and cooked meats. And of course the penny tray for the children to spend their pocket money on. In winter ther was always a tall parrafin heater burning, and even a chair to sit yourself down, and people queing up for a sit down. It quite often took my mother an hour to get a loaf from our corner shop.
---