I remember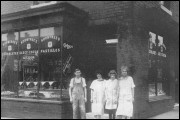 I remember...
the corner shops
Comment by: shirley haas (Central Florida, USA) on 2nd October 2010
I've never been to England; that's only a dream. But I wonder about the butcher shop that was there in 1881. My great grandmother heiped run it. Antone know the name?
Comment by: dave c wigan (WIGAN LANCASHIRE, UK) on 2nd August 2010
Iremember Mrs Orgylls shop on Hallgate just up from where the Royal Mail Sorting Office now stands. I think it was absorbed into a furniture shop. I went to the National Bluecoat School across the road,from 1956 to 1962. The shop sold sweets of all varieties but the biggest sellers always seemed to be the penny tray and the "seppie" cigs and matches she sold to the Grammar School lads who congregated there on thier way to school in the mornings and at lunchtime. She probably sold lots of other things, but sweets were the main interest at that age. Someone always seemed to be on watch at the top of the three or four steps up to the entrance, presumably looking out for School Teachers. I remember there were chairs, or was it a bench, always full of big lads sharing a fag. As I remember she was a a biggish lady, like everybodys favourite Auntie who turned a blind eye to the various wrongdoings of underage smokers. She even remembered my Dad who had also been to the same school many years before.
Comment by: christine jolley (Poulton Le Fydle, Lancs) on 30th July 2010
My Nanna had the corner shop on Warrington Road Lower Ince it was the Outdoor Licence and used to sell allsorts of stuff.My Nanna was Mrs Maggie Pennington I am sure someone will remember her or even me stood behind the shop selling stuff stood on a Benson's crisp Tin!!!I remember catching 2 buses to get home to Crooke Village and unbeknown to me there was Railway men who had just finished work all looking out for me whilst I walked threw wigan town centre and Mackinson's arcade I would have been 6-7-8-9-10 when I used to do this you could never let someone so young do that nowadays
Comment by: Edna Harris (Hurst) (Banchory, Scotland) on 22nd June 2010
My Mum and Dad had a shop 1950 to 1983...called simply Hurst's in Downall Green Road, Bryn.It was a grocer's and then we got an off licence. I was born there in 1952. It was true corner shop..never became self service.When we had renovations done we moved the shop into our living room behind the shop and we lived in the back kitchen for what seemd like months.Customers came in thro the back door.We also delivered bread and cakes and pies 6 days a week and orders twice a week.I hated the bread round...freezing in winter.
Comment by: Christine Ackland (nee Hunter) (Southampton Hampshire, UK) on 28th May 2010
Mrs Rodens was the other shop in Scot Lane. I lived opposite and remember taking empty pop bottles back for which i got 1 penny. With the money i would buy 2onz kalie which was eaten with my finger or if i had enough money a stick of liquorice,(can't remember washing my hands either) Yummy Ha! Ha!
Comment by: Christine Ackland (nee Hunter) (Southampton Hampshire, UK) on 28th May 2010
Yes Adrian your right Anne used to be my best friend and she went on to marry Albert Bill,s son. Anne nee Molyneux used to live opposite the shop in Scot lane and the last i heard they had moved to Standish. I would love to be in contact with them if anyone can help.
Comment by: Adrian (Southport, uk) on 18th May 2010
Jack and Eric Postlethwaite in Ince,great lads,you couldn`t get much more Wigan than those two. Also Joe Horrocks grocers and offy at Orrell,a great guy.Used to call me love like a lot of Wiganners did.
Comment by: Adrian (Southport, uk) on 18th May 2010
I remember Bill and Alice Naylors on Scot Ln. too.I used to deliver bacon and tomatoes there in the late 70`s early 80`s.Kitty used to give me a kitkat as I had only just left school when I first started delivering with my dad.A lady called Anne worked there too. They used to like watching the wrestling at Southport ,and we used to get the tickets for them.I think they went to live up Pepper Ln in Standish.Great people,great times. I also delivered to Bert Olivers,later became Grindleys . I knew most of the butchers and grocers in Wigan Ted Crews,Jimmy Briers,Harold Grimes,Fred Jackson,Turners,Tom Winnard,Crooks,Wanes to name just a few.Most of them sadly gone.
Comment by: kathleen waterhouse (buckley, clwyd. n wales) on 2nd May 2010
In answer to Christine Ackland nee Hunter.How well i remember naylors shop I was born and lived across the road.My brother John used to take orders out for Mr Naylor,until John had to do his national service.and i remember only to well the big slabs of butter,the best i have ever tasted my dad used to send me to the shop every day after school and pay at the end of the week. My friend Mildred Kay lived next door. I also remember Murphys shop you could buy paraffin and sweets at the same time!!!!!! From Kathleen Waterhouse nee Bradshaw
Comment by: kathleen meadwell nee molloy (ince wigan, england) on 1st May 2010
to brian kellie, the clothes shop at the top of anderton st ince, was called thomases as you said, but it wasnt barbaras shop, her name was barbara blanchard and she only worked there
Comment by: Christine Ackland (nee Hunter) (Southampton, U.K.) on 27th March 2010
Does anyone remember Bill Naylors shop in Scot Lane?. I can remember the big slabs of butter and lard with the huge knife sticking out, (wonder what health and safety would make of this today) Also the loose biscuits. Mrs Rodens shop was opposite my house and all I ever wanted to do as child was to work in a shop and weigh things on the scales. 2onz of kailie 1/4 of Uncle Joes. I also took geat delight in taking the pop bottles back and getting money on them. I also remember going to the chippie for an upside down mixture. I remember there was another sweet shop at the bottom of Scot Lane I think we called it Old Murphy's, can anyone elaborate? Love to hear from anyone who remembers me.
Comment by: Irene Roberts (wigan,lancs, England) on 26th March 2010
Hello, Brian! I remember the shop well from my childhood. It was Ashurst's then but older people still called it Cain's, (the previous owner). The grandson of old Mr. Cain is a friend of mine. He lives in London but often comes to Wigan and visits Valerie, one of the daughters of the Ashursts'. I rang him when I saw your query, and he rang Valerie, and she remembers your Mother well. When Valerie got married in the 1960s, the family went to the wedding but were able to keep the shop open in the capable hands of the staff,one being your Mother.She recalls that your Mum was a small person, that she lived at 6, The Grove, Higher Ince, and worked for Doran's before she worked for Ashurt's.
Comment by: brian kellie (blackrod bolton, u k) on 25th March 2010
does anybody remebers my mother edna kellie she worked in ashurst cake shop in belle green lane ince for many years until she moved to blackrod were she died in2005
Comment by: Carol (wigan, england) on 20th March 2010
Janet, do you remember the little sweet shop at the corner of Marsden st that the St Marks girls used to frequent? Miss Lathom caught us in there a few times when she came in for her cigaretts!
Comment by: Irene Roberts (wigan,lancs, England) on 3rd March 2010
What a shame you can't get Uncle Joe's.....my son found some in a store in America! It was either New York or San Francisco, and my husband and I have spotted them in many places in this country. There is an Uncle Joe's shop in Wigan now, and I'm sure you could get some posted to you.....a little taste of home!
Comment by: john mosley (orrell wigan, england) on 1st March 2010
does anyone remember my mother, annie mosley who had the outdoor licence onwarrington rd.spring view in the 70`s she was in the shop until it was pulled down.
Comment by: janetbunyan(nee glaister) (Oxon, UK) on 17th February 2010
I remember a sweet shop on the corner of a road which led towards Rathbones Bread factory. I used to go to St. Mark's School for girls from 1966 to 1969 when Miss Liptrot was the Headmistress. I used to go to the sweetshop with my friend Kathleen Johnson and we would buy a quarter of midget gems. They were our favourites. I still buy them from time to time. You can't get Uncle Joe's mintballs in Oxon. I used to love them too.
Comment by: brenda lee (wigan, england) on 16th February 2010
Does anyone remember my dads shop in wigan lane John Atherton Sweets and tobacco at the corner of freckleton street?
Comment by: paul chaplin (wigan, lancashire) on 30th December 2009
I remember rossingtons shop on the corner of first avenue hindley taking milk and pop bottles back to get toffee with great days.
Comment by: Irene Roberts (abram wigan, lancs) on 27th December 2009
to Brian Kelly.....have only just read through these memories of shops and noticed you mentioned a chippy in Ince Green Lane near to the old school. It was Maggie Scott's.
Comment by: Bill Ralphson (Preston, England) on 15th December 2009
I was born on Taylor St in 1950. At the bottom of the street was an off licence which was like a magnet to kids. The smell of beer and Bensons crisps with blue wrapped bags of salt was compulsive ! Then we would stand in a tunnel ( under a rail line ) I think accross from the shop and chomp away.
Comment by: Susan (Alicante. , Spain) on 1st December 2009
Hi Phil, yes Rachel's surname was Clark. Lovely character!
Comment by: Phil (wigan, England) on 27th November 2009
Hi Susan,my Auntie Ann says was Rachel"s last name next door to your shop Clark.As for our Ann"s photo at Bangor Station,she says it is not her underneath the letter N although another messager says it is.Our Anne says it was the year above her.
Comment by: irene roberts nee griffiths (abram wigan, uk) on 22nd November 2009
I remember the huge potato scales and the tiny toffee scales...the penny tray...the strings of paper bags; brown square ones for fruit and veg, and white three-cornered ones for toffees and strong brown paper carriers with string handles, and best of all...NO PLASTIC! "Twink" home-perms and Fairy Snow and dolly-blues, and cards on the wall holding combs and babies' dummies and little bottles of patent medicines which our Mams swore by, and big bottles of Lucozade wrapped in crinkly yellow paper, and a sign appearing in the window as the days grew chilly and the nights drew in...JOIN OUR CHRISTMAS CLUB.Remember?
Comment by: Susan (Alicante, Spain) on 29th October 2009
Hi Phil, I do remember all the names that you've mentioned. My dad also used to work with Harry. Do you remember Rachel that lived next door to our shop? She always wore a pinny and clogs.
Comment by: RG (Wigan, England) on 28th October 2009
Phil if you take a look at Photos of Wigan -at the top of this page - under the Album heading choose schools then Moss Lane. On the one at Bangor station I feel sure Ann Ellison is the girl under the "N" in Bangor.
Comment by: Phil (Wigan, England) on 25th October 2009
To Susan,Alicante.My father Brian Lawton,lived at 10 Moss Lane before he was married along with his step-sister and brother Graham and Ann Ellison.Enjoying sharing these memories with you.
Comment by: ian purdham (wigan, england) on 18th October 2009
does anybody remember jack,s shop in worsley mesnes
Comment by: jill jones (ex of wigan, Wales) on 7th October 2009
Does anyone remember a sweet shop in Pemberton on the same side as England's butchers (between there and what is Tracey's now or GTs or whatever its called? Jill
Comment by: david ashurst (wigan, great brittain) on 12th September 2009
alice kennards chipshop remember it well and nice to hear from bill waldron who used to live in rylands street along with his whippet called laddie i was only asked about you the other day by kathleen caufield an old friend who by the way still lives at number 42 we were just wandering how many of us olduns are still alivelovely to know you are bill hope you are keeping well Dave
Comment by: Susan (Alicante, Spain) on 4th September 2009
Hi Phil, Thanks for your comments. I'm glad that you made the acknowledgement. Yes, My dad's name is Cliff and he did work at the glass works. If your aunty lived at number 10, she must have been opposite our shop and not far from 'The Railway'.
Comment by: sharon catterall (wigan, uk) on 2nd September 2009
maud and joes corner shop on corner of giants hall road.I could ve spent ages perusing thier penny tray!
Comment by: Phil (wigan, England) on 28th August 2009
In reply to Susan,Alicante. I used to go to this corner shop on saturday morning to get our weekly shopping.I then had to carry it down Liverpool Rd,to our house opp. the sewing factory Quelrayn.My Auntie used to live at 10 Moss Lane.I think your dad,s name was Cliff Parkinson who later worked at the Glass Work,s.
Comment by: brian kellie (blackrod bolton, uk) on 25th August 2009
form rose bridge to ince bar has i remember it was alex wigins joners then a chip shop imperiai pub at the top off hall st it was sandersons sweet shop then jim leylands painters parrs fireplaces riurs bike shop and see had a petrol pump then next was a cake shop then the post office a paper shop next shop was a iorn morgers then the pawnshop next door was the maypole whalleys temp bar a cake shop miss simms childer dress shop chemist bank turners hardware melling buthers then the last shop on this side was a food shop goinging back from smithy green to rose bridge it was simms plumbers genthairdrees dorans cake sop doctors mortons dress shop charley oneils tv shop coop shop grundays a chip shop a ladieshairdreeser and food shop then barbaras thomass i know because i was born in hall st
Comment by: brian kellie (blackrod bolton, england) on 24th August 2009
BARBARA THOMASS SHOP WAS AT THE TOP OF ANDERTON STREET AND SHE WAS BADLY SIGHTED AND ALWAYS HAD A GUIDE DOG WITH HER
Comment by: Lennie (ashford, U.K.) on 18th August 2009
Hi Linda...Hope you had a great time in Wigan and you met up with your relatives and friends..I will be going myself in the coming weeks..Lennie
Comment by: linda Housley (metung, australia) on 16th August 2009
HI Lennie Sorry its took so long to answer but we have been visiting Wigan got back two days ago I am not sure of the girls at the bottom of Cecil St I remeber Clarks or was it bennets the had a grandma who lived in Derby St Mrs Clark
Comment by: Bill Waldron (State College, Pennsylvania, USA) on 10th August 2009
Wow, I did a Google search for Kennards chippy and fount this site. I lived in Rylands St and well remember Phil and Alice Kennard's at the Gidlow Lane end. I recall that Phil was killed in car accident and Alice remarried (Eddie? Fishman?). Anyway it's great to recall old memories
Comment by: irene roberts nee griffiths (wigan,lancs, England) on 7th August 2009
hi....re the fashion shop opposite Francas.....I remember one further up towards Rose Bridge. It was Barbara Thomas's.
Comment by: Angela (Ince in the 60s/70s, England) on 18th July 2009
I remember well Woodcocks for their jublies, and Franca who ran a chemist with a clothes shop next door,on Ince Bar.The smell walking past Ashursts cake shop was gorgeous and I remember Lily's toffee shop at the top of Belle Green Lane.But can anyone remember the name of the lady who had a fashion clothes shop in the 60s, opposite Franca's chemist. My Mum was always in there but I don't remember her ever buying anything. I think it was next door to O'Neills telly shop.
Comment by: Ian (Westhoughton, England) on 30th June 2009
I remeber the chippy opposite the Bird i'th'Hand. Many years ago I was a bobby in Hindley and it was a favourite early shift brew spot. We used to call her 'Old Ma Watkins'. She would start peeling all the spuds by hand at 6 in the morning, chip them by hand and then melt huge blocks of lard to fry them in. She would always have a cig and a brew ready in the back kitchen for Eddie the fishmonger. Great old lady who eventually ended up in hospital with leg problems.
Comment by: lennie ashton (ashford, UK) on 28th June 2009
Hi Linda...Just like to add I remember Dorothy Higham..I am sure she was a bit older than Eric and if my memory is correct she went to St, Marys junior school when me and Jimmy Allen was there,, I dont remember her sister though ??? Can you recollect the names off two sisters who lived in the second house from the railway wall at the bottom of Cecil St..I last saw them when I was about 15 yrs. Regards Lennie
Comment by: dave (bolton, england) on 15th June 2009
Does anyone remember the old chippy across from bird in'th hand pub on wigan road ,an old lady used to run it on her own in the 70's .i used to live in waverly road in them days in 70's.and always went there for a supper .
Comment by: linda Housley (metung, australia) on 4th June 2009
Hi Sandra yes he had red hair who knows it might be grey now ha ha not seen him for years but hoping to catch up with him when we come to Wigan at the end of June
Comment by: sandra davies nee turner (wigan, england) on 2nd June 2009
hya linda does eric have red hair and when he was young he was quite a big lad
Comment by: linda Housley (metung, australia) on 2nd June 2009
HI Sandra dont know if Eric worked at potters but he did live in lower ince he has two sisters Dorothy and Aileen
Comment by: sandra davies nee turner (wigan, england) on 31st May 2009
hya linda can i ask did the eric higham you talk about ever work at potters herbal supplies in layland mill lane and lived in lower ince if its the same person i worked with him it would be interesting to catch up thank you.
Comment by: margaret holden (ganderton) (newtown wigan, uk) on 19th May 2009
hi bob, i am jay gee's sister. he is off line at the present and he asked me to get in touch with you.we lived on victoria st, must have been practicaly back to back with your house.we remember the Unsworths,Ruth and Trever. Eric and Brenda Hall,Jim and Jackie Eccelston,George Fairhurst,Frank and Betty Crook,all houses long gone to make way for the monstrosity that is now the saddle junction.so sad,it was a thriving community.
Comment by: linda Housley (metung, australia) on 13th May 2009
Hi Lennie We came to OZ in 1984 I have been back a few times we are coming over in six weeks time so I will have a good look round then We are ready for a good holiday and some good fish and chips ha ha My brother lives in scholes near Eric Higham cant waite to catch up with him
Comment by: Lennie Ashton (Ashford, UK) on 12th May 2009
Hi Linda... Yes you are right the HILL has gone, I had a walk around the area last year with Jimmy it is a country park now, very posh eh! How often do you go back to Springview? when did you go to OZ? My sister Marian lived there for 7/8 yrs about 35yrs ago, but she got home sick and came back!!!! Lennie
---