I remember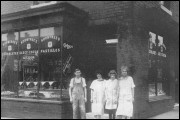 I remember...
the corner shops
Comment by: susie q (wigan, England) pre 2009.
Just remembered about Charlie Boltons on Poolstock Lane
Comment by: val (wigan , uk) pre 2009.
PJ my dad lived in Albert Street. I was only a nipper but I vaguely recall Jackie tomorrows shop.... all in mists of time tho now. My dad was Jack Higgins
Comment by: Suzanne Hendon, nee Winstanley, Schofield, Brockba (takapau, nz, now New Zealand) pre 2009.
No one ever lived in Abram and remembered Farrimonds newsagents, on the corner of warrington road and kingsdown road, or cromptons corner shop, with mary and stanley crompton, with the sacks of potatotes on the floor and the big scales for you to weigh them. my brother jim used to nick empty pop bottles from outside the labour club and take them back to the shop for penny returns.
Comment by: dave williams (exeter, england) pre 2009.
hello owd robiner.i do remember chris jones.we were good mates.i remember making a trolley in a garage in front of rathbones,it might have been your garage? .it was the best trolley ever built although the black paint never seemed to dry.his dad at that time drove a triumph toledo.sounds corny but those were the best days of my life.best not tell my dad you can beat him,he might try next time out.
Comment by: owd robiner (WIGAN, u. k) pre 2009.
hi dave.williams iknow your mum and dad very well, i knew your dad when he worked as a mechanic. for. the metro at frog lane had some good laugh's saw him last year for a game of bowls can still beat him,did you know chris jones from warrington rd i am his uncle.
Comment by: Bob Aspey (Wigan, UK) pre 2009.
Hi Dave...No, Ernest is no relation to me. I had one brother named John who sadly died 8 years ago. We used to live on Warrington Rd on the other side of the road to you but a bit lower down.We later moved into a chip shop at the corner of Little Billinge Rd and Ormskirk Rd, opposite Knowles's greengrocers shop.....best chips in Lancs...chips were 3d,4d and 6d a bag and fish were 7d each...I had chips coming out of my ears....chips for dinner, chips for tea and chips for supper....no wonder I look like Billy Bunter now !....Give my greetings to Gordon...Bob
Comment by: owd robiner (WIGAN, u.k) pre 2009.
hi joan i remember the shoe shop off scot lane it was more like a warehouse called gaskells, between tommmy mores and the houses on scot lane i bought my sons top dog boots from there, he thought he was the bee's knees
Comment by: Linda (Metung, Australia) pre 2009.
Hi Dave I remember your Dad and rusty was my dog I wasnt aware that Alice Jones lived in Aussie I did know that Pat Heaton Alice Jones neice ( I think she was her neice) lived here because a few years ago I saw her at a rugby match Dave
Comment by: LInda (Metung, Australia) pre 2009.
Hi Bob Seen the photos my brother Gordon comes to visit regular and he remembers you Gordon still the same never seems to get any older Have you got a brother Ernest I use to go to St Marks school with Ernest Aspey Dave
Comment by: dave williams (exeter, england) pre 2009.
hi dave housley.i lived at 39 arundel st.you may remember my dad,les.he knew your mum and dad well.we took over your allotment when you left for oz.me and my sister helped my dad with the plot and we looked after the graves of rusty and dusty.perhaps they were your dogs?do you remember gerard and alice jones?i believe alice was over there?i hope you and your family are well and that you're all happy.
Comment by: ste fairhurst (whelley wigan, england) pre 2009.
remember joseys chippy down bradshaw st. the chippy of all chippys.went peno youth club on a thursday night.about 9:45p:m we would all leg it down coppull brew for chips,gravy and pea wet before it shut at 10.
Comment by: Joan Beckett (wigan, UK) pre 2009.
Does anyone remember the little shoe shop on scot lane, I think it backed onto Thomas More School
Comment by: Bob Aspey (Newtown, Wigan, England) pre 2009.
Hi Dave (Ausie)...I remember Bob Housley's shoe shop in Warrington Rd Newtown from the 40s & 50s. In fact if you look on " Walking Days / Bethel Church " on this site you will see your Brother Gordon next to me on a group photo....Happy Days !
Comment by: Dave Housley (Metung, Australia) pre 2009.
Hi Dave Bob Housley was my dad and I use to work at Rathbones Benthams was great fish and chips I use to help dad in the allotment
Comment by: sharon (bryn, uk) pre 2009.
i lived in ince in the 60s and remember all the shops we lived in john street the bottom house next to the clary and when it rained heavily our house was the first one to flood,all our neighbours would help to take the furniture upstairs my mum and dad would roll up the carpets and take them upstairs then everyone would move on to help in the nmyext house whilst my sister karen and i would sit on the stairs catching cockies in our house!!!!!!!!!!!!! my mum and dad were brian and doreen lowe,my nan and grandad also lived in john street-albert and annie molyneux who lived at 16a with my mother mary barnes i would love to hear from anyone who remembers my family
Comment by: eddie (wigan, uk) pre 2009.
my nan was mrs hart from jacks shop in worsley mesnes
Comment by: owd robiner (wigan , uk) pre 2009.
hi dave its me again, we lived in victoria st i bet we raided your bommy we kept owers on the empire do you remember that, it was where the air raid shelters was in winstanly st.did you go to olivers for pies and take a little jug with you for gravy its making my mouth water now just thinking about it,we cant get a good pie these days and wot about mrs tailors toffee shop.
Comment by: dave williams (exeter, england) pre 2009.
hi owd robiner.i remember billy mellings.me mam got my school shoes from there.although they measured my feet my mum would always get me a pair i would grow into.got to mention the best,the crinkliest chips in town, benthams chippy.i remember having to go to the chippy for a peneth of chips in a big tin dish.this wasnt very often for we were skint.maybe thats why i remember. me and my mates used to sit outside eating our chips but only if we collected enough bottles.the place went to pot when it was sold to bailys.we also bought meat at ronny mcavoys.one of my great auties also ran the mechanics arms at the saddle.my first new bike was a puch pathfinder from to halls,a racer with a 3 speed sturmey archer.im goin on again,got to go.god i miss wigan,or is it my youth?
Comment by: owd robiner (wigan, uk) pre 2009.
hi dave i rememember bob housley's cloggers ,it was near skew bridge as you say now it's called the crusty cob now,selling bread pies and cakes , and the shop in arundell st as gone long since,do you remember billy mellings shoe shop i got my first clogs from there aged 5 my feet have never been the same since.
Comment by: dave williams (exeter, england) pre 2009.
gerard and alices shop in arundel street.me mam would take me in and i would stuggle to climb the high stool they had near the meat slicer.it wasnt well lit,and my mam would ask for the ham to be sliuced to reach marsh green.i lived across the road at number 39.they were great people.what about bob housley,shoe repair man opposite arundel st,i can still remember the smell of old boot leather and glue ,it was pretty gloomy in ther as well.he was a good friend.we took over his allotment when they moved to oz and taberners near skew bridge.sorry could talk forever
Comment by: owd robiner (wigan, uk) pre 2009.
does anybody from robin remember 6 hairs shop just under seven stars bridge, and kitty noggies, nr the queens head pub, nelly downsteps near the half wayhouse.gone now to make way for the saddle junction.
Comment by: irene (brampton.ontario, canada) pre 2009.
just read ron winnards memories. they broughtback so memories of my oun, i used to live behind smethursts shop in crow orchard terrace, which is no longer there. thanks ron
Comment by: margaret mullee [wilkinson] (newton-le-willows, merseyside) pre 2009.
i remember toppings at the corner of caunce street and platt lane gis daughter used to do hairdressing at their house Does anyone remember Winstanleys chippy in caunce street was best one in scholes
Comment by: BRENDA (WIGAN, england) pre 2009.
I WILL ALWAYS REMEMBER HIGHER INCE WITH FOND MEMORIES ROY AND BETTYS CHIPPY MY DAD USED TO CALL IT RAZOR BLADE ROYS AS HE SAID HE CUT HIS FISH WITH A RAZOR BLADE BUT STILL THE BEST THE WET MIXTURE WAS EVEN BETTER MRS HUGHES ---- I LIVED IN ALBERT STREET AND MRS HUGHES WAS THE BEST CORNER SHOP EVER WHAT ABOUT JACK HARRISONS PIES DO I OWE MY WEIGHT PROBLEM FROM ALL THE GOOD FOOD IN INCE I COULD GO ON AND ON GANNONS BUTCHERS TEMP AT THE BOTTOM OF ALBERT ST JACK BARROW I THINK WHO KEPT IT WE HAD SIXPENCE TO SPEND ON A SUNDAY NIGHT AFTER CHURCH AND WE USED TO TAKE MY MUM A FRYS CREAM BAR BACK AS A TREAT FROM MY DAD AS HE WATCHED US HOME AND WENT INTO THE PINGY GOOD OLD DAYS
Comment by: Joan Beckett (wigan, UK) pre 2009.
Oh no another one does anyone remember Roys outdoor on Poolstock Lane Worsley Mesnes near the Bold my mum used to have the chippie on the opposite corner to the outdoor I remember me and my then boyfriend letting stink bomb off and getting a good telling off both from Roy and also my Mum and Dad aaaaahhhhhh those were the days Joan Beckett Wigan Uk
Comment by: Joan Beckett (wigan, UK) pre 2009.
does anyone remember Haseldens on darlington st I got my 1st pair of nylons and girdle from there (oh no I not that old surely) they had a mat near front door that rang the bell when u stepped on it many a time I ran in and jumped on the mat then ran out again
Comment by: Joan Beckett (wigan, UK) pre 2009.
Come on does anyone remember Maggie Burks shop at the side of St. Pats girls school, also Polly do outs the cloggers on cambridge st. now she was a force to be reckoned with, Also going passed the Royal George lodging house on the way to the swimming baths on millgate we had to go down the aim a lane I hope I spelled that right I can still see the three diving stages in the old baths and I still can't swim to this day lololol Joan Beckett (Wilding) uk
Comment by: Joan Beckett (wigan, UK) pre 2009.
does anyone remember going with a jug for gravy to billy seddons pie shop on darlington st, gosh even the name makes me drool Joan Beckett wigan
Comment by: Barbara (Gloucester, England) pre 2009.
Yes, I remember Ada's Chip Shop, (I used to live at the Doctor's surgery opposite, and play with her daughter, Joan). When my relatives came on holiday from South Wales, the first meal they ever wanted was a sixpenny 'mixture' and fish from Ada's!!
Comment by: Joan Beckett (wigan, UK) pre 2009.
I remember ada's chippy also Billy Lunds toffee shop in Darlington St. East, I went to St, Pats school in Hardybutts
Comment by: MAUREEN (SYDNEY, AUSTRALIA) pre 2009.
ANYONE REMEMBER ADA'S CHIP SHOP? I LOVED HER WET MIXTURES.ALSO JOHN FORSHAW ALSO IN DARLINGTON STREET AND CHARLIE NEEDLES IN SILVER STREET.
Comment by: linda (metung, australia) pre 2009.
Marion do you remember the shoe shop in spring view think it was called rosses and dowds pies and cakes where yummy
Comment by: marion jarvis (wigan, lancashire) pre 2009.
i remember little joes and turtons shop in spring view also there was alf taylors and a row of shops just further down the road. dowds bakershop rothwells clothes shop farrimonds chippy also afruiy and veg shop and a barbers shop and a few more which i forgot names of them you could get anything in spring view in them days.
Comment by: Gillian Ward (wigan, england) pre 2009.
Does anyone remember Lily Smiths toffee shop on the corner of little billinge road
Comment by: Tom Farrington (wigan, england) pre 2009.
Does anyone remember Bert Olivers pie shop next door to Billy Mellings Newtown best pies in world by far.Me and my brothers and sisters used to get one each every Saturday and then eat them at our nannies Mr McCanns.
Comment by: supuplad (wigan, lancs) pre 2009.
Don't know how to spell this, just remember any shop that sold 'kaylie'?!
Comment by: Evelyn Porter then Parkinson (Wigan, England) pre 2009.
I remember Georgie Morgans grocers in Spring View and the smell of the ham prepared in the back, I helped out for a while after school and at week ends.
Comment by: linda carter (liverpool rd platt bridge, wigan) pre 2009.
i remember kellys shop on liverpool rd they had a penny tray and a pk fruit bubble gum machine outside you would get a free one every 4th turn i lived a few doors away and used to count the number of turns ready for the free one. also the chip shop at the top of moss lane ran by two sisters my mum used to send me on a friday she would say dont let them give you the tail end and ask for some scratchings .
Comment by: Jim Latham (WIGAN, UK) pre 2009.
It was good to read Ron Winnard's memories of Ben Turner's Butchers shop in Ince. My dad, Walter Latham worked in the Worsley Mesnes shop. We lived behind the shop for years. Ben Turner sold all his shops and so my dad carried on until the shop was part of a CPO in 1973/74
Comment by: linnies pie shop (wigan, england) pre 2009.
remember buying pies from here when we cut them open they had matches inside no health and safety in them days
Comment by: dianne (wigan, england) pre 2009.
does anybody remember kays in darlington street we used to buy K>Dsthem white pants with big wide bottoms also used to sell my dads cig coupons to get a bit of money he didnt now diannekittsnee forshaw
Comment by: Christine Moseley nee Woosey (Wigan, England) pre 2009.
Hi Linda I remember Little Joe's and Turtons toffee shop, we used to go in together. Oh happy days
Comment by: Jaime Boylan (Jersey, ChannelIslands) pre 2009.
Boylan's fish mongers was my grandads and then my dad ran it with my mum when they moved back to ince! Nice to know people still rmemeber it even though my dads been away for 20 years!!
Comment by: Joe (Sandbach, UK) pre 2009.
I remember Jack Watson's cycle shop, corner of Princess St & Chapel Lane. My gran lived in Caroline St (111) top end and I lived with her till I was 7, got my first bike from Jacks's shop. I also got into radio in my early teens and remember the junk shop at the corner of Caroline and Chapel lane, used to buy up all the old radio sets.
Comment by: sheila (hindley, england) pre 2009.
was lilys shop next to the hairdressers at the end of chatham st suzie
Comment by: suzie (wigan, england) pre 2009.
i cant believe no-one has written about lilys shop at the top of belle green lane it was a big part of my childhood as anyone any memories or photos
Comment by: Jean (then Smith) (machynlleth, Wales uk) pre 2009.
Voses tripe shop in standishgate opposite Mark williams butchers .Did you ever have their meat and potato pies ??I can taste them now 60 years later.! I had to go every saturday morning to queue up for them. Battersbys(?) sweet shop on mesnes rd and bithells corner shop in stirling st off mesnes rd. oh and the chippy in alfred st where you took your own bowl for the chips and peas..Didn t everything taste so much nicer then(1950`s)
Comment by: viv britton nee ashurst (morecambe, england) pre 2009.
hi sheila do remember the trifle dishes brought to cake shop ny nother and dad used to work through the night coming to christmas to make sure all cakes and mince tarts were ready for customers to enjoy on xmas day as you say they were happy days
Comment by: sheila (hindley, england) pre 2009.
re viv i remember billy boardmans and cappers i still have a jesus book ibought from there when i was little do you remember folks bringing glass dishes with there name on to have a tryfel made for christmas to the cake shop it was realy special those where the days we where poor but happy
Comment by: carl lowe (margate, kent uk) pre 2009.
prescotts in greeough st he would sell seppies'if i remember right 10no6 cost 27.1/2p
---