I remember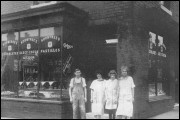 I remember...
the corner shops
Comment by: MIKE (STANDISH, ENGLAND) on 1st January 2009
JIMMY & JOHN,MRS STARKEY KEPT THE SHOP PRIOR TO BROWNS. SOME OTHER NAMES I REMEMBER... JARVIS CYCLES, CONNIE SUTHERLANDS, THE HUB, RAMSDENS,MISS FARRIMONDS DRAPERS. THIS PERIOD IN TIME WAS 1946 TO 1957. WE LIVED AT 669 ORMSKIRK RD.
Comment by: John Jarvis (Pemberton, uk) on 1st January 2009
Jimmy, and Mike: can't remember Mrs Starkies, but you must remember Lillian and Bill Browns's shop on the corner near the bus stop...
Comment by: MIKE SUMNER (STANDISH, ENGLAND) on 1st January 2009
I remember a shop in hardybutts .The lad that lived there was JOE GREEN. Is he still about?
Comment by: MIKE (STANDISH, ENGLAND) on 30th December 2008
JOHN, MRS. STARKIES SHOP WAS OPPOSITE THE WHITE LION.
Comment by: Jimmy (Wigan, Lancashire) on 30th December 2008
John; I don't remember a chippy there, probably because we used to go to Loch St or Bell Lane which were closer to home. But I do remember an outdoor on the corner of Ormskirk Rd and Enfield St. also there was a shop facing the White Lion where the bank now is.
Comment by: John Jarvis (Pemberton, uk) on 30th December 2008
Jimmy: I don't mean Taylor's chippy which was across the road on Rose Hill opposite the petrol station. This one was next door to Satin and Lace...think it was called Joe's...must have closed about 1964. Also, do you remember during Wigan Weeks when the paper man sat under the clock (top of Smethurst Lane) selling the Dailys...? I remember buying the broadsheet Sun....it was a good paper in those days... Starkies rings a bell; but where was it?
Comment by: mike (standish, england) on 28th December 2008
does anyone remember mrs. starkies shop on ORMSKIRK RD. PEM.also a shop known as CUT PRICE.
Comment by: Jimmy (Wigan, Lancashire) on 27th December 2008
Yes John I remember those shops. If you mean the chippy facing satin and lace I remember it being bought by a family who used to live near me on Norley, by the name of Taylor. they had a daughter named Anne.
Comment by: John Jarvis (Pemberton, uk) on 26th December 2008
Thanks Jimmy. Vaguely remember Lowes now. Do you remember the pet shop near the bottle neck? Also, Newbles (now Clayton's); and Keith Ramsdens paper shop further down (the ink refill shop). Even further back: Joe's chippy: where the betting shop is now... near Satin and Lace...?
Comment by: Jimmy (Wigan, Lancashire) on 24th December 2008
John, the shop at the top end of the three shops was Lowes, I remember him as a small grey haired old fellow
Comment by: John Jarvis (Pemberton, uk) on 24th December 2008
Carol: think Tabiners was further down, next to Winstanleys...The shops near Englands were Eric and Joyces (Briscoes) and another toffee shop, can't think of the name...I think there was one at the end as well. We knew it as "The Three Shops"...
Comment by: owd dave (wigan, england) on 21st December 2008
Hi Geoff I remember you well and your sister Ella i lived in Rylands st and we often used your parents shop good times eh
Comment by: Geoff Hardman (Bolton, United Kingdom) on 3rd December 2008
ALICE KENNARDS CHIP SHOP !....I remember it so well,she used to let me and my mates Bill & Chesh in the back sitting room at night (she normally only opened it at lunch-time), and we used to get a "wet six", and stay out of the cold....Incidentally, we had a grocers shop on the corner of Springfield Road and Throstlenest Avenue. My father, Leslie Hardman, was a 'Master Grocer'....i.e. he was also a provision merchant,so used to bone and roll his own Bacon etc., boil his own hams, all our butter, lard,cheeses etc. were cut and weighed by hand. My contribution was initially stocking shelves as a 7/8/9/ year old, and graduated to the 'shop bike' at the grand old age of 10 !...I used to deliver up to Beech Hill and surrounding areas, all around Rylands St., Gidlow Lane, Walkden Ave., and even to the Black Horse at the top of Market St., in the town centre.(Licensee was Mrs.Wade,she had a vicious terrier that used to bite me every time I delivered there. (Well, that was until my Granny put pepper in my trouser turnups....)Ours really was a family concern, every member of the family had to do their bit,but I remember it as a happy time !......Geoff (Elmer) Hardman
Comment by: carol (wigan, england) on 2nd December 2008
I remember Jack Carringtons,Piggots shoe shop, Pollits fruit shop.......There was a pie shop I think next door to Englands butchers, I can't remember the name although I seem to think it was Tabiners.....possibly not.
Comment by: Serena (Reading, England) on 30th November 2008
Anyone remember Lily Jones's chippy in Higher Ince on the Manchester Road up by Bridgewater Street? Must be late 1920s/early 30s. Her son (my grandad) remembered having to peel buckets of potatoes when he came home from school. The fish used to arrive in a crate on the tram every morning. Lily eventually put herself out of business by taking pity on hungry people and putting too much "on the slate"!
Comment by: carol (hindley, england) on 21st November 2008
i remember the toffee shop, come grocers in Hindley opposite the old Rex cinema, now The Monaco Ballroom, the owners names were Mr.Mrs Rossington, back in the 1950-70,s i lived close by, and spent any pocket money i had on toffees in their shop, and they were lovely friendly people - anyone else Remember the Shop ????
Comment by: John Brogan (Horwich, UK) on 26th October 2008
I remember Powels shop on the corner of Princess Street and Chapel Street. I remember Linneys butchers shop and pie shop on Chapel Lane gravy in a jug. I remember Teddy Howards barbers on Chapel Lane. Esther Meadows toffee shop on Queen Street and Ginny Greens grocers shop also on Queen Street
Comment by: John Jarvis (Pemberto, Wigan, UK) on 25th October 2008
I remember Lillian and Billy Brown's shop that stood opposite the White Lion pub in Pem. We'd call in there before we went to school to buy Trebor Oranges and Lemons. Also, does anybody remember Keith Ramsden's paper shop that was where the Ink Refill shop is now. Others are: Taylor's chippy further down....the best chippy in Wigan, no danger! And Jack Carrington's, further up, where I bought all my Airfix models at 2/6d a go... Pemberton: God's country.....
Comment by: Judith Appleby (Bury, England) on 20th October 2008
I was born in Wigan in 1942. I remember the newsagents on Park Rd. where my grandparents, the Roscoe's,lived. Also my Auntie Agnes's shop nearby which sold sweets & homemade cakes. I remember a newsagents called Penny's and a hardware shop run by Mrs. Powell which sold paraffin in Dalington St. My Uncle Ted Roscoe had a bakery in Mesnes Rd.
Comment by: a.whalley (wigan, england) on 19th October 2008
i remember going to annie greens fish and chip shop for mi gran and paying 1shilling and twopence for 2 fish.she only did fish chips and peas and her fish was out of this world her batter was so thin and crispy
Comment by: owd dave (wigan, england) on 10th October 2008
does anyone remember alice kennards chipshop at the corner of rylands street and gidlow lane had some great times in the forties and fifties at the back of the shop where she sold sweets and icecream
Comment by: carol (wgan, england) on 10th October 2008
I remember Shuttleworths and toppings.Bill Shuttleworth, I had a paper round.....I did 2 days, no stammina.His daughter has a shop on Pemberton now.
Comment by: Pat Copple(Bradshaw) (st helens, England) on 3rd October 2008
I remember Cordinglies on city road. I lived at 123 in between the methodist church and Parkinsons shop(later became a betting shop). Does anyone remember Suttleworths and Toppings shops?.
Comment by: carol birchall(nee adamson) (wgan, england) on 2nd October 2008
does anyone remember cordinglies at the bottom of city road and regies at the top??we used to have a book and paid at the end of the week....try that in asda.
Comment by: Carl dunne (Istanbul, Turkey) on 16th September 2008
Yeah I remember Lillies shop - my grandparents used to live on Francis Street near the old railway brıdge I was brought up on Bryam street and Lillşes was the place to buy sweets - she always terrified me but she was a brilliant woman ü anyone else form Bell Green Lane remember her
Comment by: John Jarvis (Pemberton, UK) on 15th September 2008
I remember the little shop in Chapel Street, facing Jem Lowes that was called Th'old Woman's. It was owned by a very elderly lady, probably in her eighties then (1961). When you entered the shop, a bell would sound; you'd wait a good minute or so, and then she'd appear with her walking stick and mutter: "Na then?" God forbid what would happen today in a situation like that; probably be raided every day. It's funny isn't it, I don't think any kid would even think of shop lifting in that shop in those days...too much respect; sadly, a word that seems to have died out today. I remember she sold "Gold Dish" baked beans... Also other shops: Eric and Joyces; the little sweet shop next door to the Queens; and Jean Morris's "new shop" on Worsley Green. Happy innocent days in Pemberton.
Comment by: Brian Johnson (Northampton, England) on 13th September 2008
my aunt lived in york street so i'v many happy times in the area that you mentioned, Miry lane. and i also remember Toppings the sweet shop and the Platelayers pub also the crown pub a bit further down i wonder if you know what became of the Bradley family who lived in the same area, i used to write to May and would love to contact her again isabel white
Comment by: Julie (Wigan, England) on 30th August 2008
I remember Warings on Wigan Lower Road, between Standish Lower Ground and Martland Mill, also Jackie Houghton's butcher's just around the corner
Comment by: Kath (Wigan, England) on 18th August 2008
I remember going to Annie Milligans shop in Poolstock,me & my mam used to take the big pram to get our order,she was a tiny woman but i would'nt like to give her a bad reckoning!on our way back we'd call at one of the chippies on Poole street,happy days.
Comment by: she44 (hindley, england) on 11th August 2008
hi gary and kev if you look on second page you will find that billy boardmans shop was remember she
Comment by: Gary Featherstone (ince, england) on 5th August 2008
I remember Mrs Boardmans shop at bottm belle green lane I went often enough for mi mam and dad alice and bill. Happy days
Comment by: kev corbett (wigan, england) on 2nd August 2008
just read through the memories and i cant believe nobody has given old mrs boardman a mention, she had the toffee shop at the bottom of belle green lane.
Comment by: Susan (Alicante, Spain) on 28th July 2008
Does anyone remember the corner shop in Moss Lane, Platt Bridge, opposite St. Nathaniels Junior School. My dad's aunty (Mrs. J. Lowe)who owned it for approx. 30 years. In 1968 my mum and dad bought it. My mum's name was Brenda. Do you remember Rocky our Staffordshire Bull Terrier and Sandy the cat?
Comment by: Ruth G. (Wigan, England) on 18th July 2008
Spring View - yes, Marion, Linda and Evelyn I remember all the shops you mention almost everything that was needed was there. After some thought these are some other shops you may remember. Nevins/Post Office, M Naylors grocers, opposite Alf Taylors. Barton's butchers at the end of the row of shops. Ratcliffe's green grocers. Ross's shoe shop(two daughters Joan and Barbara) Jevons barbers. S Bickerstaff cycle repairs. Woolstencrofts bakers and confectioners. There was a Chemist too. Hard to believe that the community had all these shops. Sad they have all gone.
Comment by: p moore nee sweeney (wigan, england) on 8th July 2008
hi SUSANNE HENDON i lived in abram and remember farrimonds shop very well my brother and i would stand outside the window dreaming about what we would buy if we had any money while we waited for my dad to come out of the labour club slightly intoxicated and he would take us inside and buy us as sweets from the rows of glass jars on the shelf. Mary and Stanley Crompton were close relatives of ours (we were the poor relations) i remember my mother taking a big basket and auntie mary weighing the potatoes on the big scales and just sliding them into the basket, i had to use two hands to pick up that five pound weight
Comment by: thomas farrington (wigan, england) on 1st July 2008
The name of the little shoe shop on scot lane was gaskells
Comment by: Maria (wigan , Lancashire ) on 17th June 2008
Hi yes, charlie needles shop and pomfrets in hardybutts i remember Doris (shop ) and john Thaw , my clailm to fame is serving john with a pint in St Patricks Catholic club
Comment by: marie (wigan, uk) on 1st June 2008
Doris's grocers shop was on the corner of big Dean St and cambridge St In Scholes. Does anyone remember this. People would just go in for a chat (always the women). I remember when she used to clean out the fridges and throw the ice outside, we would pick it up and suck it! ughhhh she used to sell jubblies which tasted of bacon!! Her nephew was the famous actor John Thaw and she was so proud of that fact.Anybody else remeber? Also, does anyone remember the "pillin" man (much before my time but my sister remebers him well. He used to collect vegetable peelings for his pigs!!Charlie Needles shop has fond memories too, they had a son called Eugene and I thought they were saying You Jean (thought it was a girl)
Comment by: k r n 57 (blackpool, uk) on 18th May 2008
Does anyone remember Mr&Mrs Ashurst grocery shop on Catherine street 1930s onwards
Comment by: owd robiner (wigan , u.k.) pre 2009.
and fosters had it before them
Comment by: owd robiner (wigan , u.k) pre 2009.
HAROLD & MARGARET FAIRHURST HAD THE SHOP NEXT DOOR TO THE INNESSFREE CLUB THAT WAS ST EDWARDS
Comment by: jay gee (leyland, england) pre 2009.
Don't remember the car part shop, you must be an owd, owd robiner.Who kept the shop next to St Edwards church in them days ?
Comment by: owd robiner (wigan, u.k) pre 2009.
yes it was called hughes, mrs hughes had it .she fell down the steep stairs and broke her neck ,she was a lovely old lady. the shop then became ledsons car parts.
Comment by: jay gee (leyland, england) pre 2009.
Hi, owd robiner, just thought of another shop, can you remember the pie shop on the end of the Mechanic's pub ,it became part of the pub in the late 40's when they modernised it. Can you remember who had it?
Comment by: owd robiner (WIGAN, u,k,) pre 2009.
hi jay gee george's brother was teddy ashcroft,and yes i do remember owd martha's ale and pickle band i can see them now with their pants rolled up to their shins and getting a tune out of anything but the kitchen sink .someone pinched mrs hughes bin lid for a drum so she banned them from her pie shop .i think they were playing let,s all go to marys house.
Comment by: agnes ashurst (wigan, england) pre 2009.
mulveys in belle green lane on corner next to mathers cloggers could not wait to get toffee when we had coupons
Comment by: jay gee (leyland , england) pre 2009.
Hello owd robiner, yes i remember George Ashcroft.What was his brothers name? I bet you recall the ale and pickle band marching round newtown with their do da's and tin crisp boxes for drums.I think they came from owd Martha's
Comment by: Joan Beckett (Wilding) (wigan, UK) pre 2009.
Does anyone remember the chippy near the bold pub on poolstock lane, it was next door to the post office on other corner was roys outdoor
Comment by: qwd robiner (WIGAN, uk) pre 2009.
hi, jay gee i am owder than thee and i remember silmans shop as georgie reeds near the owd labour club yes i had warm vimto in vans cafe i like something stronger thee's days do you remember george ashcroft he had a motorbike took me for a ride from vans cafe
Comment by: jay gee (leyland , England) pre 2009.
Hi owd robiner,I remember Kitty noggies and Mr's Tailors, we used to get our toffee ration there. What about Silmans shop opposite Kitty Noggies. I bet you remember having oxo and hot vimto in Vans cafe ?
---