I remember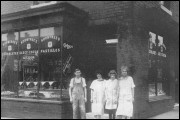 I remember...
the corner shops
Comment by: viv britton nee ashurst (morecambe, uk) pre 2009.
lived in the pie shop at bottom of belle green lane near sallys chippy across the road was billy boardmans toffee shop does anyone remember cappers drapers shop just a bit further up from the pie shop.the people of ince used to call my dad pie pea.
Comment by: Linda Housley Nee Higham (Metung, Australia) pre 2009.
Hi Does anyone remember Little Joes and Turtons Toffee shop in Spring View
Comment by: Ron Winnard (johannesburg, south africa) pre 2009.
spent the last hour going down the memory lane of your website.it is true that God gave us memory so to have roses in Winter.Been away from Lower Ince for over 50 years yet still feel that in any moment I can be whisked away to Maxwells Off Licence on Warrington Road..I married Veronica Maxwell and we had 47 happy years of married life together..sadly she died in 2003. Ben Turners Butchery was at the the bottom of Manley Street and my brother Tommy ran it for a while but it was actually Bob Packs shop (Bob Packinham) Mason newsagent was near the bus stop and Rudges Fish and chip shop was opposite Peters Fish and Chip shop. Near the Black Diamond Pub was Smethursy's sweet shop and Bernie Mason taught the Piano on the opposite side of Warrington Rd. Dr Lathwaite was the Doctor in my day there and also Muriel Stevens. The lovely memory of those simple far off days are very sweet indeed.
Comment by: rita (wigan, england) pre 2009.
hi joyce,do you remember nellie lee,evas mother,lovely lady,and also jean barlow from the cloggers,rita
Comment by: Joyce (Wigan, England) pre 2009.
Don't. lets forget Sheila Austins shop, she sold knitting wool and odds and ends of clothing. Got my first pair of nylon stocking from there (American Tan, uggh) Mrs. Behan on the opposite side of Manchester Road sold parraffin and hardware and the wallpaper shop near Molly Hammonds was Bithells. Billy Bithell used to have a builders yard just at the bottom of Brock Street, near Masons Warehouse. Eva Lees was another pie shop on Manchester Road. There was also a newspaper shop in between the two butchers shops, facing the Shovel and Broom. Lovely memories.
Comment by: lynn (hindley, england) pre 2009.
WARD ST UP LADIES LANE HINDLEY BRENDA HINDLEY AND ADA CASSADY SHOPS I REMEMBER GOING FOR MY MAM WITH A BOOK THEY WOULD BOOK THE GROCERIES DOWN IN THE BOOK AND WHEN MY MAM THOUGHT SHE COULD AFFORD TO PAY THE BILL SHE WOULD TELL ME TO ASK THE SHOP KEEPER TO TURN OVER THE PAGE IF SHE GOT TO THURSDAY WITHOUT TURNING OVER SHE HAD DONE WELL ANY ONE ELES REMEMBER DOING THIS
Comment by: Linda Housley Nee Higham (Metung, Australia) pre 2009.
Hi Arthur I remember Florries near morris st use to always be in there I lived in Morris st
Comment by: rita (wigan, england) pre 2009.
thanks for that jim,getting a bit forgetful in my old age.caught a few cockies myself in the clarry.gosh memories eh
Comment by: jim holding (wigan, england) pre 2009.
rita & kath,, hi girls,,the gap you were thinking about after laura,s shop,was manson,s hollow ,,which had a wall running along parallel to manchester road and i remember well it having broken glass cemented on top of it to stop any climbing ,,,,down the bottom was the owd alfs bakehouse which serviced both his and daughter laura,s shops,,you could also get to "the clarington brook"which ran through it,,a favourite haunt for catching "cockies"until chased off ,,many,s the time we have played"international football matches"in the hollow,,fellow players being ,david morris ,david prescott both from kirkless st and another pair of never to be forgotton boyhood friends one being my next door neighbour,,brian turner and ronald northhall both sadely no longer with us,,at the time a band of brothers,,,,,
Comment by: rita (wigan, england) pre 2009.
yea kath,there was a big gap there,cant remrmber what it was,ill ask our barry.i dont know how you download photos,we cant all be as brainy as you.tracy said she had seen you,sorry to hear about john,come and have a drink with you sometime
Comment by: kath byrne (wigan, england) pre 2009.
for a couple of years I lived in Kirkless st the post office on one corner and the chippy on the other then Jack tomorrows,the papershop Brendas hairdresers.Lauras pie shop.Was there an open space that used to have a fair drop Rita will know get your thinking cap on Reet yes its me again Kath we keep popping all over the site.put some pickys on the people page all your gang .
Comment by: rita (wigan, england) pre 2009.
hi barbara,whats your second name,i lived at number six bridgewater st till 1954 my name was rita brown,my cousins lived in your st.dallas and stella foster
Comment by: rita (wigan, lancs) pre 2009.
hi,you moved in when we moved out in 1954,i remember your mum and dad well,i used to love living there,hated it when we went up belle green lane
Comment by: Derek Sharrock (Higher Ince, England) pre 2009.
Re rita carruthers. just wandering when you lived next door to the pingy as i also lived next door(No 6 Bridewater st) from the late 50s until it was demolished in the 70s, also 2 more shops on manchester rd not mentioned, Baggalys corner shop and Roy & Bettys chippy.
Comment by: Maureen (Orrell, Wigan, England) pre 2009.
I lived in Latham Lane, Kitt Green. btween our street and Prescott Lane were 3 shops--one was the Co-op, and one of the others sold groceries but I can't remember what the other sold. Across the road on the corner with Bell Lane was Cobley's hard ware shop. Then on one of the corners of Prescott Lane was the butcher so you see we didn't need to go far for most of our needs!
Comment by: rita carruthers (wigan, lancs) pre 2009.
i remember jack comtomorrows,he wanted to be a vet but failed the exam,he treated dogs as well as people,do any of you remember stan at mortons,what a character.mrs hughes in albert st.her daughter-in-law jean is 1st year head at rose bridge, i used to live next door to the pingy,in bridgewater st.
Comment by: brian johnson (wigan, england) pre 2009.
re nellie davies chip shop we lived three doors down in leeds st our names was johnson my mum used to work for your grandma pleeling taters she was a great lady she used to give us the left overs with having a big famliy i remember her son was in the police force i think and he had a son cant think of his name not sure if it was charles
Comment by: Michael (London, England) pre 2009.
Who remembers Miss Maud? She ran a little procer's shop with her sister - both old maids - in Victoria St in Newtown. She sold highly esteemed boiled ham. Further down Victoria St was McEvoys butchers. There was a good chipshop on the other side of the road, but I can't remember the name of the couple who had it. There was another grocer on that side. His first name was Ralph, but I can't recall his surname.
Comment by: Michael (London, England) pre 2009.
I remember Belchambers shop in Miry Lane. My grandmother, Nellie Davey, had the chipshop opposite (junction of Leeds St and Miry Lane. Old Belchambers used to display a "black list" of names of bad payers. I also remember that he had very bad breath.
Comment by: SHE (HINDLEY, WIGAN) pre 2009.
THE PIE SHOP AT THE BOTTOM OF BELL GREEN LANE WAS CALLED CAINS IT WAS NEXT DOOR TO SALLY FOYES CHIPY WHERE YOU COULD GET THE BEST FISH AND CHIPS IN LANCASHIRE
Comment by: arthur pollard (ormskirk, england) pre 2009.
does anyone remember florie fowlers corner shop in lower ince, situated on the corner of morris street and warrington road ( platt bridge side ) she had a steady trade from the springs branch locomotive sheds which stood nearby at the end of morris street.
Comment by: brian johnson (wigan, england) pre 2009.
does anyone remember belchambers in miry lane facing uncles toms cabin and toppings near the platelayers pub further down the road and oxleys in leeds st and when penny daintys were that big you had to break them up to eat them
Comment by: kath byrne (wigan, england) pre 2009.
I remember Florries fruit shop,I think I can also recolect you Brian vagualy,was the lady who worked with your mam her sister.there was also a fruit shop in Oxford ST ccalled Ethel Cox,s. Brian do you remember Horace who worked in Mortons he seemed to be there for years but I bet he wasn,t
Comment by: jim holding (wigan, england) pre 2009.
Thanks for that brenda,,yes I do remember tony boylan,,relations of mine lived in forge st and even though I only lived at clarington brook,I did spend a lot of time at their house in forge st,,,Don,t know wether it,s a sign of growing old but you can,t help thinking back,,,,driving up Manchester Rd going to work(joy mining<formally Gullick Dobson)it,s difficult to cobncieve that there where three rows of terraced house between the road and Rose Bridge School,,,goodness it must be all of 50 yards(OR WHATEVER IN METRES)and so on,,you could spend all night making similar comparisons,,,ah well enough for to-night,,,
Comment by: sue (wigan, lancashire) pre 2009.
Mountneys off licence cale lane selling pints of ale to what i thought was old men at the time.
Comment by: corner shop (wigan, england) pre 2009.
i remember the penny trays under the counter full of sweets they was know you cant get anything for a penny them was the good old days d.d wigan
Comment by: bredda webb (ince, england) pre 2009.
to jim holding, the fish shop you were looking for was boylans, as i used to go to school with her son tony boylan. what a community ince was all the old things are the best.
Comment by: barbara m. (wigan, england) pre 2009.
oh where do i start, from jack come tomorrows chemist, winnards chippy every friday, the temp, benbows, harrisons fruit shop who also sold delicious pies with jugs of gravy, mary hughes at the top of albert street, i lived at the end house in albert st. the temp at the bottom remember tiger nuts and spanish then was the pub called the pingy where my dad used to go . then the wonderful rose bridge school. what a lovely community, i remember the lovely couple who lived in the loch house can,t remember ther names but they were very good to all the kids in ince. what an array of shops over rose bridge as well, harry ciggy chasing us (sorry about that, but we were just kids) and then ther was clapper sorry again, but lovely times.
Comment by: jim holding (wigan, england) pre 2009.
AAAArrrrrgggghhhh I can,t believe that I have missed out ,probabley the most talked about,argued about,most well known ,iconic shop,, in the area,,,still remembered fondly when people get together and remmenice about "the old days" when I wer a lad,etc,no matter who you talk to I,ll guarantee that they all have there own personal tale about the man,,,,Jack" Tomorrow",a lovely kind man,whose Chemist Shop was in between "the cloggers and "owd alfs"It wasn,t that I had forgotten about it and it was on my list I just missed it,,,as a child afraid of the dentist I well remember going to Jack,s for "Tincure of Myrrh"sold in a very small bottle with a cork in the top,the idea was you tipped the bottle ,wet the cork and applied it to the acheing tooth,,,can still remember the pungent taste now,it always seemed to do the trick for me,,,,after all if it were good enough for the baby jesus it were good enough for me,,,,,having said that,its probabley on a banned substance list now,,have given myself a good thrashing and am now wearing a hair shirt in pennance for my glaring ommision,,hope this make up for it,,,,,
Comment by: jim holding (wigan, england) pre 2009.
From where I lived at Clarington Brook bus stop,there was Houghtons Post Office(best place for 1d ice lollies) at the corner of Kirkless St,on the other corners was a "cloggers shop" next door but one going up Manchester Road was "Owd Alfs"(Withington,s pie shop)next door was Lilly Longs Toffee Shop(more general store)and next door to that was Laura,s Cake Shop,,who was also Alf Withington,s daughter,,their bakery being situated at the back of the shops in Mason,s Hollow,,on opposite side of road was Hilton,s Newsagents,,there was also a painting and decorators and as joyce remembers earlier,,you could get a drink in Molly Hammonds Temperance Bar,,get your fruit and veg at Polly Birchalls,more bread from next door,,,fish and chips from Winnards Chippy across the road (at that time I remember taking my white bowl for 4d worth of chips,pea wet and scratchings)a vertiable feast,,,,and any fresh fish from the fishmonger,s(whose name just escapes me at present)at the top of Forge St...and so it went on up Manchester Road to Rose Bridge,,,,each block having businesses and pubs and all making a living,,,,supporting a long gone community,,,
Comment by: molly (queensland, australia) pre 2009.
Mollie C that would have been the Misses burns shop oh how i loved that penny drink after mass on sunday lol. but don't tell anyone i only put 1d on the collection plate at mass instead of 2d
Comment by: tony (wigan, england) pre 2009.
"nellie dean,s" shop in ingram street
Comment by: barbara m (wigan, england) pre 2009.
what a wonderful place ince bar was the pie shops the fruit shops barlows cloggers the temp. it,s a scruffy place now but once was buzzing with all the wonderful shops and youth clubs down ince green lane with mr. naylor on our midnight hikes. then back to the youth club for a fry up.wonderful, wonderful days, wish they were back.
Comment by: B.PORTER (WIGAN, ENGLAND) pre 2009.
I REMEMBER ON THE WAY TO SCHOOL,THOMAS MOORE A SHOP CALLED,DIRTY DICKS IT WAS FACING ASDA,IF YOU WENT TO THOMAS MOORE AND LIVED IN WORSLEY MESNES OR POOLSTOCK YOU,LL REMEMBER IT............DIRTY DICKS, ENOUGH SAID.
Comment by: Jo Hayes (Adelaide, Australia) pre 2009.
I remember as an eight year old in the late fifties going to the grocers in The High st Standish and buying things for mum like a quater of butter 2oz of tea a quater of broken biscuits and other such things. Then packing them in my gondola basket and taking them home.I dreamt then of when I was older and shopping for my family doing the same sort of thing. Unfortunatley by the time I was doing grocery shopping the supermakets had arrived. It's just not the same Jo in Adelaide South Australia
Comment by: anne from ince (wigan, england) pre 2009.
i remember the pie shop at the bottom of belle green lane my grandad sed to call it pie peys but it was ashursts pie shop.als does anyone remember woodcocks shop up near where the imperial pub used to be on manchester road ince.i used to go there for a vimto jubbly and toffee.
Comment by: Wendy Hamilton (Gibraltar, Gibraltar) pre 2009.
I too rember Jacks shop (with Mrs Hart) and Mrs Horrocks shop on Worsley Mesnes, also on saturday mornings the fruit and veg van from Prices fruit and veg off Poolstock Lane near the Roadside Cafe. I also went to poolstock school with one of the family, Carol Price.
Comment by: jimmy aspey (wigan, lancashire) pre 2009.
Does anyone remember lizzie lyons shop in duke street goose sreen and baxters shop in bentink st across the road from the crown pub
Comment by: Joyce (Wigan, England) pre 2009.
Remember Saturday mornings being sent onto Manchester Road Ince. Molly Hammond for Bread and groceries. Polly Birchall for Fruit and Veg. and Laura's for Pies with a jug for gravy. Felt like you were out all morning, because all the locals would be having a good chat and you would be stood at the back of the shop, patiently waiting. One year Molly and her husband put a group of us kids in the back of their van and took us all to a paddling pool for the day.
Comment by: Joyce (Wigan, England) pre 2009.
Mrs. Fairhurst, who owned the shop in Caroline Street, Higher Ince was my Grandmother and I can still remember the jars of toffee and mint imperials in a cardboard box, little pointed toffee bags, that you got 2oz. of sweets in. Also remember Mrs. Postlethwaites near Rose Bridge School, we all used to call it Nan Possys.
Comment by: S.Ward (Ne-Hulse) (Wigan, England) pre 2009.
Mrs Horrocks shop on corner of Holbourne Ave Poolstock in 50's and early 60's. If anyone needed anything out of shop hours they would go to the side door and were never refused. on Saturday mornings people would queue outside waiting to get served.
Comment by: May (Leyland, England) pre 2009.
I remember Jacks shop in worsley mesnes, we got all kinds from there. I live in Eliot Drive - before that I lived in Poolstock and remember Dick Bartons and the first self service shop I had ever seen which was owned bt Dave Whelan (Wigan FC), his Mum and hie Aunite ran it. Look at him now!
Comment by: Sylvia (Hindley, U.K) pre 2009.
Mrs.Oakes saying 'tell your mam, Mollies got bananas' it was just after the war, I was about 6. Didn't know how to peel them or if you ate the lot, when I tasted them, I was sick, I have never able to stand even the smell. The shop was in Ward Street in Hindley
Comment by: mary (stubshaw cross a-in-m, england) pre 2009.
i remember derbyshires sweet shop in stubshi,as we called it ,and taking sweet coupons on a friday to get our sweets,and halls shop ,and bartons which is still there
Comment by: P J (oldham, england) pre 2009.
Mrs hughes,s corner shop in albert street higher ince she used to sharpen her carving knife on ner front step then go back in and cut you some bacon her front step had worn away in the middle where she had sharpened her knife over the years
Comment by: p j (oldham, england) pre 2009.
johny tomorrow,s chemist higher ince no matter what you wanted he always said come back in tomorrow i,ll have it then
Comment by: gary (ince,wigan, england) pre 2009.
the pie shop near the bottom of belle green lane the best bar none.
Comment by: brian unsworth (sandside cumbria, englandmy) pre 2009.
a my parents kept a greengrocers shop in greenough st 1946 to 1968 known locally as florries saw my first banana there when a sailor home from the war came in the shop to see if we would buy a bunch from him
Comment by: tom sheridan (wigan, england) pre 2009.
charlie needles in silver street used to have old type of pinball machine spent many a old penny/hours in that shop 1957-1963 anybody else remember?
Comment by: S.Dingsdale (Wigan, UK) pre 2009.
Rember being told to the shop in Caroline St in sixties for bits and bobs.I think the shop was called PEGGY HOLLANDS it used to be half way down
---