I remember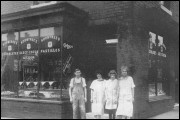 I remember...
the corner shops
Comment by: David Higham (Upholland, Uk) on 23rd January 2021
I remember Kay's in Darlington St. Went with my dad to buy second hand clothes . went to school as a Japanese admiral for 5 years
Comment by: Isabel (Northampton , Northants) on 17th August 2019
Does anyone remember Toppings in Miry Lane I used to get me sweets from him in the 40's we had to buy the in 2oz and he had little triangle bags and he was very. patient with us when we only had pence to spend and took ages to make up our minds
Comment by: dean cliver (glassboro, USA) on 9th March 2019
my grandfather Charles leming had the butcher shop on main street that is now a library in the 50s.they lived across from Blackwell chevrolet
Comment by: david (Wigan, Lancashire) on 8th December 2018
I remember the corner shop opposite our house in Great George Street. It was Sharples and on the opposite side was one of many pubs around the area.
Comment by: anne heyworth (CHORLEY, United Kingdom) on 30th October 2016
I went to the Convent in the fifties and there was a little shop nearby,run by two old ladies,that sold penny loves hot from the oven.The smell drew you in.There was always a queue of hungry girls.
Comment by: Diane Wright (Fife, Scotland) on 4th April 2016
I left Billinge to live on Skye when I was six. I remember Trevor Jolley's fish and chip shop (Gaskells?),and an old lady called Jinny who had a tiny shop - my dad said she sold lovely bacon. I went to St James's school.
Comment by: andrew green (WIGAN, United Kingdom) on 22nd May 2015
Comment by: Derek Hyde (Whitehorse, Canada) on 3rd May 2015
Does anyone remember the tiny sweet shop next to St Michael's School on Swinley Lane? All the usuals, everlasting toffee, spearmint bars, liquorice whips etc. Run by a massive man who had to stoop to avoid hitting the ceiling. Blank-faced without being menacing. Ring any bells?
Comment by: margaret doherty (peter st st helens, uk) on 2nd February 2015
I remember billy owens and all the pawn shops and the kimiks and all the chipys
Comment by: Chris cunney (Wigan, England) on 1st January 2015
Joe greenwoods paper shop Springfield road always remember the gas fire near the door
Comment by: Phil (Wigan, England) on 18th December 2014
I remember Kays,it's a car park their now.Joining the Cadet's,you were told to get a pair of Black boots from there which were pre-worn but cheaper than new.
Comment by: river (wigan, england) on 16th November 2014
I REMEMBER KAYS ON DARLINTON ST ME AND MY MATES USE TO GO IN THE 70'S , WE BOUGHT GAS MASK AND ALLSORTS FOR ABOUT 5P A TIME , NOT SO CHEAP NOW.
Comment by: Christine (Knighton, Wales) on 26th October 2014
Does anyone remember Kay's in Darlington Street. They sold all sorts of second hand items, quite a lot from the Second World War, including uniforms and gas masks
Comment by: Phil (Wigan, England) on 22nd July 2014
To Demetrio Lagana,i remember your dad of magicream Joe.His Ice cream company used to be in the same street of the school I went to in Ince, Rose Bridge High School.He also sold ice cream on the council estate I lived on at the time.We used to have a joke with him that England were better than Italy at football.Every now and again from his van,he used to save all the broken ice lollies and do a scramble by throwing them on a grass verge then watch us dive for them with a smile on his face.On hearing his ice cream tune from his van,we always said Joe is here.
Comment by: Iain Speak (Gravesend, United Kingdom) on 10th June 2014
My Uncle had a cobblers /Shoe repair shop in Hallgate or was it Wallgate!!??),i think it is now a tattoo shop or something similar.It was in the 70s/80s,he had 4 children (my cousins),but as they got older non of them wanted to work in the shop on a saturday,so i used to work for him on many occasions,sadly he died in 1988 of cancer,he was only 55.Does anyone remember him and his shop "George Speaks"
Comment by: Tracy Aspey (wigan, United Kingdom) on 10th March 2014
I lived on frog lane , I rem teds corner shop, we used to take milk and pop bottles back for money , there was a pie shop on the corner of gidlow lane and frog lane can't rem who had it but they were best pies ever and the juice mmmmm
Comment by: Demetrio Laganà (Reggio Calabria, Italy) on 5th November 2013
Hi, I'm writing from Italy. Doe's someone remember my father "joe" icecreamer of "Magicream?
Comment by: janet farrington (wigan, england) on 23rd October 2013
does any remember billy butcher going on his rounds. and jack cragg fruit and vegs with his horse and cart.
Comment by: janet farrington (wigan, england) on 23rd October 2013
does remember jenny sharrocks shop u could bye any thing but the kicken sick happy days
Comment by: janet farrington (wigan, wngland) on 23rd October 2013
i remeber bert oliver pie shop newtown were i got a pie from there for my brothers ans sisters we use to every saturday and then take it bk to our nanies mccann
Comment by: Ron Winnard (Johannesburg, South Africa) on 12th September 2013
Just been back to Wigan Aug 2013 When I was in my teens Pooles shop was near to the bus stop for Manley St Lower Incentive.Must say that the present area in Wigan in superb today with a shopping Mall to match any in the world.To the youngsters today in Wigan I say....you are so lucky to live in such a lovely town.A great lot has changed for the better Oh and the Meat and Potatoe Pies (you won't get me calling them Potato and Meat!) are better than ever. Put on too much weight eating them over our stay this year!
Comment by: allan wilkinson (wigan, england) on 3rd August 2013
I cant believe no-one has mentioned as yet "Taylors" shop in prescott st,close to the little tunnel, and the white bull pub,typical shop with meat slicer on the counter, weigh your own spuds (knocking off the dirt first)penny tray stuff like penny arrow chews, blackjacks, fruit salads,spanish and gob stoppers to choke you.Shop all week with the "book" ( slate really),settle up on dads payday,when the shop was shut you could shin up the gate and knock on't back doer for me mams woodbines, only thing wrong was that they didnt sell pies on a monday, tut tut....
Comment by: alison hockey nee smith (WIGAN, United Kingdom) on 25th July 2013
i remember being sent as a kid to a shop right up manchester road past rose bridge and it was known as jack tomorrows. think it may have been some kind of chemist as my mam would say go and tell jack tomorrow can he make me a bottle up for some complaint or other. i dont think his name was tomorrow but because he always said il have whatever in tommorow. i also remember always going into woodcocks for toffee before school.
Comment by: JoyceH (Alberta, Canada) on 8th March 2013
I remember my Aunty Gladys Mann used to shop at Baggaley's corner shop all the time, anyon remember Joyce Mann who had the sweet shop in town ?
Comment by: nadine foy nee sharp (wigan, lancs) on 25th February 2013
i now live in lorne street "cassy's off licence" that was,its haunted along with a few other houses...
Comment by: carol (wigan, england) on 15th February 2013
Hey,Edith, hope you didn't call in the shops on the way to school you know how strict they were on eating sweets in uniform! Miss Liptrot would have a fit!
Comment by: Edith birch (Wigan, Uk) on 25th January 2013
I remember corner shops I lived on Warrington road goose green walked to school st marks between . 1965 1970 x5deqe
Comment by: Norman Skellon (Sydney , Australia) on 13th November 2012
SPRINGFIELD MEMORIES: I lived at 50 Springfield Road from 1948-1965, down from Greenwood's Newsagency and across the road from Hardman's Grocery Store. I also spent hours in the back room of Alice Kennard's chip shop. Thanks to the other contributers for bringing back happy memories.
Comment by: geoff partington (Leeds, UK) on 5th November 2012
My dad, Philip Partington, had the corner shop at the top of Argyle St, Hindley from before WWII to 1966. Famous for Penny Lollies ("How much are your penny lollies?"!!). My grandad Joseph (Barm Joe) ran the shop from the 1920s. During the 50s and 60s, my mother, sister, brother and me all took our turns to serve. I can still remember the price of many things we sold - Echo Margarine 8d for half a pound!
Comment by: Ian McLauchlin (Exmouth, United Kingdom) on 16th September 2012
Mona's at Lanehead, Burnley. Bubble gum called 'Black Sambo' - couldn't do it now. Liquorice sticks like wood, sweet cigarettes, Kay-li however you spell it, sherbet dip with hollow 'spanish' straw. Football cards given away in I think chewing gum - Tom Finney, Nat Lofthouse, Stanley Matthews of course. Pear drops, sarsaparilla tablets, gob stoppers. Interestingly the shop window was full of most of what was sold. Couldn't do that now - elf'n'safety, hygene, flies etc.
Comment by: Leeanne (Wigan, England) on 15th September 2012
I remember Annie Gray's corner shop in Church street Standish Wigan. As a child we went there often to buy sweets, she was a patient lady and I liked the smell of the sweets and there was a lot to look at inside her well stocked shop.
Comment by: irene roberts (wigan, england) on 15th July 2012
Barbara, are ypu Barbara Benbow?
Comment by: Barbara Nettleton (Wigan , England ) on 27th May 2012
My mum kept Baggaley's corner shop at the bottom of Bridgewater street. The days of the tick and no supermarkets. I remember Annie Beham, Eva Leigh, Barrows Temperance Bar, Mellings for parafin, Pingy Pub, Cases Arms. Lots of shops, and I think it was tickle that sold toys. lots an lots of stuff.
Comment by: tony (wigan, england) on 11th April 2012
yes doris, i remember the shop very well, used to go in a lot, before and after going to sacred heart school, happy days.
Comment by: Doris greenwood (Wigan, England) on 8th April 2012
My dad was Joseph greenwood who had a newsagents on Springfield road. Does anyone remember it?
Comment by: Julie Evans (Crabtree) (Dwygyfylchi, North Wales) on 5th January 2012
Hiya Anita! Deborah told me you had left a comment about the `bon bons'!! It's lovely that you remember this too. I remember coming to your birthday party when you lived in Hindley and having fondue!! I think of you whenever I see one. Do you remember when I came on the train to Southport and we went to the fun fair? It's nice that you remember my dad. I learned to play the tambourine at Elim, I can't remember if you did too! Look forward to your reply. x
Comment by: Debbie Roberts (Crabtree) (Abergele, N.Wales) on 12th November 2011
Haya Anita!!!! Thank you for getting in touch. I`m THRILLED to hear from you.I remember your name and I laughed out loud when I read "want one bon,bon." Sooo funny!!! Wait till I tell Julie- no doubt she will be intouch. Watch this space!! x
Comment by: anita hindley (rijnsburg, holland) on 11th November 2011
hello debbie crabtree, I remember going for sweets - bonbons, with your sister julie, and she's say: want one, bonbon? That was funny then. Got good memories of that time, also your dad at Elim.
Comment by: joan austen ne barlow (cambridge, england) on 23rd August 2011
does anyone remember winstanlys shop in scot lane newtown i used to play with barbara she had a sister called audrey i lived at 96 scot lane and i had a brother called david who sadly died only 51
Comment by: Carol Naylor(Nee Myers) (Melbourne, Australia) on 2nd August 2011
I remember Bill Naylor's shop too in Scot Lane and Rodens,we lived in Sinclair Place just off Montrose Ave.Bill Naylor used to deliver as well and he used to come round the streets in his van once or twice a week.I loved the chippy that used to be next door to his shop,yum yum.I went to Scot Lane school and very often called in at Rodens on my way home to get Kali.we left for Australia in 1962..worst thing we ever did.I remember standing at the bus stop at the bottom of Greenwood Ave and wandering if the bus would make it round the corner,they used to come down there so fast
Comment by: doreen (ainscough) catterall (wigan, england) on 27th July 2011
Just wanted to say I remember maggie pennington from warrington road in ince. I was married to her nephew. hello christine jolley from poulton
Comment by: Anne Rose(nee Crowther) (Wirral, England) on 8th July 2011
I remember your dad and mum,Jim Latham. Walter was our butcher and my mum and dad were Hilda and Harry Crowther.What was the name of the shop next to yours? Do you know of anyone who lived around there in the 50's.My sister Anita went to school with Gillian and I remember Marjorie well. Do you remember Charlie Boltons shop along Poolstock Lane?
Comment by: Debbie Roberts(nee Crabtree) (Abergele , North Wales) on 5th May 2011
I remember "Marions" at the top of Holt Street in Higher Ince.(1960`s) I use to go in with a penny and buy sweets from the "penny box" It was a blue plastic tray with dividers in it full of penny blacks and gob stoppers!I loved it!I remember the sound of us walking in on the wooden floor. There was also "Jacks" a bit further down... I use to get sent for pies on a Saturday morning for our dinner. I can smell those pies right now!!! Happy days.
Comment by: Greg Briscoe (Huntington Beach, California, USA) on 13th March 2011
i don't really have a memory to add but I was just curious about the shop owned by Eric and Joyce Briscoe that was mentioned in one of the memories on this website. I recently found out that my grandfather was from Wigan. His name was Fred Stewart Briscoe and he was born in the late 1880's. Not sure when he came to the States but I think it was in the 1910's. He married my grandmother, Mary Ann McKenzie of Sunderland, England, in Illinois around 1917.He died in 1964 in Vancouver, Canada. Just wondering if the is any connection between the owners of the shop and my family.
Comment by: lynn fishwick (hindley , lancs) on 8th December 2010
i lived up ladies lane in hindley and we had a few corner shops brenda hindleys ada cassadys weastheads pie shop chaps pie shop ellens chippy mackies butchers co op raymonds cloggers gracies chippy seddons barbers annie carrolls margeries a betting shop and a paper shop and we had 2 dairies tollets and clarksons what more did we need
Comment by: Fitzgerald (Manchester, England) on 29th November 2010
Hi, does anyone remember Margaret Fitzgerald she ran a corner shop at 101 Walgate, later she lived in Darlington Street East and then Rylands Street she died in 1953
Comment by: kevin unsworth (wigan, lancs) on 24th November 2010
For Susan,The potteries were inbetween eckersleys mill and the bus depot off pottery road, the shop was on the corner of pottery street and pottery terrace the owner being maggie mathews.
Comment by: Susan (Wigan, Lancashire, England) on 24th November 2010
Where in the Potteries was the shop?
Comment by: potterite (wigan, lancs) on 21st November 2010
does anyone rember maggie mathews shop in the potteries and have any photo's,also are you the brian kellie who used to pass his time at horwich loco?
Comment by: irene roberts nee griffiths (wigan,lancs, england) on 8th October 2010
There would have been a lot of butchers shops in Wigan itself and in its surrounding disrticts, Shirley. Any idea of the name of the butchers or the name of the road it was in?
---