SPAM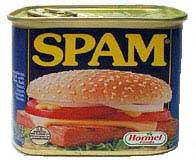 Spam, don't you just love it!
For the very few people that don't know what spam is, it is junk e-mail, often illegal, that is sent unsolicited.
For the even fewer people that don't receive spam (you lucky people), I shall add some that I receive here.
Most of the illegal e-mails I receive tell me to treat with strictest confidentiality and to reply urgently. Therefore, I will post them onto the Internet for all to see.
And remember, if you receive spam, never reply to any e-mail. If you do you will get more.
Mrs Mariam Abacha's email, doh.., I could have made a fortune!
Obinna Samuel Chuka only offered me a 30% cut on the deal, so I didn't bother!
Johnson Peters of Nigeria (again) only offered me a 25% share, miser!
Franklyn Asika - the lengths some people go to!
Dr.Musa Ojo. - yawn...
Edward Saliu. - searching for next of kin.
Dr. Isaac Boro. - hmmm.... another Nigerian doctor!
Nelson John. - How much is US$10,6000,000,00?
Dr. Musa Aliu. - Even sent his phone number! 0803-7218483
Mrs Mariam Sese Seko. - Another phone number: +31-630 052 210
Mr. Edward Mulete - Proof of scam, if ever it was needed!
Prince George - A plane crash. What next?
Mr J.Nadabe - I've emailed you, please feel free to reply.
Frank Matobu. - Go on, REPLY!
New Invention? - Someone please invent a reliable spam killer.
Bleeding gums? - Whatever next?
Do You Need Merchant Account? - No. But thank you so much for asking.
I've decided to have fun with the following emails by replying.
I've won US$1,000,000? - I'm going to have some fun with this!!!.
Hello Mr. Tambo - Blimey, am I sarcastic or what?
Pedro Mulete - Don't give it to charity, give it to me. :o)
rottoloy@nicematin.fr - Your email confuses me?!?