Picture Post, 1939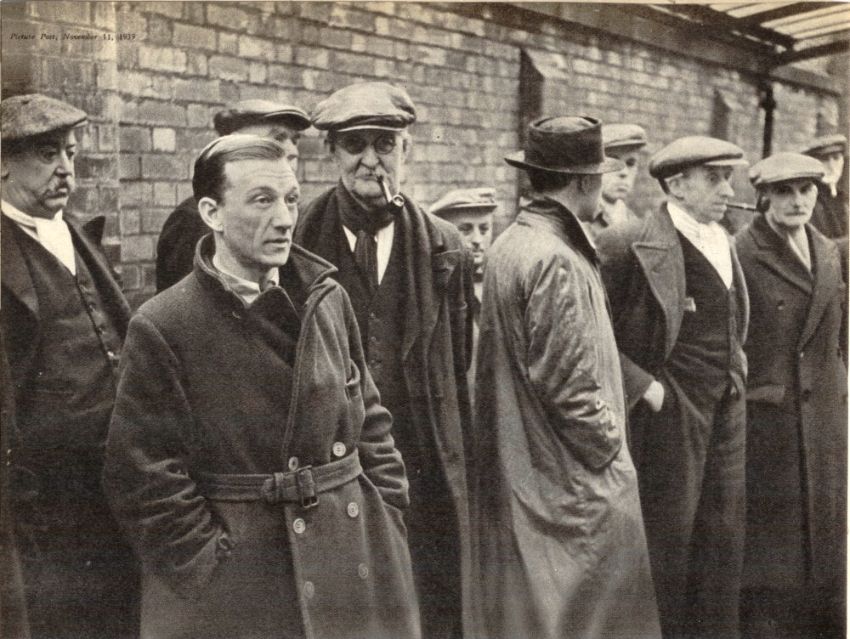 SOME OF THE PICTURES THE AUTHORITIES KEPT BACK : The Men Who Stand and Wait
Our camerman photographed these Wiganers standing outside a Labour Exchange. The authorities asked to have all pictures left with them to be checked up. When the batch was forwarded on to us, this and other pictures on these pages were missing. They were considered unsuitable. We made new prints of some of those missing pictures.
The result is that the pumps have been stopped and the mines allowed to flood. The cost of pumping out water to reopen them is excessive. The possibility is that they will never produce coal again. What is to happen to the surplus labour?
The solution would appear to be the transfer of unemployed miners to new industries. The Corporation have made strenuous and not altogether unsuccessful efforts to attract new industries to the town. There are psychological difficulties, however.
It is customary to regard a miner's life as the hardest, the most dangerous and the most unpleasant in industry. That is probably correct. But it is also true that for that very reason, the pits wield a fascination over the majority of men who serve them. It is difficult to tempt miners - even ex-miners - to forswear them completely, though they are very adaptable.
The miners work in three 7½-hour shifts from 7a.m. to 2.30p.m., from 2.30p.m. to 10p.m., from 11.30p.m. to 7a.m. Colliers earn about 12s. to 14s. a shift; datallers, a Lancashire term meaning 'men', earn about 10s. a shift. Datallers look after the roofing. They do five or six turns a week.
Mill girls work from 7.45a.m. to 5.30p.m., with an hour for lunch; they carry their lunch to the mill in baskets and billy cans. They are employed on piece-work and average about 35s. a week.
In the streets of Wigan, you may recognise the mill girls by the cotton fluff which catches in their hair. The miners' faces are veined like cheese, where the coal dust has worked into old cuts and injuries, and tattoed their chins. The miners are as proud of those marks as German students of their duelling scars.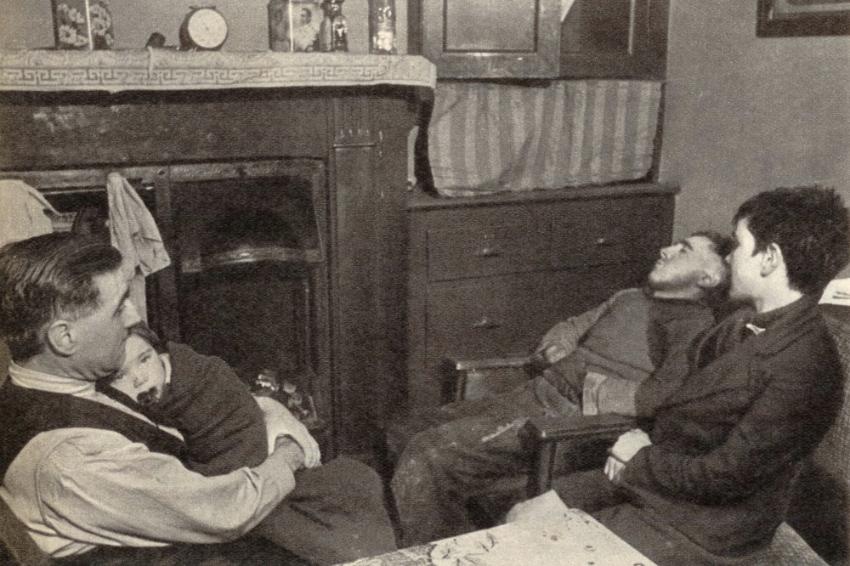 The Men Who Dream About Coal
Francis Dwyer (left) is nursing the youngest of his nine children. His eldest son, in the corner, is a collier just home from the pit. Father Dwyer used to be a miner, too; but when he fell out of work, he became a bill distributor. The room is the parlour of one of the new Council houses.