I remember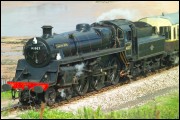 I remember...
the steam trains
Comment by: Linda Housley Nee Higham (Metung, Australia) pre 2009.
My dad Peter Higham was a driver at springs branch and we lived in morris st spring view use to play around the the trains and watch them from the window
Comment by: arthur pollard (ormskirk, england) pre 2009.
As a 9 year old I would board a Wallgate bound local from Rainford junction, usually hauled by a Prescott Street 27D Wigan class 4 tanky. On arrival there I would join the hoards of other trainspotters either down the side of Wallgate station at the goods yard gates, or if I could afford the one penny platform ticket go onto North Western stations Down Main number 5 platform at the south end. 1956 saw my railway career start at Springs Branch motive power depot at Lower Ince, firstly as a cleaner, then fireman and onto driver,eventually retiring after 50years service on the footplate. Happy Days.Today many ex and retired railway people meet on a monthly basis,second Thursday in the month to be exact at approx 13.30 at the Upper Morris Street Workingmens club in wigan ( opposite Tescos) all are welcome to join , and you never know who you might meet once again . Happy Steaming.Arthur Pollard Ormskirk , England
Comment by: Martin Phillips (Leeds, England) pre 2009.
Trainspotting on the platform at Wigan Wallgate while waiting for the train to Gathurst and school at John Rigby Grammar. This was after most of the steam trains - I got the bug from a school friend, John Novak, who lived at Bryn. Anyone know where he is now?
Comment by: Jimmy (Wigan Area, U.K.) pre 2009.
The carefree days of the late 50s, early 60s, spending most of the summer holiday trainspotting down the side of Wallgate Station with your mates and all the rest of the lads there. In the short winter days we used to buy a platform ticket which cost 2d (old pence) and go on Wigan North Westerm station to see the Ten to Five Brit rolling in. Other trains I remember were,The Royal Scot, The Mid-day Scot, The Caladoneon, and the most un-glamorous of them all, the Four o'Clock Fish train which you could smell before you saw it! All part of my chilhood days in a simpler and better time.
Comment by: Norman Price (Westhoughton, UK) pre 2009.
Spending many hours trainspotting in teh Wigan area, but especially at Bamfurlong and Taylors Lane at Spring Branch. One of the highlights was one Saturday afternoon when a Scottish Region 'Clan' made it as far south as the 'Branch'. A very rare sight indeed. I also have very fond memories of catching a train from Wigan Central to Manchester Central at 0530 on 18/04/1963 for a trainspotting expedition to Derby/Notts. area. Even then we remarked that if the station ever shut, only one man would be made redundant, as at the time he was ticket seller/collector/porter and anything else. Fond and happy memories.
Comment by: John Baxter (Andover, Hampshire) pre 2009.
Train spotting in 'The Nick', the alley way down to the right of Wallgate Station. Every night during one summer a whole gang of lads there playing tick rugby in between sightings.
Comment by: Allan W Bennett (Shelby Township, Michigani, USA) pre 2009.
While on holiday in 1935 at age 4,visiting my grand parents, I remember walking with my grandfather, Thomas Gerrard, who lived at 81 Brook Lane, Pemberton, down to the foot of Brook Lane and watching the trains from the bridge as they came out of Wigan Wallgate station. At age 4, that was exciting!
Comment by: Margaret Rowden (nee Morris) (Bath, U.K.) pre 2009.
I have so many memories - my Dad was a goods guard based at Springs Branch. He used to tell us when a Royal was going through and we would go down and wave as they went by. One of my proudest moments was when he was seeing me off on Wigan Station and this railway man came up and made a huge fuss of him. He turned to me and said "your Dad saved my life". it seems that he had been seriously injured in a rail accident and my Dad had given him First Aid (he was a qualified first aider). We travelled everywhere by train - and I still do. The furthest has been Helsinki
Comment by: Alastair Brown (Warrington, England) pre 2009.
Steam trains in Wigan ! Lots of memories ! I went to school at St Michaels (now demolished..) and the summer holidays were spent lazily trainspotting at "Rylands" or Whitley fields watching "semis" on the "Caledonian" or "Royal Scot" plus all the Jubilees Patriots etc. Packed lunches,those Jubilee drinks in triangular shapes,"Ian Allan" locospotter books, the plumes of steam in the distance,the clanking of passing freight trains,the"four-clock fish"(usually Jubilee hauled),trains of condemned locos heading for the scrap yard . Has anyone got a time machine ??!!
Comment by: Ray Eden (Partington, UK) pre 2009.
Peddling with my mate from Cadishead to Ince Wagon Works. Calling at his aunties in Hindley for a drink and a butty then onto Springs Branch shed. Great days
Comment by: Helen West (nee Bradshaw) (Nr Fakenham, Norfolk, England) pre 2009.
I remember when we stayed with my Granny & Grandpa at 3 St Clements Road, we would go down to the bottom where the road ended & gave way to rough ground, there was a stream on the right of the path & a huge slag heap in the distance, Away in front of us was the railway line & I think a crossing, we would get there just in time to climb up onto the wooden rail fence to see the Flying Scotsman go by, it did literally seem to fly by, it was so exiting ! Also remember getting the train from Wallgate? to Victoria Station in Manchester....the smell of the coal steam will stay with me forever.
Comment by: jean mcpherson (nee crane) (colwyn bay, wales) pre 2009.
in my younger days, living in appley bridgeused to run from side of the bridge to the other to watch the train passing below, then when i was older n married i remember getting bthe train into wigan with my two young children, station porter used to help me lift the pram into the goods van and i stood all the way to wigan.
Comment by: Bill Whelan (London, UK) pre 2009.
Brian Naylor who used to ride on the gates at Bicky station wanted to know the name of the other station woman. It was Bessie Cunliffe from Turner Avenue Bickershaw. Married to Billy Cunliffe. She used to wind the gates from the signal box and then walk to the platform to collect the tickets.
Comment by: james canon (chippenham, wilts) pre 2009.
i worked as a fireman at spings branch from 1955 with such mates as jim brown-alan armstrong-jim duffy-kenny simkin-eddie martindale-roy pilling-infact i was involved in a train smash in 1958 the 2.05 wigan to lime street,anyone out there who remembers me please get in touch best whishes J.C
Comment by: TOM BUTLER (DAWLISH, DEVON) pre 2009.
As a Train Spotter in the late Fifties seeing THE DUKE OF GLOUCHSTER No 71000 standing on the down platform at Wigan North Western . The sun just came out and the engine was bathed in sunlight. Never forget that for as long as i live
Comment by: Fred Whitfield (Liverpool, England) pre 2009.
The outing of the week was the train from roby to WIGAN were we'd spend the whole day at the end of the platform with a large group of other spotters when the shout would go up Semi these were the supreme class of engine.There were many tanks and Mickeys also to see and to some you'd here the word copped which meant it was a new number to book in your Ian Allen book.
Comment by: cliff (wigan, uk) pre 2009.
I remember my Train spotting time, middle 50,s, rushing down to Buckley st Bridge,at the back of the park,to spot the (Britannia Class) Scotland to London express train at 9-10 every evening,it never failed (as I remember) and I also have a memory,of playing Cricket on Bull Hey in the games lesson,pads up to my neck,no straps,had a job to run if you could hit the ball,noise of an oncoming train,the game,stopped ,pen and paper out,number taken,then on with the game, never,never,will I forget that.Happy,Happy days.
Comment by: BILL (WIGAN LANCS, ENGLAND) pre 2009.
STANDING ON THE STATION WHEN TRAIN PULLING IN. STEAM FROM THE WHEELS/CHIMNEY STACK. MOVING BACK ON THE PLATFORM AS IT GOT NEARER
Comment by: Brian Webb (Wigan, UK) pre 2009.
There no category for this so,for some unknown reason I stuck it under steam trains. I remember in Hindley and District as a young lad in the 50s and 60s there were a large number of farms.In fact there was one across the fields directly opposite our house and in summer there was always the superb smell of the agricultural fuel that the tractors used to burn which would come wafting over the fields and always reminded me of summer.It was called TVO which stood for Tractor Vapourising Oil.At potato picking time a tractor and trailer would come along the street picking up the mothers to take them to Mellings farm to gather the harvest,filling the whole area with that wonderful smell.One of the worst things that happened to me was doing away with TVO and that brilliant smell.I wish they could bottle it.All they've left us with now is boring,obnoxious diesel oil. Regards Brian Webb
Comment by: Brian Naylor (Wigan, Lancs) pre 2009.
I remember when I lived in Bickershaw playing under the railway station. the signman's name I think was Sam ???. the station mistress was Mrs Birchall & another Lady cannot remember her name great times watching the steam trains and riding on the gates as they opened.
Comment by: P T CLIFF (DAYTON OHIO, USA) pre 2009.
I used to lve on bechhill lane wigan and WHEN I would go to Southport with my family I see my house from the train GOOD TIMES THANKS pt cliff
Comment by: anth (hull, uk) pre 2009.
As a child in the early 1950s, I used to be lulled to sleep every night by the sound of steam trains: great long coal trains, with a pushing engine at the rear as well. They would depart from Garswood Hall sidings, asceding Park Lane Bank, towards Bryn. The regular chuff-chuff beat would be maintained for just so-long, until traction was lost, the wheels started to spin: the semiquavers of chuff-chuff, were teporarily repaced by a scherzo of hemidemisemiquavers: a sort of rapid scizzeling noise, then the second movement as the sound of the rear engine took over. I do miss that sound from my childhood!
Comment by: Janet (wigan, england) pre 2009.
I remember The Royal Scotth when it went upto Scotland and back, 5 days a week, and hearing it coming from Wigan station, as the back of our garden ran along side the line. You could time your watch with it as it was ALWAYS on time!!!
Comment by: chrissie Hardman (bolton, uk) pre 2009.
We used to travel regularly from Wigan Wallgate station to Pemberton Station on the steam trains. My Great Great Auntie, Maggie Gaskell had the little newsagent's at the bottom of Enfield st. Remember once a "mad" March hare whipping along the platform at Pemberton, then dashing across the track to disappear over towards Pony Dick fields.
Comment by: David Stringer (Bath (used to be Bolton), UK) pre 2009.
Trainspotting, mostly from Wallgate, on Saturdays. Walking to Springs Branch to see trains at speed, locos on shed (often Crosti boilers) and the Bamfurlong line with car transporters from Merseyside. Corned beef sandwiches .....
Comment by: Christine (Wigan, England) pre 2009.
The vivid memory I have is of the fires on the railway banking in summer when I went for a walk with my dad up the canal from Ince to Haigh Hall.
Comment by: L Prescott (Ashton in Makerfield, UK) pre 2009.
Going every Saturday morning to Springs Branch train spotting. Sometimes they would let us go into the engine sheds and even onto the footplates of the engines that were being stoked for the days work. The magnificent sight of a Brittania class steam loco hauling high speed passenger services. Lost interest when the diesels came along.
Comment by: Jean J (Wigan, Lancs) pre 2009.
Standing under the iron bridge and being lost in the steam and smoke as the train passed underneath. The sound of them as they pulled in and out of the stations to take you on your great day out to Southport. Stopping for what seemed like ages to get more coal and water, or maybe it was just water, not sure.
---