Street History, Park Road
Information kindly supplied by Carol Coates.
You may be interested in the following anecdotal information about on the houses at the Springfield end of Park Road, Wigan, combining my own research on the Hall family with much useful information kindly given to me by my uncle and by my third cousin, both of whom now live in the Midlands.
No 171 Park Road, together with the two houses next door on either side were built by John Hall, born 1848, and his sons Thomas Stratford Hall and Frederick, of John Hall & Sons, joiners and builders of Wigan. The style of the houses opposite no 171 suggests that they may also have been built by Hall & Son. They also built Stratford Street, off Park Road, almost opposite no 171, named after John's son Thomas Stratford Hall, born on 25 February 1878.
When Thomas Stratford Hall was born in 1878, his parents were not sure he would survive so Rector Thicknesse marched round, prepared to baptise him in the kitchen sink and as the parents hadn't a name ready he was given the same name as his grandfather, Thomas Stratford Wilkinson of Moresby, Cumberland. A John Hall was listed at the 1901 census as living at 134 Park Road West and I wonder whether this became no 171 or was a different address.
John Hall married Mary Rigby and took over her father John Rigby's joinery business in Wigan as none of the Rigby sons chose to work in wood. Mary used to line coffins made by the joinery with fabric at home. Their earliest address was Bradford St. In 1881 they moved to 39 Bottom Croft, after John Hall took over the Rigby business. The Hall children were all baptised at Wigan All Saints Parish Church and the Hall family were the mainstay of the choir there. Woodwork in the church and belfry has Hall inscribed on it.
In 1891 they lived at 187 Dorning St. From there they moved to Mesnes St (corner where Grimshaw and Culshaw were established) until about 1910. The Hall business was listed in the 1903 Wigan Trade Directory. John Hall died in 1904 after catching a cold while out in a pony and trap electioneering. Then Hall & Sons moved to Station Road, behind the Grand Hotel which was demolished for Woolworths, until about 1925. John Hall's widow Mary Hall née Rigby, continued to live at no 171 with two of her sons John Hall jnr and Frederick and daughter Mary Elizabeth Hall, my grandmother, but died by 1921.
In 1918 Mary married Frank Brown, originally from West Bromwich. By 1921, Mary died and Frank and Mary continued to live at no 171, caring for Mary's brothers John and Frederick and bringing up their own family, eventually buying the house themselves. Finally my aunt lived there until a good few years ago when parking on Park Road was prevented by yellow lines, the football stadium being in close proximity.
Finally Hall & Son moved to Hallgate where they knocked down three cottages to build Entwhistle House and a workshop, until 1959. My sister and I visited their joiner's shop as children with our father and have vivid memories of all the woodwork tools, machines and sawdust (wouldn't be allowed now under health and safety regulations!) and I believe a Hall relative still has a little joiner's plane with the initials J H and J R, for John Hall and John Rigby, a fine memento of a once thriving Wigan business.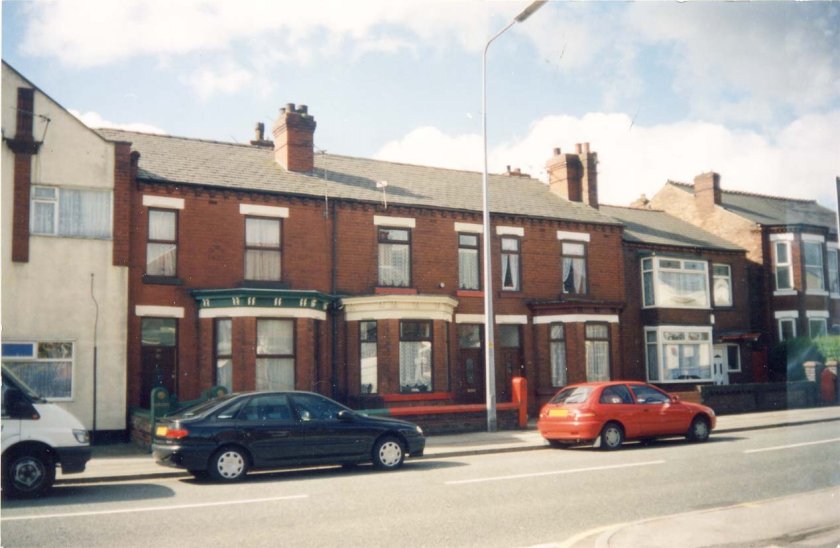 Park Rd, Wigan, Springfield end (no 171 centre of Victorian terrace of 3). Photo submitted by Carol Coates.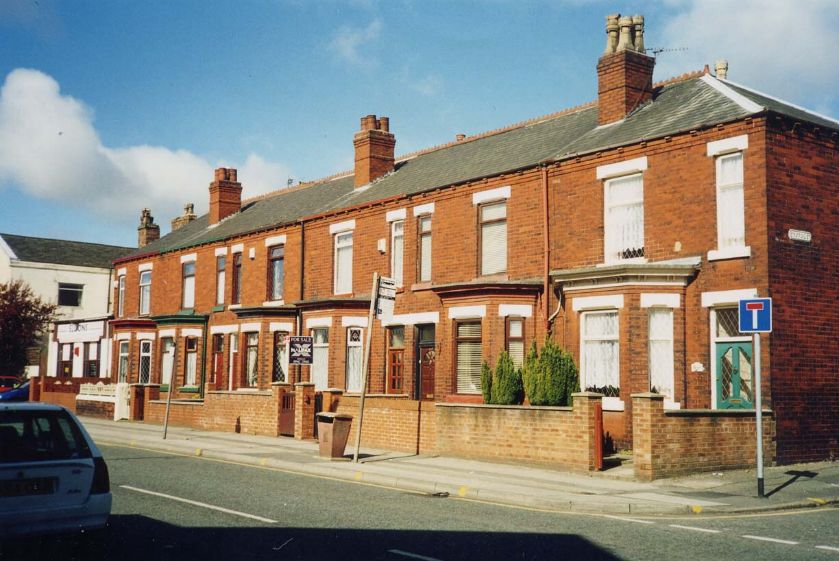 Park Rd, Wigan, Springfield end (terrace opposite no 171) nearside corner is Stratford St. Photo submitted by Carol Coates.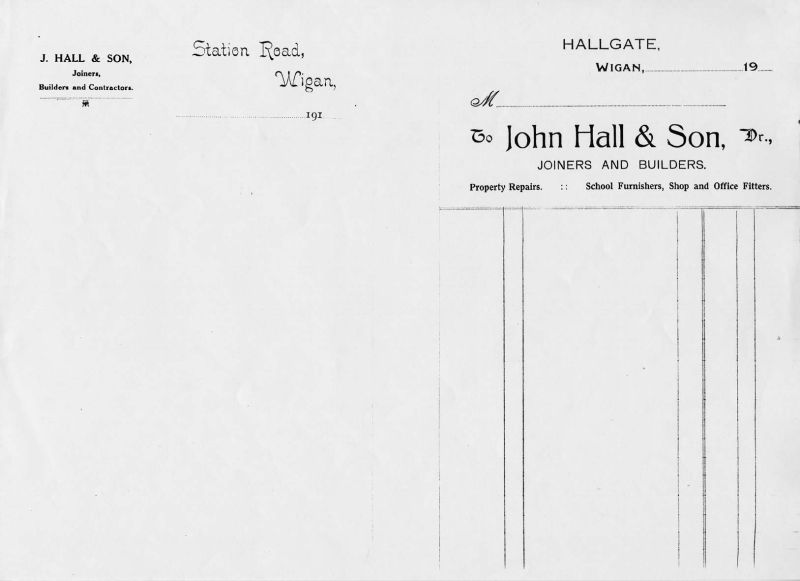 John Hall & Sons business heading c1910 & invoice c1925. Photo submitted by Carol Coates.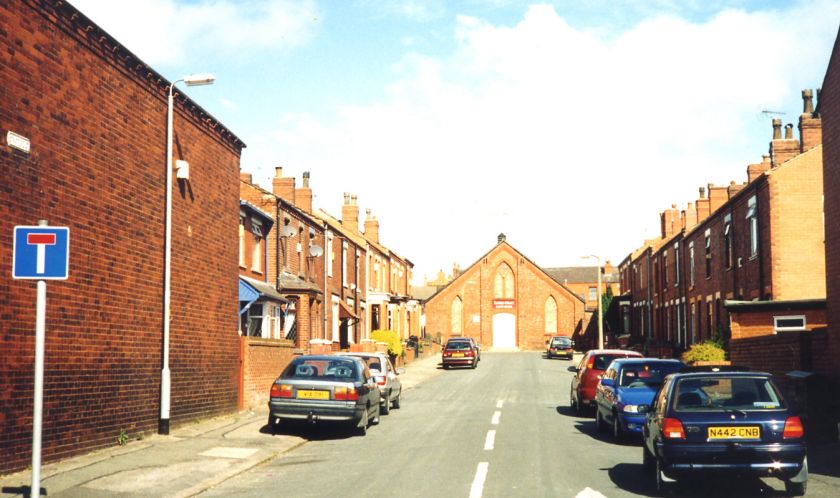 Stratford St off Park Road, Wigan opp 171 Park Rd. Photo submitted by Carol Coates.