I remember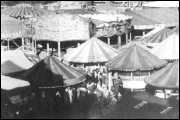 I remember...
the Wigan Fair on the market square
Comment by: Lewis (Wigan, England) pre 2009.
does any body remember it looked like a big tub and motoe bikes went round it on the inside it used to frighten me to death but most of all i loved the pot stalls i would stand there for hours just to hear the banter
Comment by: Brian Naylor (Wigan, Lancs) pre 2009.
I remember the fair the sounds & lights steam engines with all the lights on them much better veiw sat upstairs on the no54 LUT bus for Leigh on our way home to Bickershaw.Also who's was the new's paper stall at the end between the bolton LUT and chorley Ribble bus stands facing the phone boxes.
Comment by: Helen West nee Bradshaw (Binham, Norfolk, UK) pre 2009.
I remember going to Wigan Fair with my sister Anne, we lived at Holland Moor. This would be around 1949/50. I loved it, the noise,smell, colour & walking on the cobbles. We would always go on the Waltzers & something called the Caterpillar, where a huge yellow awning came up over the top of you ! Eating sticky candy floss you watched being made in a big revolving metal thing. Also loved watching the men at the china stalls where they would load a whole dinner service into a wicker basket, shouting at you about what a bargain you would be getting. Lots of memories of my childhood in the north. Never ate black peas though !
Comment by: martin cox (wigan, Lancs) pre 2009.
I remember the fair on market st even though i was only around 5 years of age. Does any one know where i can get my hands of any of the prints or photographs of the market fair? Please email me.Thank you
Comment by: bernard farrimond (wigan, uk) pre 2009.
one of my most vivid memories of wigan fair,apartfrom the delicious black peas,was the deafening roar and the powerful diesel smell of those large generators that used to beparked near to the toilets.We always seemed to arrive home carrying the usual horde of goldfish in a bag,coconut, plaster ornamentand, for some reason ive never been able to fathom out why, a bow and arrow?
Comment by: MOT TOM (Wigan, Lancs) pre 2009.
I remember going to the black pea stall going around the side and kicking all the backsides that were leaning against the tent sides and then running like the clappers
Comment by: patricia (wigan, lancs) pre 2009.
i remember when i was about eight (1964) and my dad used to take me to wigan fair, and the black pea stall (we had to keep that a secret from mum she said they were dirty so and sos) and a fair ride which would break all the rules to day you stood inside of a large drum with your back against the wall and it spun round and round and you stuck to the sides. i remember looking up at my dad it was great.. i wish those days would come back.
Comment by: chrissie Hardman (bolton, uk) pre 2009.
Goldfish that never lived for more than a day or two; being so excited that we were going to the fair that my sister and I threw up all over each other! Garishly painted chalk ornaments we won, that Mum had to pretend to love....black peas!
Comment by: Carole Ross (nee Winstanley) (Mornington Peninsula, Australia) pre 2009.
Black peas yum yum. My Dad also said they were "scruffy ruffians on the fair and that black peas should be condemned" I loved them but never told Dad I got them. I also loved the candy floss and the cockles and muscles from the market stalls.
Comment by: Dave Marsh (St.Clement, Jersey) pre 2009.
I remember the Wigan Fair. There used to be many sideshows such as boxing, the five legged sheep, and the favourite with 14 year old boys (which I was) was the strip show featuring the dance of the seven veils, the can-can and a striptease. All this for just a tanner (six old pence) We would often visit this show twice during the evening and the audience was mainly boys of our own age. I suppose we were quite liberated in the fifties.
Comment by: Christine (South Carolina, USA) pre 2009.
It has to be the black peas, and trying to win a gold fish, then having to go to the Pot stalls with my mum and dad, till they got a bargin.
Comment by: Raytben (Tillamook, Oregon, USA) pre 2009.
Only time i ever had black peas was at the fair. Silcocks amusements and I saw Peter Cain box an exhibition round there.
Comment by: Jean J (Wigan, Lancs) pre 2009.
The black pea stall. I loved it but me and mum had never to tell dad we'd been. He said it was dirty as their cups where never washed proper. Maybe right.
---