I remember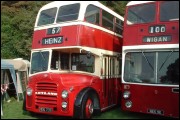 I remember...
the bright red buses
Comment by: eric turner (Blackpool, United Kingdom) on 13th September 2021
was ribble driver at morecambe depot and kendal 1963 to1973 and i was the first omo driver from the battery to bailrigg univerity
Comment by: Holly (Bradshaw, Lancs) on 21st November 2016
Apologies,as when I was writing my post I made some mistakes,I am Wigan born,and live in Bradshaw up to ward Bury way.Also I put Jam Butty in my name..It was a nick name which my nan called me sorry for the mistakes in my post.
Comment by: JamButty (Bury, Lancs) on 20th November 2016
My dad and uncles worked on the buses in the 50's and 60's.I used to help one of the clippie's out with the tickets,and felt like Olive from on the buses some times.I would think I was the bee's knees collecting money,and giving out tickets,but only being little then,about 7ish,I thought it was for me,the collections.I was not impressed when I was told you can't keep all them pennies and sixpences,I had a peggy purse at the time,and put a penny in the bag that the clippy had,and one in mine,one for me one for the bus ha ha oooo it's funny thinking of that now,writing this,one for me and one for the bus,I fell with that daft peggy purse,as I was swinging it about,got my leg fast in it,and knocked out 2 front teeth,so on the road to Standish one day when my dad was doing that run,he stopped the bus,and dropped me off at Ashfield house,to make sure they could fix my cut lip,and broken teeth.That I did not like at all,but then again it was better than Butcher Brown he gassed me worse than they did.I loved the buses,it was an adventure for me.
Comment by: Jack Knowles (Wigan, England) on 4th November 2016
To. Micheal Mercer, the buses of the type you mentiomed had the well down the offside and bench seats were designed to allow a double deck bus to pass under certain low bridges. Horrible for the conductor and very hard work for the driver. Crash gearbox, no assistance on the steering and awful brakes
Comment by: Jack Knowles (Wigan, England) on 4th November 2016
To. Micheal Mercer, the buses of the type you mentiomed had the well down the offside and bench seats were designed to allow a double deck bus to pass under certain low bridges. Horrible for the conductor and very hard work for the driver. Crash gearbox, no assistance on the steering and awful brakes
Comment by: james abram (wigan, lancs) on 16th May 2015
I remember Wigan corporation bright red single deckers and Ribble single deckers used to catch them at Jimmy frosts TV shop appley bridge to my grannies,to the mission school, and to football at Springfield. anyone remember the double deckers that used to go by the green railings near the canal at marus bridge on way to appley bridge the double deckers used to back on to the old hump back bridge at applet bridge about 1967/68
Comment by: Michael Mercer (Steyning, England) on 10th February 2015
I remember staying at my Nan's in the 50s,60s.I used to catch the buses down to Wigan from New Springs with my numerous cousins and friends. Upstairs the buses had a passage down one side of the seats a bit like the old train carriages and no Spitting signs.
Comment by: scott wall (wigan, england) on 28th January 2015
my dad harry wall,was an office boy with you fred sentence jr,from 1951 onwards he used to come to your house in beech hill.my dad and myself are in partnership with two other friends together we own two preserved wigan buses,one Leyland pd2,also Leyland royal tiger fleet numbers 115 and 101.
Comment by: NORMAN GERRARD (WIGAN, U K) on 26th April 2014
ITS NOW 40 YEARS SINCE WIGAN CORPORATION BUSES BECAME G M T I MET MRS KNIGHT WALKING TROUGH WIGAN CENTRE I ENJOYED HAVING A CHAT ABOUT CARL HER LATE HUSBAND WHO I WORKED WITH AND JUST CHATTING ABOUT THE BUSES 40 PLUS YEARS AGO
Comment by: Maureen Knight (Wigan, Englandf1ia0) on 8th August 2013
My husband, Carl Knight, worked on the buses from 1964 until 1998. He enjoyed the early years of Wigan Corporation Transport best. He worked long hours and more often than not did 13 days out of 14. What made it all worthwhile was the camerarderie of the workforce. There was always a good tale to tell. Carl died on 2nd February this year. 2013. He would have loved to have read these memories.
Comment by: jud (wigan, england) on 24th May 2013
i remember coming out of school Thomas Linacre and running for the Kitt Green bus there was one at 4pm and one at 4 05pm.If i missed them i would run up Market St and get one of them at the station.Then i would jump off at the corner of Bell Lane as i lived in Saddleback Rd.
Comment by: Frederick William Sentance (Chorley, UK) on 18th January 2013
My dad Fred Sentance was a driver on these buses,he was regular on the Hindley Martland Mill route.We lived at Beech Hill and when i left school started as a office boy in the offices.The job was to service the ticket machines and to cash them up against ticket sales.Used to get plenty free rides on these buses,especially at nights coming home on the last bus,acting as the conductor whilst he collected the fares.Learned about double clutching watching my dad drive,stood behind the drivers cab.Buses every five minutes from Beech Hill,and extras on when a big rugby match was on.Happy Days.
Comment by: June (wigan, uk) on 18th January 2013
So was i Sheila, missed that last bus many a time and had to leg it down to the station like a whippet haha, thats where i met my hubby on the last bus home.
Comment by: Linda Cubby nee Broxson (wigan, England) on 18th January 2013
I remember my bus stop was in station road which was very handy as we went to the casino further along station road so i could wait until the very last moment to run out to catch the last bus home which was 11pm if you said to the young people today that they had to catch a bus home at 11pm they would think you had lost the plot OH DEAR i am getting old HA HA
Comment by: Sheila (Jersey, UK) on 18th January 2013
I remember when the inspector used to stand at the top of Library Street and blow a whistle at 11.00 p.m. for the last bus to depart. I used to live in New Springs and my bus was right at the bottom near the Tech. My friend Kath lived in Hindley and her stop was further up. I used to be a fast runner then!
Comment by: gill jones (wigan, england) on 11th December 2012
my dad worked on the buses for many years he was demobbed out of the army and srarted work for wigan corporation as a conductor going on to becoming a driver his conductor was lou evans after many years as a driver he became an inspector eventually taking early retirement through ill health he spent all his working life on the buses although it was just supposed to be a temporary job for him on his demmob my dads name was cliff leyland and im so proud to be his daughter
Comment by: Paul Heyes (C de Aceituno, Spain) on 16th November 2012
I remember 4d to Ashton and 10p to Wigan from Bryn. Dropping off the back open doorway as you approached the bus stop, and more important being able to jump on after the bus had started off, that's if you could run fast enough. Always on time clean and you did not have to wait all day for the next if you missed one. Public transport has taken a huge step backwards when I compare those cherry and white buses to the poor excuse for a mass transport system Wigan now has.
Comment by: Liz Kearvell ( nee Hayes) (Adelaide, Australia) on 6th November 2012
I remember getting the no. 5 bus from the centre of Wigan by the toilets and going to Graham Farm which was the terminus. I lived in Pepper Lane no. 181 and I travelled on the no5 bus quite often with my sister Jo th go to Standish or Wigan. I also went on the single decker Ribble buses that were chartered for the St Peter's students, they took us from Standish to Orell post to the then new St Peter's Secondry Modern School. One of my Mum's cousins was a driver for the no.5 bus, I think his name was Tom Owen I'm sure of the first name but not the surname. What a lot of memories come flooding back!!!! Cheers!!!
Comment by: geoff partington (Leeds, UK) on 5th November 2012
I remember the pit-men's bus with an aisle on the right upstairs and long benches that could seat 5 at a push. You went up a step from the aisle to the seats, so if you sat downstairs near the right-hand window you could bump your head if you were more than 5 foot 3 !!
Comment by: Grace-Ann Davies (Wigan, Lancs) on 22nd February 2012
Sorry for my previous enquiry,it was the 25 bus and not the 625 bus coming down Frog Lane.
Comment by: Grace-Ann Davies (Wigan, Lancs) on 1st February 2012
Coming down on the 1st 625 bus Down Frog Lane from Lowes in Market Street around 1950s.Anyone remember the exact year
Comment by: NORMAN GERRARD (WIGAN, U K) on 19th April 2011
I REMEMBER DERECK CUNLIFFE AS FRANK WHITTLES CONDUCTOR OVER 40 YEARS AGO HOPE YOU ARE WELL ITS ALSO 37 YEARS SINCE W C T D CEASED AND G M T TOOK OVER NOW TRANSPORT FOR MANCHESTER HAS MANAGED TO REMOVE THE CHILDS FLAT FARE AND THE O A P CONCRSSION BEFORE 09 30 T F M IS A SHAMM TOTHE TRAVELING PUBLIC WIGAN RAN ASERVICE BUT NOT ANY MORE
Comment by: david h (upholland, england) on 9th April 2011
some one asked about jimmy ashurst, knew him well, was pal of my uncle fred wiswall who was a coductor on the ribble for many years after working for cadmans buses. at this time the ribble could not pick up after the chapel in school lane upholland, and from wigan no one could get off the bus until after abbey lakes, but they could get on.When my uncle Fred was on the Ormskirk or Southport Route esp. on a Sunday, he would stop the bus in front of our house in Digmoor to pick up pie that my mother,his sister had made, happy days
Comment by: Derek Cunliffe (Wigan, GB) on 16th February 2011
Worked on the buses from 1961 till 1989 as a conductor for 3yesrs then went driving. For meit was the best job in the world. We where just one big happy family. Made loads of freinds. Who I meet now and then when I board the bus. But unfortunely most of the old friends have past away.
Comment by: carol (wigan, England) on 2nd January 2011
My dad was the manager of ribble buses in the 70.s and early 80,s when his offices over looked the market, used to love going in his office to try and use the old ticket machines, and the big old fashioned type writer on his desk.Great views he had overlooking that side of town
Comment by: Keith (London, UK) on 7th December 2010
Route 6 was a short journey on route 5 to Boar's Head. It is shown in the 1946 timetable. I travelled regularly on route 5 from 1950 to 1956 but only saw 6 used once.
Comment by: Carl (Wigan, England) on 19th November 2010
I remember the buses well and now have a collection of the old ticket machines of Wigan, Leigh, and LUT to remind me.
Comment by: Dave Bennett (Wigan, England) on 15th November 2010
I can still remember most of the Wigan Corpy bus routes-1/1A Beech Hill,2/2A Ashton,3/3A Hindley,4 Martland Mill Bridge,5/5A Standish dont no if route 6 existed,7 Abbey Lakes,8 Bleachworks,9 Norley Hall Estate,10 Bryn Stubshaw Cross 10A Marus Bridge 10B/10C Worsley Mesnes,11 Platt Bridge,12 Abram,13 Bickershaw,14 New Springs,15 Horwich 16 Bolton,17/18 Blackrod,19 Windy Arbour,20 Standish,21 Kitt Green,22 Marsh Green,23 Worsley Hall Estate,24 Bottling Wood,25 Beech Hill,320 Liverpool. I know there were other routes with A B C D suffixes such as 3D and 3E Ince but these were the main ones I do have an old Wigan Corp Bus Timetable with all the routes in from the 1960s but these I remember from the top of my head sad but true phew!!Does anybody else have memories relating to any of the bus routes mentioned.
Comment by: Peter Ledger (Oldham, England) on 22nd October 2010
On cold winter mornings in the 1960's I always used to try to get a seat behind the drivers cab because the aluminium clutch housing was so warm on my feet, happy days
Comment by: denise glover (orrell, england) on 14th June 2010
my dad worked on the buses around 1966 his name was sydney glover they put a notice on the notice board telling him he had a new baby daughter
Comment by: John Lewis (Liverpool , U.K.) on 30th May 2010
In the 60's whilst living in Chester, l remember that a club that l was in arranged a visit to the two Wigan bus bodybuilders, Massey's and Northern Counties. lt was a great day out and we were made very welcome. Later Massey's were taken over by Northern Counties which has now sadly gone too.
Comment by: N GERRARD (WIGAN, ENGLAND) on 31st March 2010
ITS 36 YEARS APRIL 1ST 2010 SINCE WIGAN CORPORATION CEASED RUNNING BUSES HANDING OVER TO GREATER MANCHESTER TRANSPORT ON APRIL 1ST 1974 AND ITS BEEN DOWNHILL EVER SINCE
Comment by: janet bunyan (Oxon, UK) on 17th February 2010
I remember jumping on the buses just as they were about to start off and the bus conductors who came around for you to buy a ticket
Comment by: Tom Bridge (Wigan, UK) on 13th February 2010
Tony, Abbey Lakes did, and still does exist. It's a little further on than Orrell, where I used to live during my teens. I caught the No 7 service from Wigan every day as I attended Wigan Grammar School. My mother had been a conductress on Wigan Corporation before she got married. She can still rhyme off all the service numbers and routes to this day! I am now reliant on bus travel again as I am unable to drive any more due to a medical condition. To say the service is poor would be an understatement. Bring back Wigan Corporation!
Comment by: Tony Rigby (Gt Sankey, UK) on 21st January 2010
To Dave, Wigan. As a kid I was very fortunate to travel from Liverpool to Whiston on a Crosville H12 (service number) I know this aint got owt to do with Wigan but I do remember the rather bizarre top deck configuration it was so exciting for a ten year old who was into buses. The bus in question was a Bristol Lodekka introduced in 1949 and used widely in North Wales because of the number of low bridges. I have no idea how it came to be in service this side of the water. Guess I was lucky that day. Never travelled on one again.
Comment by: mickey (Blackpool, England) on 17th January 2010
Smartest bus livery anywhere. when you see the mixes of orange, cream and brown today, you realise that the simple cherry and white were the best.
Comment by: Colin Barnes (Hindley, England) on 6th December 2009
Best bus service ever was the No1 bus Atherton -St Helens,it was every 15 mins,the operator was LUT.Nowerdays it is run by Arriva the 620&320, they are the poorest services on the planet.Bamfurlong at night is like a ghost town.
Comment by: tom clancy (wigan, england) on 1st December 2009
Hi Tony the bus depot is still there albeit for sale but still in use by the First company.Vist G.M.T.Museum site for wigan buses in presevation
Comment by: Tony Potter (Burlington, ontario, Canada) on 29th October 2009
Oh, I well recall the Red & White Wigan buses, with the two Green lights either side the destination blind. All Leylands of course. I used to catch the No. 6 from Marus Bridge into town every morning, and back again in the evening, but my favourite Bus Route, was No. 7, Abbey Lakes. I never managed to take this one, but such a lovely sounding name. Was there really an Abbey Lake? and does the Bus Depot still exist today? Wish I had taken more photos of the buses, when I had the chance, but a few I have include: S/D JP9062 S/D BJP 364 and D/D JP 6032 just inside the Depot; D/D AEK 512 on route 16D to Wigan; D/Ds FJP 566G; KJP 30J and GJP 9G when new, but my most cherished picture is of D/D FEK 2F parked in a street close to teh depot, all taken in the early 70s. The town centre always seemed to come alive, with Buses coming and going all day long, unlike today with its traffic free area. Good luck with this site, and feel free to respond to britannia2@cogeco.ca
Comment by: Dave (Wigan, UK) on 10th August 2009
I also remember the bus fare from the top of Howden Drive at Worsley Mesnes to Wigan was 2 new pence when decimalisation came in.This was on the 10B service from Hawkley Hall Estate back to Wigan,sometimes we would walk down to Worsley Mesnes Drive and try to catch the 10C coming off the estate and nearly always missed it.Another memory is going to school (Hindley County Secondary)on the No 3 Hindley Castle Hill Estate service which terminated in Silverdale Rd,once I got on the bus in Library St not realising it was the service No 3A which went up Ladies Lane needless to say I had a long walk back to get to school!!Once again happy days long gone.
Comment by: Dave (Wigan, UK) on 10th August 2009
I can remember the Norley Bus always read on the destination blind Norley Hall Estate and it was number 9 or 9A indeed it did terminate at The Green as it used to reverse here before heading back to Wigan where it went on to the Bleachworks (service number 8) also the Norley service was extended further up Helvellyn Rd onto Lamberhead Green Rd as there was a bus stop outside my grandmothers house ( No 85).Not sure where it terminated from here but I remember it coming back down Fleet St from the Pemberton direction.This was in the days of the open backed Leyland PD1 and PD2 lowbridge and highbridge buses in cherry and white livery. Who remembers the upstairs seating arrangements on the lowbridge buses? Long bench type seats with side gangway. Happy days!!!
Comment by: Jimmy (wigan, England) on 9th July 2009
Carol, you must be a young un, the original Norley bus service finished where the pub is now. it was later extended to Helvellyn/The Green.
Comment by: alec almond (wigan, england) on 6th May 2009
lynne almond are you daughter of bill
Comment by: carol (wigan, england) on 4th May 2009
I remember the terminus being on Helvelyn rd norley.
Comment by: Dave (Wigan, uk) on 16th April 2009
For all those who have worked on the red buses in the past and remember Norman Gerrard he will be 65 in April 2009 and like the red buses will not be at the deopt anymore. The depot will not be the same without you Norman. ALL THE BEST AND THANKS FOR ALL YOUR TIME GIVEN
Comment by: george (wigan, england) on 5th March 2009
i remember the first corporation buses on norley.the terminus was where the norley pub is now.
Comment by: Gordon Rouse (Melbourne, Australia) on 13th January 2009
My father started working for the Wigan Corporation Transport in 1911 at the age of 12. He retired in 1964. He also served in both World Wars but always returned to the buses.My Grandfather Benny Rouse not only played for Wigan rugby but worked in the Sheds in Netown.
Comment by: owd dave (wigan, england) on 10th October 2008
my dad was a ribble bus driver in the forties fifties and sixties and he used to tell of the time he had to stop his bus early one morning to remove a line of hedghogs that were crossing the road only to get a round of applause from the passengers any old bus men remember jimmy ashurst
Comment by: Ruth (Wigan, England) on 18th August 2008
Surely they were cherry and white buses.You know,like THE rugby kit?
Comment by: Emma (Southampton, Hampshire) on 19th July 2008
Goodness me it's lovely to read all those memories, they conjure up my own but the reality is that they never leave. Going from Bickershaw Lane to Wigan, looking out for the Abram bus (12) or the one from Bickershaw (13) or wondering if the parked number 11 would be first to move and dashing across the road because I always seemed to be at the wrong stop! Would it be WCT and stop at all the stops or the fast LUT (54, 57, 60 or 61) which only had limited stops. Or maybe run around the corner and try the 320 which could an exotic Ribble! Recently I plucked up courage at the Netly Marsh steam rally to chat with an owner of a WCT single decker; I asked why it had Limerick as the destination. I was told that it had been used in a film. He then started to unwind the destinations and to my son's horror I started to recite them... before they appeared. Yes, very happy memories and thru' pence well spent for a Saturday morning at the ABC Minors The excitement too of the Platt Bridge Labour Club with a dozen buses parked in Platt Street and the policeman on duty in Ashton stopping the traffic to let the convoy through, the rest of the day in the Peter Pan playground or the open air baths 'shiver' before tea at the Mayfair Café!!
---