I remember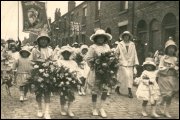 I remember...
church walking days
Comment by: toni Forster (now Francis) (chatteris, cambs, UK) on 4th May 2016
I walked with the church in Newton that was pulled down to build houses - I can't remember what it was called. We were such a small congregation that we used to share walking day with St Marks. Later I walked with St Barnabas Marsh Green.
Comment by: Debbie Roberts (nee Crabtree) (Abergele, North Wales) on 18th April 2014
Hi Denise ..lots of pic to see. Go to Wigan album and click on Walking days. Memories galore!
Comment by: denise radcliffe nee barrow (wigan, lancashire) on 9th April 2014
Hey ... i walked for years with St Cristophers Mission in Holt Street Ince ... and was so chuffed when i got to lead out ... Would love to c any photos from 76 onwards...
Comment by: Linda Bell. Nee Fourare (Wigan, Great Britain) on 21st June 2013
Walking days at Wigan Parish Church were big affairs... Mum (Molly Fouracre) used to make dresses for lots of children round the area and usually ended up making mine and my sister Sheila's the night before ... Racking her brains for something different that she hadn't made the other children! A pocket was out in the 'sticky out underskirt' to put in the coins we were given for walking. I remember we'll the procession ending up on the cobbled market square where my friend hymn was sung .... The Church's One FOundatiom.... I still get goose bumps when I hear that hymn. The day ended with family and friends party back at home.
Comment by: chris kellett (hindey, england) on 23rd March 2013
50 years of fun hindley south was a playground all youneeded was old clothes and apair of wellies too play in borsdane brook
Comment by: margaret (wigan, lancs) on 1st March 2013
i remember walking days i walked for st thomas caroline st wigan me and my sister i loved the new dresses we wore but they was so stiff they scratched our legs as we walked we had little bags on our wrists so we could put the money in what people tossed into the road walking along wigan roads holding banner ribbons days like that should come back it was fun
Comment by: Sandra Fitzgerald ( Buclkey) (Sydney, Australia) on 26th September 2012
I remember my very first walking day holding on to the ribbon on the banner fo All Saints Church,and just in front was the Hindley Brass Band which my father was in, what a proud day for both of us
Comment by: sandra stewart (wilson) (saltcoats ayrshire, scotland) on 29th September 2011
we lived in leigh.my 4 older brothers were dressed in long grey trousers white shirt @tie.brill creamed hair.my 4 young brothers wore short white trousers white shirt,bow ties.i always had a beautiful dress and bouquet of flowers .we didn,t have much money ,but mam @ dad made special effort for walking day.
Comment by: Charlotte (Wigan, Lancashire) on 15th April 2011
I didn't actually take part in the whit monday walk, way before my time. but my grandma did, she was a member of St.Patrick's. She remembers all gathering at St. Pat's just before 8am and sorting out all the banners then at 9 they would all start walking to market square. She says when everyone was singing there you must have been able to hear it from miles around because it was that loud. then they would all set off at 11 and walk around all the parish's. and people dropping off as they reached their parish, She said the front of the prosession could have reached St.Pat's and the end of the parade would still be in market square. People from all over would turn out to watch, with their chairs in tow so they could sit down in a good spot to watch. She has great memories of the walk and said it would only finish at 1/2pm and was a great hike, she remembers the route but i can't remember what she said the exact route was but i sounds fantastic and im sorry i missed it and that it doesn't happen any more.
Comment by: sandra barnes (ashton in makerfield, England) on 10th March 2011
I remember walking with ST benedicts Church also when I was little my Grandad played in Hindley Brass Band and I used to run out to him and he gave me a sixpence.The good old days.
Comment by: Eileen (Boyd) Parr (Leigh, Lancs) on 15th October 2010
I have very happy memories of Walking days at St William's in Ince, my DaD had the Honour Of leading Procession in 1951, he was very proud to have been picked to carry the Papal Flag. We all walked my Mum ,and my four brothers and thee sisters, then we ended the walk in Ince Park by the Bandstand to have an ice bun and a bottle of pop. Great Days.
Comment by: Jeff Crook (prado del rey, spain) on 19th July 2010
I remember all the walking days in shevington especially because my grandad used to be at the head of them
Comment by: Josephine A. Bretherton (Wigan, England) on 5th July 2010
Walking days were the highlight of our school year. It started by bringing money into school on a Monday morning towards the cost of our outfits. About 1952 I led out on Sacred Heart banner, such an honour. The weather was so bad, the procession only made it to the Market Square for 'Faith of our Fathers' etc. then the procession was abandoned and we all returned to our respective parishes. The red streamer dripped red dye on to my new white frock, and the rain caused my dress to shrink. Happy Days.
Comment by: Brenda M (Vancouver, Canada) on 3rd June 2010
It was lovely to have a new dress made for walking day, but the new shoes always rubbed my toes. I would carry a posy of flowers from the neighbour's garden, and people who knew me would put threepence or sixpence in the little bag that matched my dress. And I loved the sound of the brass bands.
Comment by: Christine Ackland (nee Hunter) (Southampton Hampshire, UK) on 11th May 2010
Beautiful memories of Whit Mondays and singing "Faith of our Fathers" on the Market Square. The banners with the flowing ribbons and feeling very smug because one year i had the longest ribbon on the banner. Nobody in those days had much money but somehow our parents always managed to get the money together to buy our dresses for Whit Monday. Wonderful!!!!!
Comment by: Irene Roberts (wigan,lancs, England) on 21st November 2009
My Aunty Mary used to put a posh voice on when the Vicars' contingent passed by in the procession, but she always got her h's in the wrong place and ended up saying "Oh, 'ello Vicar...hisn't it 'ot?" She would then spot some "high-up" church lady's little lad "leading out" carrying a beribboned crook, and she'd mutter "ey-up....ah thowt yon mon ud a't t'be a shepherd"!
Comment by: RitaWarrington nee Holland (Wigan, Lancashire ) on 10th October 2009
In about 1946 after the war had ended in 1945 St Patricks had their own walking day. wigan walks had been suspended during the war. does any one remember the walk and the actual dates. i remember a picture in a wigan paper and i would like to trace it.
Comment by: JULIE HURST (WIGAN, United Kingdom) on 9th October 2009
I have many happy memories of walking days with St. Anne's Church Shevington. This was in the early 60's. The smell of carnations remind me of walking days. We always had them in our posies. My mum use to have us dresses made specially from the material chosen by the church, she had to go to Flax Mill in Wigan to buy the material off the roll that had been put aside especially for our Church. I also remember sleeping with rags in my hair to give me wondeful ringlets in my hair. Friends and family use to run into the parade to give us sixpences which we put into the palm of our snow white lace gloves. The brass band and the drums use to make my heart beat fast, happy days!
Comment by: alan lad (wigan, england) on 23rd September 2009
st wifs walking day the time of the year when mam did the family proud by turning us out in all new clothes how she did it god only knows and going to pick a posee i think thats what they were called with my sister from gardeners at the front of ashfield thanks mam
Comment by: Rose winstanley (wigan, lancashire) on 20th July 2009
i remember the walking day at down hall green we used to call it jelly sunday and all the famillies used to gather to gether on that day to watch it seemed to go on for ever we loved it we used to go to my mothers house .(grand mother ) and she did a lovely tea for all of us and of course we had jelly ,hence the name jelly sunday
Comment by: Joan Beckett(Wilding) (wigan, UK) on 21st April 2009
Ste, Hi again, depending on what school was leading out that particular year, they used to start off 1st and I am sure we used to collect other schools en route great memories
Comment by: Jean Glover(nee Ashcroft. (Orrell, Wigan, England) on 16th April 2009
I walked with my Church Orrell Post Methodist. I was also in St Lukes Orrell, Morris Dancers and St Lukes had a Carnival every year with floats and tableaus etc and of course us Morris Dancers. The streets were lined with people watching
Comment by: Ste (Wigan, England) on 28th March 2009
Joan, we were at 129. Can't remember being tired after the walk and I can't remember the exact route but it must have been a good hike!!! Does anyone remember the route? Did we meet up with other schools on the way?
Comment by: Joan Beckett(Wilding) (Bolton, uk) on 18th March 2009
Ste were in Darlington St East did you live we lived at 153 near to Billy Seddons butchers, and yes you are right it was a long way to walk especially when you was only 5yrs old haha
Comment by: Ste (Wigan, England) on 18th February 2009
I remember St Patricks Walking Days. We would all be set up in the street at the side of the Junior School (was it McCormick Street?) then I remember walking past our house in Darlington Street East and going under the railway bridge at the junction with Warrington Road. My only memory after that is walking past my nan's house in Caroline Street and ending up on the Market Square. Can anyone tell me the exact route we took 'cos it seems a long walk to me !!!!
Comment by: george orrell (wigan , england) on 9th January 2009
yes carol the good old days many years ago
Comment by: carol (wigan, england) on 8th January 2009
george, I remember the field treats on the cricket field. I was taught how to play the "spoons" by an old man, never knew his name.Salad Days eh?
Comment by: george orrell (wigan, england) on 29th December 2008
walking with st johns pemberton in the 50's.we used to walk first on a saturday then had what was known as field treat at norley cricket club,were it was a sports day.on the sunday was the main walking day.i remember in the church after the walk i put all the money given to me onto the collection tray.young and foolish eh.
Comment by: dawn frnworth (nee barrow) (wgan, england) on 28th December 2008
i remember walking from st christophers mission , happy days. my aunty dorothy used to be a big feature there and i used to walk with my cousins gail lesley and lisa barrow.
Comment by: Carole Walker (nee Fairhurst) (Wigan, U.K.) on 21st November 2008
My older sister Doreen and younger brother Keith walked with St. Paul's Church at Goose Green. I remember one year when I hadn't attended enough Sunday School classes to walk under the banner and hold one of the coveted ribbons. I had to walk in the 'ranks' and was so ashamed, it never happened again. Our mum who has just passed away ( 27/08/08) at 88 years of age used to make all our clothes and we wore lovely smocked dressed with a matching 'Dorothy Bag' to carry the money given to us by friends and relatives as we walked. Great days, great times, neighbours and friends cared and looked out for one another. Where has it all gone ??
Comment by: Peter Fitzpatrick (Kelowna -BC, Canada) on 15th November 2008
about 1948 I was a drummer in the ts Lady Crawford sea cadet band & we plyed many church walks.around 1950 I playe Bass drum in Hindley subscription brass band & Whit walk was the highlight of the walkday year.I remember starting the day waiting to start the walk from the market square,most of us were waiting inthe Market hotel.We played all the local walk days in thier turn.My Mum made those pretty dresses for the girls,I was the tailor's dummy for her when she was sewing them! Boy didn't I get ebaressed when mothers came in to see how the dress was progressing.I'll bet Margaret Rowdon remembers !Peter
Comment by: carol birchall(nee adamson) (wgan, england) on 2nd October 2008
St Johns Pemberton. The banners, the bands, the different colours of the girls dresses, the men in their best Sunday finery not to mention the ladies dressed in their best.If you were at the front you had to wait 1/2 an hour until the last got back.Saddly, no more..
Comment by: margaret williams nee (aspden) (golborne , england) on 30th September 2008
I have great memories of walking day with St.Chritophers Mission Holt Street Hr Ince. We would be all excited about leading out the one with the most attendance would lead at the front and the second most would be on the longest ribbon on the back. All our flowers was fresh and smelled lovely Ican smell them now the band would send shivers down my spine did you attend the mission when we did. we was Margaret Aspden,Susan and Wendy Barrow, Tony Barrow, Robin Barrow and Janet Morrison.
Comment by: kev woodward (ince wigan, england) on 26th August 2008
me and terry used 2 carry the banner great fun except wen windy good days
Comment by: jacqueline penman (wigan, england) on 29th June 2008
I remember walking with St Patricks on whit monday ,all the children beautifully turned out,parents as proud as punch,the pipe bands ,but the highlite of it all singing faith of our fathers on the market square.Very happy and proud days a pity it can't be revived
Comment by: jenwren (dunstable, beds.) pre 2009.
I remember walking days. St Michael's. The little ones walked holding onto a rope that had flowers on it and carried little posies. The older children under banners.The streets were lined with people and after we had a lovely tea with special cakes. If I remember correctly all the Catholic churches walked on Whit Monday but the C of E churches walked on separate sundays. There was a special banner for all the young boys and girls who had been recently confimed. Each sunday school class had a different colour of dress for the girls.
Comment by: Julie Evans (nee Crabtree) (Dwygyfylchi, North Wales) pre 2009.
I remember St Christopher's Mission, I lived in Holt Street! In 1966 (I was 7) I lead the banner for the Mission Walking Day! My little sister (Deborah) and me had our dresses made by Auty Dorothy Radcliffe from Lower Ince and our flowers came from Lillian's in Ince Green Lane - Oh! what a fuss... but what a day! New dresses, socks and shoes, ouch! We will never forget - what happy memories! Does anyone remember walking with us?
Comment by: owd robiner (WIGAN, uk) pre 2009.
well i never is it thi sell i remember you. little ginger a great little rugby player i can see you now walking with st edwards in your white satin shirt very smart. but you could not wait to get it off and play rugby
Comment by: jay gee (leyland, england) pre 2009.
I remember walking with St Edwards Newtown, my dad organised the sports on the British Legion field after walking . I also remember Micky Dalton,un a con remember thee owd robiner
Comment by: mayqueen (wigan, lancashire) pre 2009.
can anyone tell me who the two little girls are on the opening page of Wigan World, they look very familiar?
Comment by: mayqueen (wigan, lancashire) pre 2009.
yes I remember the Whit walks, all the family used to go to my aunties and she used to have the chairs in front of the UCP tripe shop on Scholes. My uncle and my cousin walked with Saint Patricks, it was a very great and special day for everyone, the brass bands and the pipe bands were fantastic, I have some very happy memories.
Comment by: owd robiner (wigan , u.k) pre 2009.
does any one remember micky dalton walking with the witt walks always had a carnation in his lapel he had imitation roses in his garden so that he had flowers all year round he was a character very dapper
Comment by: margaret mullee [wilkinson] (Newton-le-willows, merseyside) pre 2009.
I walked with st.catherines during the 50's and remember my dresses were maid by someone called Bernadette and my dad always stood outside the Windwill pub
Comment by: SCOTT DEMPSTER (southsea, United Kingdom) pre 2009.
Ha Ha,my father,what a laugh,"Norman Dean"the great wigan "Club" entertainer,a big name in the 70's so i hear,my hero for the first 9 years of my life and then a new fancy woman and god knows what became much more important than me and my sister,the second family he had walked out on apparently
Comment by: Chris Collier (Southport, in, United Kingdom) pre 2009.
Every year in the 1950s my mother and father would take me to watch Wigan Walks on Whit Monday. Every parish in the town would walk. priests in top hats and morning dress at the front, banners, children , women, men usually accompanied by a brass band, silver band - or best of all for me - a pipe band. Then off to family friends in Wigan for dinner and an afternoon at Haign Hall. Wonderful days.
Comment by: Brenda (King's Lynn, Norfolk, England) pre 2009.
My family, brothers and cousins walked with St Nats at Platt Bridge. 3rd weekend in June if I remember rightly. The build up to the weekend, choir practice in church for the special service after the Sunday walk. The year that Canon Dean died during the walk. On the Saturday we collected our flowers from the florist, baskets if you were in rows and bouquets if you were on the banners. The lovely new clothes. Saturday afternoon after the walk was sports day and a picnic on the playing field. My mother was always busy in the summer as she made lots of dresses for people for the various local walking days. I loved to hear the bands strike up. I think we usually had Hindley Brass Band and of course our own Boys Brigade Band in which my cousins and later my brothers played. Happy days.
Comment by: supuplad (wigan, lancs) pre 2009.
My all time favourite hymn is Faith of our Fathers! I have many more fave hymns, don't get me started and all have them have a vivid memory attached from school to celebrations and on! Hail Glorious St Patrick, Sweet Heart of Jesus, Ave Maria and on and on...........
Comment by: celia (coppull, England) pre 2009.
Elizabeth Harrison, if you are the one I think you are you were in my form at the Convent, I remember you, your sister and walking on Whit Monday and singing Faith of our Fathers. My what wonderful memories the last time I walked with the Red Cross Society carrying the Union Jack, never expected it to be so heavy when the wind got hold of the cloth!
Comment by: Linda Armstrong (Wigan, England) pre 2009.
I remember walking Day, I walked every year with St.Barnabas Marsh Green. I was honoured one year by being on the Banner on the back rope, the wind nearly knocking you over.LOL I was a Brownie and a Guide and walked on St Georges proudly. I was at All Saints and left in 1968.
Comment by: Marie (Wigan, Lancashire) pre 2009.
I was a pupil at St. John`s in Brick Kiln Lane in the 1930`s. We had a wonderful nun headmistress - Sister Mary Regis. One Whit Monday, as we assembled for Walking day, the heavens opened and it looked as if the day would be a disaster. Not so, the good Sister had us all down on our knees praying, and by the time we were assembled ready to move off the rain stopped and we had a fine day. I am an old lady now, but remember my school days at St. John`s and at the Convent High school very vividly. Does any other `old girl` remember the obligation we had to wear gloves!
---