I remember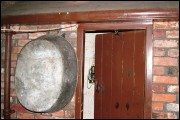 I remember...
the outside lav
Comment by: a (Chorley, Lancs) on 1st November 2016
I was born in Standish in 1942 and for the first four years of my life, mum and I,lived with my nan and grandad at 32 Wigan Rd.My dad was overseas,in the Air Force and my mum worked in a munitions factory. After the war we moved into dad's old home,in a row of houses known,locally as Ghost Row. The house was damp and draughty,had no electricity and an outside toilet.I recall tramping through snow,in the depths of winter,wearing wellies and a coat over my nightie and sitting on the toilet,in the dark, with an icy wind blowing through the cracks in the door.Next door's toilet backed onto ours and our neighbour,a grumpy old man,seemed to spend a lot of his time sitting in there smoking and coughing.The smoke,from his Woodbine would permeate through the wall into our toilet,making me feel sick.But the thing I dreaded most was hearing the hoarse croak who often sought shelter in there.
Comment by: joseph tighe (leigh, uk) on 5th April 2016
I was brought up in scholes when and I remember when Billy highton one of our neighbours was on the outside toilet he always sang Frankie lane songs so they knew the toilet was engaged.
Comment by: Colin Holland (wigan, england) on 23rd February 2014
W we first got married in the early 70s we lived in Delegarte streel lower ince and had an outside loo in a communial yard. I used to let my wife go firstnbefore bed and she used to think the world of me before she realised I was letting her warm the seat.
Comment by: Jinksy (wigan, England) on 11th February 2014
Could never forget trips down back yard to Petty Summer was ok but middle of winter that was another story (in/done/gone) get back in front of coal fire.Night time had a Jerry under bed.Some of my mates in Spring View were Posh they lived in Council Houses had inside lavs Bathrooms and hot water. We had a tin bath One tap &that was cold water. All said I wouldn't swap my childhood nobody in Spring View /lowerInce had ought but we were happy& had a great childhood.
Comment by: JoyceH (Alberta, Canada) on 14th March 2013
Oh brother do I remember the outdoor privvy, we used to take an old miners lamp with us down the yard when we had to go as it was so dark, then in the winter we had a huge lamp in there so the water box wouldn't freeze up.
Comment by: Bob (Ballyclare, U.K.) on 25th November 2012
The outside toilet we had was a flush one with black hard plastic seat. But it was the one next door which I remember so well, it sounded really terrific when flushed and when once I had the chance to use it I noticed that it was lower than ours. Both toilets were low level Shires variety from the 1950's or 60's. Does anyone have any memories of high level toilets with wooden seats?
Comment by: JOSEPH HOLLAND (ECCLES , UK) on 1st April 2012
OUTSIDETOILETS AT GRANDMA MARTIN 14VICTORIA ST NEWTOWN WIGANEVEN A GATE ON COURT YARD AND ATIN BATH ON THE WALL
Comment by: james gordon (ashton, england) on 29th November 2011
I am surprised that no one from Stubshaw Cross as been on here and mentioned about the lavvy, at the bottom of the yard and just behind it there was what was called a middin, were we used to throw all our rubbish in. Every week or so a truck would come down the backs and men would open the lavvy door and take the bucket away and put a clean one back with pink powder in, then a couple of days later another truck would come round and a bloke would jump in the middin and start to shovel the rotten waste in to the truck, and they called those days the good old days.
Comment by: Chris (Wigan, England) on 25th September 2011
How could I ever forget the outside lav, freezing in winter, a candle under the pipes trying to thaw them out, carrying a bucket of water to flush it when the pipes were frozen, the newspaper torn into squares and threaded with a peice of string and hung on the back of the door. The white washed walls and the tin bath hung on the wall of the yard, oh those were the days but I'm glad there no longer with us, would't like to go back to that.
Comment by: carolcooper (hindley, lancashire) on 23rd April 2011
I remember a farm in Worthington in the 60s going to my friend's house and wanting to spend a penny and she took me to an old building with a outside lav which had two seats one next to the other with a seemingly endless drop. I suddenly didn't need the loo! Could Brenda who mentioned Cooper's Yard Hindley let me know if she remembers anything else as I'm researching it.
Comment by: Edna Booth (Warrington, UK) on 14th April 2011
I remember the outside lav full-well! In the winter you had a paraffin-lamp in there to stop the pipes freezing! It was great in winter, World War 2, when coal was rationed. It might be a bit chilly in the house, so you went "down't yard" for a warm! It was once known as "the fairy at the bottom of our garden". But I can go further back - taken to visit people at Croft! They had a double-seated one - just a plank of wood with two huge holes cut in - just an earth-closet, emptied on a weekly basis from a trapdoor at the back by the "marmalade-men". I was a toddler at the time and terrified of falling down the hole - so if I wanted a pee they had to take me to the local railway station. Nothing to do with pettys etc., but I remember those people at Croft were Roman Catholics. They did not have an accessible local church! The priest used to visit the village on Sundays to celebrate Mass. And the RC residents took it in turns to host the service in their houses! How life has changed!
Comment by: Christine Ackland (nee Hunter) (Southampton Hampshire, UK) on 25th September 2010
OMG I remember the outside lavie very well. I was so scared to go in there because of the spiders and moths (even to this day i'm terrified of moths), so i would leave the door open and make my Mum stand outside till I was done. In winter the pipes were always lagged with sacking and a tilly lamp left near the pipes so they wouldn't freeze. Definatley not sorry to see the back of the outside side loo. Give me a bucket and chucket any day.
Comment by: Andrea (Keller, USA) on 22nd February 2010
Grandma used to have an outside lav., and when we went to stay with her at the weekends and holidays, we had to have a chamber pot under the bed at night. Her toilet and cistern was stolen one night for the lead, fortunately by then they had had an inside bathroom installed.
Comment by: Gaz Ounder (Crowland, Lincolnshire) on 16th June 2009
Hi, i collect / save old outside loo doors - Despite being unloved, these lovely old doors have heaps of charactor. I want to hold an exhibition of the doors but dont have many so need some more. Please email me if you know of one that needs rescueing or a new home. Thanks very much.
Comment by: josephjwn (eccles , england ) pre 2009.
grandma martin14 victoria street newtown cobbled court yard 6outside toilets tin bath on the wall about 1938 happy days joe holland
Comment by: maureen (wigan, england) pre 2009.
in my younger days the average corner shop [ours was in wallgate] supplied salt pepper etc in newspaper twists. like most people my grandma used old newspapers cut into squares,and these twists along with the newspapers were hung in the outside toilet. one day my grandad returned from the toilet and said "god,mi backsides on fire",he had used the pepper paper.
Comment by: Brenda (Wigan, England) pre 2009.
I REMEMBER THE OUTSIDE LAV MY SISTER COMING DOWNSTAIRS WRAPPED IN A BLANKET WITH A BOOK UNDER HER ARM AND A TORCH THEN PICKING THE BRUSH UP TO SCARE OFF THE CATS THAT WALKED ACROSS THE WALL AT THE END OF THE YARD
Comment by: linda (metung, Australia) pre 2009.
I remember the out side loos we use to share with other neighbours I use to take my younger brother and have to sit and wait for him outside not too good in cold weather
Comment by: supuplad (wigan, lancs) pre 2009.
I hated outside toilets cos i have always been terrified of spiders and there always seemed to be a web in the corner!
Comment by: a whalley (golborne, lancashire) pre 2009.
My grandma lived in Abram and her toilet was a penny bus ride down the yard it was that far and we had to have the door open sometimes and let the moon shine in to see what we were doing.and toilet paper was the wigan obsever ouch.
Comment by: joe barker (wigan, england) pre 2009.
----- Original Subject: The House behind the House!.. Do you remember these days or are you too young? . sent by relation in canada The House Behind The House One of my fondest memories As I recall the days of yore Was the little house, behind the house, With the crescent o'er the door. 'Twas a place to sit and ponder With your head all bowed down low; Knowing that you wouldn't be there, If you didn't have to go. Ours was a multi-holer, three, With a size for every one. You left there feeling better, After your job was done. You had to make those frequent trips In snow, rain, sleet, or fog-- To that little house where you usually Found the Eatons catalog. Oft times in dead of winter, The seat was spread with snow. Twas then with much reluctance, To that little house you'd go. With a swish you'd clear that wooden seat, Bend low, with dreadful fear You'd shut your eyes and grit your teeth As you settled on your rear. I recall the day Ol' Granddad, Who stayed with us one summer, Made a trip out to that little house Which proved to be a bummer. 'Twas the same day that my Dad had Finished painting the kitchen green. He'd just cleaned up the mess he'd made With rags and gasoline. He tossed the rags down in the hole Went on his usual way Not knowing that by doing so He'd eventually rue the day. Now Granddad had an urgent call, I never will forget! This trip he made to the little house Stays in my memory yet. He sat down on the wooden seat, With both feet on the floor. He filled his pipe and tapped it down And struck a match on the outhouse door. He lit the pipe and sure enough, It soon began to glow. He slowly raised his rear a bit And tossed the flaming match below. The Blast that followed, I am told Was heard for miles around; And there was poor ol' Granddad Sprawled out there on the ground. The smoldering pipe still in his mouth, His eyes were shut real tight; The celebrated three-holer Was blown clear out of sight. We asked him what had happened, What he said I'll ne'er forget. He said he thought it must have been The pinto beans he et! Next day we had a new one Dad put it up with ease. But this one had a door sign That read: No Smoking, Please Now that's the story's end my friend, Of memories long ago, When we went to the house behind the house, Because we had to go. For those who never had to trot out in the Cold..... Just Give Thanks!!!
Comment by: Betty (Hindley, England) pre 2009.
We lived in coppers yard Hindley. All the lavs for the street were together in the front of the houses. Two houses shared 1 lav except n/o 7and 9 who had there own.
Comment by: Alan (Plymouth, U.K.) pre 2009.
Always used Aunties outside loo so that I could read the lurid stories in pieces of the News of The World. Problem was there was always a piece missing. At home we also had a tin bath kept outside for bath time in front of the coal fire once a week. Ah.. the good times...at least until the water went cold.
Comment by: joe barker (wigan lancs, lancs) pre 2009.
i remember one of my mates family had a farm down leyland mill lane, they had two outside loos out in the orchard, they were the none flush ones. but the one that stuck in my mind was the double seater,never could fathom out why anyone would want a double seater thrutching in unison or betting on who would drop one first.were i lived in upper morris st ours was in back yard four in a row back to back with four from next yard you could have a chat whilst spending a penny. then the toilet paper was old newspaper cut in squares, you would start reading a piece but could never find end of story. you would be in a mess today if you wiped your rear end on modern newspaper your behind would be like a tomato with black bottom, but they were happy days
Comment by: phil (billinge, uk) pre 2009.
bispham hall bowling club around 1977 in the gents the chain that flushed the stone was long gone and replaced with a peice of old string above the urinal on the wall was a hand written notice made by the comittee which read 'DO NOT THINK YOUR ON THE TRAIN BUT THERES NO PENALTY HERE FOR PULLING THE CHAIN'but someone had put a line through chain and in ballpoint pen wrote 'frayed string'i was about 8 or 9 then ,ime now 38 and i cant look at an old fashioned bog chain without reciting that through my head,funny what sticks innit.
Comment by: Graham (Hindley, England) pre 2009.
When I was young I lived in an old farm cottage.The loo was at the bottom of the yard.the road past our house was used a lot by people walking down to Leyland Park.One day two women knocked on the door to ask could they use the toilet.It was one of those that had a bucket which could be removed from the back.while they were in there me and my mate we were only about five or six at the time sneeked round the back and opened the door.The trouble is one of the women looked down to see two smiling faces beeming up at them.I hope they dont remember this.
Comment by: Vic Greenwood (Bryn, UK) pre 2009.
Sounds like some of you had really posh privies; I lived near Ashton Cross when I was lad and our privy was down the bottom of a very long garden with a field and a wood beyond that. It was a small brick structure about 3 feet wide, the seat was wall to wall boarding with a hole for sitting on and it was boarded wall to wall from floor to seat. There was no cover on the hole and the waste part was just a stone floor, and due to the fact we had a farmers crop field at the back it was only empted be the council twice a year. My dad used the spade down the hole to lever the waste further back into the middin and he would then clean it off by digging it under the rhubarb, we ha some terrific rhubarb. There was also a brolly behind the door as the roofed leaked in when it rained. My mother and father used this privy until 1970."
Comment by: Janet (Ashton, Lancashire) pre 2009.
I hated going down to the outside toilet on my own. One night my mum told me to go and empty the potty my baby sister had just used. I ran down the yard, pushed open the toilet door and flung the contents of the potty down the basin. Problem was, the seat was still down. Thank goodness for in door bathrooms.
Comment by: elsie tootill (wigan, lancs) pre 2009.
carring are own toilet board across the yard because we were posh
Comment by: andy (wigan, uk) pre 2009.
my mum lives in barnsley st and although has an inside lav still has the original outside bog.Its dead handy now shes getting on a bit and recently unable to climb stairs.I sometimes use it for old times sake and believe it or not its quite cozy in there especially when its raining .
Comment by: elsie smith (wigan, uk) pre 2009.
IN THE 1940'S WE LIVED IN BOLTON RD, ASHTON ONE DAY MY SISTER NORMA (THEN AGED 8) WENT TO THE OUTSIDE LOO, WHEN SHE HAD FINISHED SHE STOOD UP AND TWO CATS JUMPED OUT OF THE LOO!
Comment by: John Dennett (Wjgan, Enland) pre 2009.
I remember the outside lavy,and the Wigan Observer. It was delivered I think on Friday night,read over Friday Saturday ,& Sunday. Monday it was used as a table cloth for the rest of the week, then cut up into squares with a piece of string put through it and hung behinde the lavy door the next Friday, then the whole cucle started over again.
Comment by: Sue (Wigan, UK) pre 2009.
The outside loo oh yeah our was across the cobbles in Queen Street (highfield)always froze up in the winter had to lag the pipes with old clothes. As a special treat you could open the loo door and have a conversation with eadie if she was on the loo opposite at the same time. Still happy days non the less
Comment by: MOLLIE MATTHEWS (WIGAN, ENGLAND (where else?)) pre 2009.
Ah yes! The exterior privvy. I was just a little girl in the fifties and my dad had a shop on Darlington Street. The outside toilet seemed to be miles away from the back door in those days. The summer wasn't too bad but winter was utter torture. I'd scuttle down in my little nightie and beddies, get seated whilst freezing to death. Problem was, when you'd finished cleaning up you ended up with yesterday's headlines tattooed to your bum!
Comment by: wedge (wigan, england) pre 2009.
Still got one down bottom of the yard, use it every day!!!
Comment by: polly (ince, england) pre 2009.
Oh the sheer cold of it in the winter. We had to keep a little oil lamp in there so the pipes wouldnt freeze. It was always the last thing you did at night so hopefully you wouldn't have to get up again. Never mind the pipes it was my bum I was concerned with. I remember gran's with the newspaper on a hook we've come a long way since then ????
Comment by: B. Priestley (wigan, lancs) pre 2009.
yes barb, but what about the tortoise the lads kept in the lav,we were too scared to go in there untill they took it out!! i remember my dad wiring an electric light in ther so we would'nt be frightened. we were dead posh then compared with others,but you still did'nt hang around there in winter, it was freezing no sign of heating in them days eh!
Comment by: Barbara Hart (Wigan, England) pre 2009.
I remember the outside lav - going down the yard in all weather. I remember a spell where my brother kept his pet mice in there because my mother wouldn't have them in the house. Also the newspaper cut in squares on a nail behind the door. Who said they were the good old days !
Comment by: veronica (westhoughton, england) pre 2009.
Yes our lavvy was whitewashed on the inside and it was the only place to get some peace and quiet if I remember. The usual newspaper squares hanging on a hook and a lavatory brush in the corner. It was really draughty as well. Over the door and growing out of the brickwork was some kind of fungus a bit like mushrooms - I think we were very lucky in many ways that we did not catch "foot and mouth" disease. Oh and next to the "lavvy" was a "coal hole" and the bin!! Charming!
Comment by: b naylor (wigan, lancs) pre 2009.
ah the outside bog remember going down the yard sitting there reading the newspaper hung on a peice of string not toilet roll (those day's unless you were well off)and the toilet smelling of smooke and the sounds of anyone in the next toilet coughing their guts up. remember running down the yard in your pyjamas in the rain,parrafine lamp on a hook for winter not to keep you warm but to stop it freezing up. so come on all you lot dont be bashful must be loads of memories about the outside privvy out there.