I remember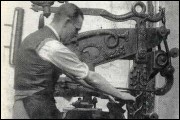 I remember...
my first job
Comment by: Stephen Lee (Oban, Scotland) pre 2009.
My first job was as a trainee laboratory assistant at the Bleachworks. My bosses name was Percy. I used to have to dip the effluent flowing into the Douglas and test it for the amount of solids being discharged!
Comment by: Jim Crook (Wigan, Lancs) pre 2009.
I remember my first job a Walker Bros Iron Foundry in Gidlow Lane, 1950 My wage was under £2 per week and I had to go on my bike from Hindley Green,
Comment by: ELAINE BATTERSBY (EDINBURGH, SCOTLAND) pre 2009.
hi my 1st job was BRADSHAWS SEWING FACTORY IN HINDLEY we wernt very well paid for the work we did but i have some happy memories . i wish sometimes i could turn the clock back they wer the good old days.
Comment by: Graham (Hindley, England) pre 2009.
My very first job was a paper round in Hindley Green.I was 13 at the time. While on my round I came across a pop van that had broken down.I was very very naughty but I put a bottle in my paperbag what I thought was a bottle of pop.When I got home I had a drink but it was not pop it was sherry.I did not know this at the time.I was so ill after it it taught me a lesson.
Comment by: Graham (Hindley, England) pre 2009.
After leaving David Browns tractors in Leigh in 1986.I worked at Triangle Valves in Pemberton in 1986.I worked on the radial arm drills.The lad that trained me up I think was called Billy Wiggins ?.I also remember a young lad that worked there who was train mad.He used to spend all his spare time going for train rides.I also remember this lad looking for the bubble out of someones spirit level.Have I got this Billys name right?
Comment by: thomas (wigan, england) pre 2009.
Started work at Rathbones Bros Wigan.1976 worked with Stey prescot,mick O brian,and after the shift we all used to go to the tavern for a game of darts . Our supervisors were Joe mallison,Stan Davis.
Comment by: Linda Armstrong (Wigan, England) pre 2009.
My first job in 1968 was at Timberlakes Garage on Wallgate it was brand new they had only just moved from Library street, on Fridays we girls would go to the Whitesmiths for our dinner 3 courses for 2/6d luxury.
Comment by: Lanky (Born Bryn now Florida, usa) pre 2009.
I remember the Ashton Tobacconists They used to sell woodbines no filter I would look in the window There was a prayer book in the window that I relly wonted. I worked at Makerfield Mill when I was 15 till 22 it was called the weaving shed I used to like going to the caf'e across the street from Ashton Tobacconists it was upstairs Great pies Used to go to Ashton Market with my mam
Comment by: Barbara Causey(nee Johnson) (Wigan, UK) pre 2009.
My first job was at Starrs Printers & Bookbinders.in 1959 . I remember Tommy Butler very well &all the people he remembers.
Comment by: angela (clitheroe, lancs) pre 2009.
my first job was working at rathaports sewing factory in ince it as had other names bagire is another name it was hard work but had a good laugh does any one remember
Comment by: brenda evans nee atherton (abram wigan, adelaide south australia) pre 2009.
my 1st job when i left school at age 15 was at bradshaws sewing factory in hindley next to the markets. i was pais 5 pounds a week and my mum gave me 5 shillings pocket money back i sewed donkey jackets and anoracks. i hadnt been there long when i was put onto piece wages . i sewed as fast as icould and earned a packet ,but mum ostill only gave me ten shillings even after that . i got my finger caught under the sewing needle and had to sit there untill they freed me . my boss told me ,your not a sewer until you got your funger trapped under the needle . my eldest sister joan worked there also and a lot of our friends . i loved that job. every week on a friday i would go to hindley market and buy my niece some clothes as she was just a baby at the time . didnt really have anything else to spenmy money on. we caught the bus from lily lane to hindley every morning come hail rain or shine. those were the days .
Comment by: Joe Bell (Sandbach, Cheshire) pre 2009.
My first job was at Riding and Andertons saw mill at Seven Stars. I used to stand behind a horizontal band saw into which was fed whole tree trunks on a dolly, which moved on railway lines.' Me and another lad' would stand either side of the log behind the cutting blade knocking wooden wedges into the fresh longitudinal cut to stop the timber trapping the blade. If trapped, the blade may spin off the 12 foot diameter wheels it was running on. The shed foreman known as Black Jack, told us "keep thy eye on 'im (referring to the operator of the saw who sat in a small control cabin), if 'ee runs, then thy runs, ok lads? "Training session over"? Oh Health & Safety!
Comment by: Dave Ingram (Bromborough, UK) pre 2009.
To Tom Yes my Dad was Stan from the Court. Went off to open a place in Northwich in 1970. Went to the great dance floor in the sky in 1988
Comment by: Tony Horrocks (Southport, UK) pre 2009.
To Dave Bolton. I too rememebr all the coaches on the market square on a Saturday morning. I used to go with my dad, Arthur Horrocks who was MD at the time.Happy days!
Comment by: Mary O Neill (SYDNEY AUSTRALIA, AUSTRALIA) pre 2009.
CLIFTON MILLS to Janet Wigan Lancs My 2 sisters worked at Clifton Mills not sure what year probably about 1973/76 Noreen O' Neill was a machinist and Sheelagh was in the office do u know of them?
Comment by: margaret s (wigan, u.k.) pre 2009.
my first job was at tupperware inthe packing dept. it was at the top of our street so didn,t need to go far.nellie atherton was the supervisor oh at what a pain she was.we had to pack so many items in an hour and woe betide you if you didn,t.you got a rise according to the performance you did.it was anything from 1/2d to 2d an hour.the girls were great to work with though.that was in 1969.where has the time gone.
Comment by: natalie (wigan, england) pre 2009.
i want to know more about the coal mines in wigan. im facinated by denis partington's first job and would love him to contact my email to tell me more. im in london and putting on a production of massa in the west end next month about the pit girls in wigan 1850-1890. id love to talk to someone who has either relatives or their own more recent pit memories.
Comment by: GLENN TURNER (LEIGH, LANCASHIRE) pre 2009.
I REMEMBER MY FIRST DAY"S WORK AT VULCANITE TARPAULIN ON POTTERY LANE.I WAS THE CAN LAD,WENT TO CHIPPY 4 WORKERS IN THE PRODUCTION PLANT.gOT MY FIRST OF MANY MOTOR CYCLES WITH A LOAN OF THE FIRM. WE ALL WENT TO SEVERN STARS HOTEL ON PAY DAY FOR A DRINK.OH THE MEMORIES,DOES ANY ONE REMEMBER.
Comment by: Tom Butler (Dawlish, Devon) pre 2009.
To Dave Ingram Was your Dads name Stan who was the Dancing Instucter at the Court School Of Dancing Iused to go there in the middle sixties.Along with Frank and Harry Webster Dave Mackinson Ken Marsh Jean Wood Jennifer Duerdon Christine Farshaw to name but a few .
Comment by: Dave Ingram (Bromborough, Wirral, UK) pre 2009.
My very first "job" was working for my dad who was manager at The Court school Of Dancing on Station Road between about 1960 (possibly 61) and 1970. I would have been about 11 or 12 and would wash glasses and suchlike. Memories of Mods on scooters on Saturday nights meeting and cruising through town. Used to get in the ABC cinema for free cos my dad knew Mike (who went on to manage the Casino) Don't get me started or this thread could go on and on. Coincidentally I was in wigan the day they demolished the ABC/Court building and when I went past they had the front off the building and I could see the room where I had looked out of the window on to Station Road below. A different world...maybe I'll add more somewhere else on this site
Comment by: BILL (WIGAN, LANCASHIRE) pre 2009.
started work at MASON'S wholesalers at carrington brook,wray street, at 15 in 1949 got the grand total of £5 p.w.
Comment by: Ann (kitchener, canada) pre 2009.
i used to work in clifton mills to weaving
Comment by: Val Baxter (wigan, uk) pre 2009.
I started work at Clifton Mills in 1972. It was a dive. I got £5 a week and me mam give me £1 back. When the wage went up to £7, she give me £3 but told me I had to buy me own clothes and works dinners out of it! I left in 1976 and went to Peter Blonde. I got married in 1974 when I was 17 and still married to the blighter nearly 32 yrs later. He's a good ole stick tho!
Comment by: gail ready (wigan, england) pre 2009.
left school (tommy more) 1976 then started work at coops, jacket room 1, jack barker was the manager gweneth martin was my supervisor, made great friends e.g. denise melling, linda hargreves, karen aspey and we had great christmas parties and there was a hen or a birthday party nearly every friday, wages were always spent b4 we got them but oh wat fun we had, any body else got any memories xx
Comment by: vicky smallman(nee dainty (macclesfield, england) pre 2009.
i started work at coops sewing factory in 1962.my mam got me the job,no holiday before,it was striaght to work.we only clocked in at 9oclock for the 1st week.i started in the training room.we also got free diners for 3mths.after six mths we went on short time and my mam made me leave and she again got me the job at kattenburghs.after that i got my own job at john whites ,we made candlewick bedspreads there.nostalgic days.
Comment by: Mel Carter (Billinge, UK) pre 2009.
I started my first job in 1969 at the age of 15, when I worked at the Empress Cotton Mill in Anderton Street, Higher Ince. I worked shifts in the Card Room, managed 28 card machines and got £7 a week. The noise was unbelievably loud and people would get each others attention by making a "WooHoo" call, not dissimilar to a yodel. The temperature was around 70 degrees in the morning 80 degrees at lunchtime and had reached the 90s by the afternoon. This heat together with the fine mist discharged by the sprinkler system in the ceiling made the cotton manageable.
Comment by: elsie smith (wigan, england) pre 2009.
i started work at harbens silk mill, golborne at age 15 i was a wages clerk and got £2 4s a week every morning i had to go round and check all the checking in clocks there was appx 40 of them it took me bout an hour and fridays pay wages out. does anyone remember me?
Comment by: Tommy Butler (DAWLISH, DEVON) pre 2009.
Iworked at Starrs Printers from 1964 to 1970 as a Bookbinder.Colin Starr was our boss and I also worked with Roy Sharrock Donald Fox Arnold Whitehill Stan Brookes. I'm still in the trade although now working in .Sunny Devon
Comment by: Margaret Hegan (nee Dawson) (Elmswell, Bury St Edmunds, Suffolk) pre 2009.
Wigan Public Library in Rodney Street. Going round every morning and straightening the books on the shelves before opening time. Whispering all the time. Now thinking-I wish I had been into researching my family history then instead of waiting till I left the county.
Comment by: Mark Smith (York, Yorkshire) pre 2009.
Slaters Menswear, Makinson Arcade. I had a saturday and hols job from 1980 to 1982. I recall having to do the crap jobs like hanging all the clothes up on the rails outside above the windows, having to flatten the cardboard boxes in the cellar etc.I also recall how busy we were in the summer selling school uniform...it sometimes felt as if the whole of Wigan actually bought their uniform from Slaters! I've just read Stuart Mackonies book " cider with roadies" in which he describes his childhood in Wigan and going to Slaters for drainpipe trousers. My heart used to sink when we'd arrive in the morning and people would be queuing up to kit their kids out. Seems like another age as on wednesday we used to shut up shop for lunch and all go out together for a bite to eat, whilst lots of shops in Wigan still closed on wednesday for half day closing.Can also remeber our staffroom was in the cellar which was a bit dingy but we used to make a nice strong pot of tea and rest our weary legs at break! Names I recall are Sandra Blackledge (lovely girl who I had the hots for!!) Mr Herbert ( manager who'd been there donkeys years)Margaret ( deputy manager)and her daughter Karen, Christine, Mike,John, Elaine, Joan, Babs and Mark 2. Any of you out there??
Comment by: dave bolton (wigan, england) pre 2009.
my first job was at Smiths Tours in Market Street in 1960. On Saturday mornings we had to be in early to see all the tours of on the old Market Square---it was my job to go for the breakfasts. Does anyone remember me.
Comment by: christine speakman (wigan, england) pre 2009.
walking into Trenchfild mill on my first day.500 sewing machines going at once. iworked onn Make Up.and inspection. I have never worked in a place like it since. Good laughs, good nights out. [Even now i still go to wigan on saturdays with my friends. We have met up with friends from twenty years ago. Good memories good laughs.]I often bump into one or two of the girls and we all say the same what a laff we had. fomr 1979 to 1986
Comment by: denis partington (wigan, uk) pre 2009.
Old Boston Training Centre (Haydock). A first year training centre for miners. Getting on the bus with boiler suits and steel toe caps on. chips, pie, peas and gravy in the canteen for a bob. Having to clean the tiles on the pit baths walls of coal dust and snot, picking up soiled bandages and dressings so they wouldn't block the drains. Eating worms, bees and jumping into the site pond in the middle of winter for bets. Sunbathing on the top of the surface gallery (an 'L' shape 500M mock tunnel to simulate mining conditions) in our dinner time with our boiler suits rolled down to our waste and the sleeves tied together until we burnt. Then the shock of being sent down the pit full time (Parkside) in a cage that dropped like a stone for 900M. Fighting the initial fear of claustrophobia, comradeship, snuff, baccy -accidents
Comment by: stan aspey (bamfurlong, england) pre 2009.
I remember my first job at May Mill at Pemberton working in the card room at the age of 15, my first wage was £2.19sd in 1962 from the card room I moved into the blowing room where I worked until 1966 does anyone have any memories of working at may mill
Comment by: Susan Hulse (Wigan, United Kingdom) pre 2009.
I worked at Clifton Mills 1962-1069 in nSB Dept. Loved the anual trip to Blacckpool !!
Comment by: Fred Bryan (Sant Lluis Menorca, Spain) pre 2009.
as a apprentice at landgate colliery every week i had to post the football coupon at the post office at the top of rag brow this posh women in a car stopped me to say "im over heating" I said "ill go and get you some water, I ran to the post office,came back and offered the women the glass of water were upon she raged you "stupid boy its the car thats overheating not me"
Comment by: Barbara Hart (Wigan, Enland) pre 2009.
I remember my first job. It was at Thomas Taylor's on Miry Lane. It was a carpet factory and my job was a switchboard operator. My first wage was £3.7s.6pence. I thought it was great and it was there where I met my husband who I have been married to for nearly 40 years.
Comment by: Cadfael (Wigan, United Kingdom) pre 2009.
Turner Brothers Asbestos in Hindly Green. I was in 'packing'. We put 'cheeses' of fibre glass roving (It was like a big bobbin of glass fibre strand) into boxes and then stacked them on a pallet. I was with a bloke called Jimmy Flattely, and he was my first boss... and the best! It was all done by hand, and I was as fit as a butchers dog after 6 months! :D each cheese weight about 17kg, not all that heavy, but try lugging 2000 a day!
Comment by: Carole Ross (nee Winstanley) (Mornington Peninsula, Australia) pre 2009.
My first job was as a receptionist/typist at Harry Mayall's in Millgate (they were a wallpaper and paint supplier)...I was only 15 and thought the other staff there were all so "old." My first pay packet gave me 10/6d per week and I then moved to GKN at Martland Mill where I got 3 pounds per week. Before coming to Australia in 1967 I worked as a junior secretary at Dunlop on the Pimbo Industrial Estate in Upholland where I was getting 5 pounds per week and I thought I was so rich. My first job in Australia paid me the equivalent of $17 per week and I was ecstatic, I wrote home to all my family and friends to tell them about the wonderful wages people got here, and they didn't believe me !!!
Comment by: Stella (Seaford, Australia) pre 2009.
Started work at Brian Nichols Shopfitters at Seven Stars bridge in 1970, they also had the Venetian Blind Shop. Wigan was a great place and I even was safe walking from the Bank with the wages every week. Bet you wouldn't do that now.
Comment by: mot tom (wigan, lancs) pre 2009.
My first job was at pemberton caravans I was 15 and not very street wise . It was my job to go to the shop for things like butties fags and papers so I needed a box to carry them in .One of the men said to me nip across the road lad and ask for one which I did.Then the guy took me in the back of the shop and said to me you grab his head and I'll grab is legs .It was middleton and woods chapel of rest. I was out of that place like a bullet out of a gun
Comment by: JohnO'Rourke (Adelaide, Australia) pre 2009.
My first job was as an apprentice turner at Triangle Valve. Started in 1970 on three pound seven and sixpence. The training school forman, Norman Whalley, would look at the masterpiece of engineering you had just produced and say "that's pretty, what is it?" and promptly throw it in the scrap bin. I remember riding the "train" from main works to west works(?)and having to sing carols on the marking table at christmas. John O'Rourke
Comment by: Fred (Down South, UK) pre 2009.
Never 'ave been to Wigan but my - sounds a smashing place
Comment by: stella (wigan, england) pre 2009.
my first job was at coops in Dorning St.You could go work in your rollers if you wanted.It was hard work but we had a good time. stella from AZ
Comment by: glenys (wigan, england) pre 2009.
does any body know the wereabouts of barbara winstanley we worked at the slipper works she was my brides maid but sadly ive lost contact with her the last i heard she was living off tunstall lane wigan id love to hear from her
Comment by: doreen c (wigan, england) pre 2009.
My first job was also at the slipper works i remember having sore fingers trying to crimp the shoes and then got put on the utility machine and then on the skiving machines (that's what they were called) a good crowd there poor money but good workmates it was a person named Betty who took me to the empress for the first time and taught me how to dance ohhh! those were the days
Comment by: glenys (wigan, england) pre 2009.
my first job was at the slipper works i worked in vulk trimming fur on slippers id love to know what happend to joan barlow june fisher the lady who was over us had a nick name nellie one eye simply because she only had one eye but beleive me she never missed a thing
Comment by: John A Barker (Wigan, UK) pre 2009.
I also started my first job July 1976 at Triangle Valve Co,and I am the forementioned 'Elvis',those where the days....going to work with Peter (Ching)and the rest of the characters was such a laugh (and we got paid for it!).I dont know how we coped on those wages, when a Gallon of petrol 0.35p,Brown & Bitter 0.35p (not as if we were drinking that in Jem Lowes at Dinnertime !)
Comment by: Peter Saunders (Wigan, UK) pre 2009.
First job was at Triangle Valve in Pemberton, starting in 1976 on £19.75 per week. We used to have "swarf trolley" races at lunchtimes when the boss was out and having "who could eat the most toast" competitions at break time (Scouser always won that)and Elvis singing on his brush and explaining how to fold toast correctly.
Comment by: ann (kitchener, canada) pre 2009.
worked in marsdens in walgate butchers making pies in the 60s. got 3 pounds a week cost me a pound in bus fairs to get thier back and all the pies i could eat :-) they were good pies to.
---