New Cleansing Depot, Official Opening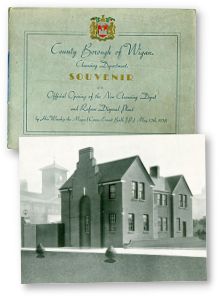 Material kindly submitted by Dave Green.
Official opening of the New Cleansing Depot and Refuse Disposal Plant by His Worship the Mayor (Counc. Ernest Ball, J.P.), May 12th, 1938.
Select a page below:
Page 1 Official Opening (cover)
Page 2 Official Opening of New Cleansing Depot
Page 3 The Borough Cleansing Committee 1938-9.
Page 4 Mayor Councillor E. Ball, J.P. and Councillor P. Winstanley, J.P. (photos)
Page 5 Alderman J. Lowe, J.P. and Councillor Tom Smith (photos)
Page 6 William H. Tyrer, C.B.E., LL.B. and James Dove, A.M.Inst C.E. (photos)
Page 7 William Smith, M.Inst. P.C. (photo)
Page 8 Members of the Cleansing Committee and Officials (photo)
Page 9 General view of refuse disposal plant (photo)
Page 10 View showing depot, yard and buildings (photo)
Page 11 Foreword
Page 12 Rear of disposal plant showing dust and cinder hoppers (photo)
Page 13 Foreword (continued)
Page 14 Refuse reception hopper (photo)
Page 15 Screen house (photo)
Page 16 Sorting room (photo)
Page 17 Description of Wigan refuse disposal plant
Page 18 Top charging floor showing mechanical feed to cell (photo)
Page 19 Description of Wigan refuse disposal plant
Page 20 Incinerator from clinkering floor (photo)
Page 21 Description of Wigan refuse disposal plant
Page 22 Tin baler (photo)
Page 23 Paper baler (photo)
Page 24 Plan of depot (map)
Page 25 Reference to plan
Page 26 Mortar mill (photo)
Page 27 Administration block (photo)