Famous Wiganers, George Formby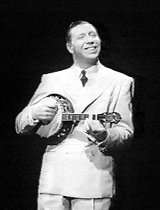 George Formby
George Formby was born in 1904 at 3 Westminster Street, Wigan. Christened George Hoy Booth, his father James Booth was a well-known music hall comedian who used the same stage name. George senior didn't want his son to follow in his footsteps, he went to great lengths to prevent him from ever seeing him live on stage.
George junior was sent to become an apprentice jockey at only seven years of age. He rode his first professional race at the age of ten weighing only three stones thirteen pounds. His father died suddenly in 1921, and with encouragement from his mother and being too heavy to continue as a jockey, he decided to follow in his fathers footsteps.
His career wasn't very successful until 1924 when he met a young dancer, Beryl Ingram. They were soon married and Beryl helped George to create a very successful career.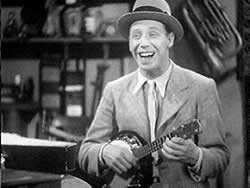 George Formby
In 1934, George made his first film, 'Boots! Boots!' which was a huge success. A contract was signed with ATP at the Ellstree Studios to make 11 films, making George Formby the most popular entertainer earning an estimated £100,000 a year.
A further contract with Columbia to make 7 films earned him another £500,000.
Each of his films contained several of his songs, which included titles as 'The Window Cleaner', 'Leaning On The Lamp Post', 'In A Little Wigan Garden' and 'Auntie Maggies Remedy'.
During his career he made 21 films and over 200 records, breaking all box office records for 6 consecutive years.
During the second world war, he toured Europe, Africa and the Middle East providing entertainment for troops and was awarded the O.B.E for his efforts.
Beryl died in December 1960, George surprised the nation only a few weeks later by announcing his engagement to school teacher Pat Howsen. Shortly before they were to be wed, George suffered a massive heart attack and he died on March 6th, 1961.
[Back...]