Photos of Wigan
Photos of Wigan
Photo-a-Day Archive
Photo-a-Day Archive
Photo-a-Day (Saturday, 3rd October, 2020)
All Change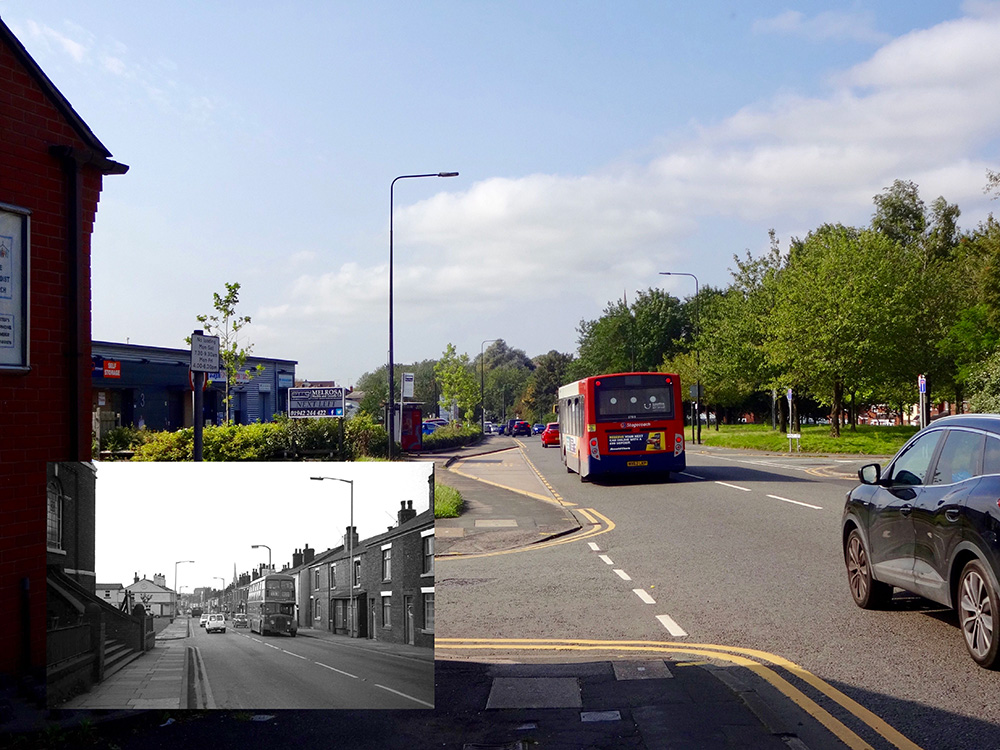 This view from Rose Bridge, Ince towards Wigan has changed out of all recognition. For comparison, you can just see the top of St Catharine's spire over the trees behind the bus on the recent photo.

Photo: Dennis Seddon (Sony DSC-WX200)
Views: 2,037
Comment by:
V eronica
on 3rd October 2020 at 08:26
Another good one Dennis and a familiar sight. I remember running up and down the steps to the church as a child. It looks so clean in those days hardly any litter at all. I went to Tesco yesterday in Wigan, and coming down the path to Greenough St I saw a rat diving in some bushes, there's was so much rubbish and face masks on the ground! I hadn't been there for years, it shocked me to see so much litter.
Comment by:
Walt(Nth Yorkshire)
on 3rd October 2020 at 09:52
Another brilliant photo Dennis, I remember the old view very well. When I was a young lad of 15 years I helped out in the Coop shop in Higher Ince for a few days and would walk along this road making my way to and from the shop.
Comment by:
Mick
on 3rd October 2020 at 10:05
Veronica the rat will have been a local, probably a grandchild of one of the salt of the earth families who lived around there in the olden days.
Its a shame they spent all that money straightening St Catharine's spire because it was unique when it was twisted and people driving past always knew were they was when they saw it
If the the reason for straightening was because it was in danger of falling down, then I would have took it down and just left it as a tower.
Comment by:
Veronica
on 3rd October 2020 at 10:41
Wigan was never as filthy in places in the old days... the masks now add to it all Mick and you know it, you must see it riding round.
Comment by:
irene roberts
on 3rd October 2020 at 11:17
I think my comment's gone missing so will repeat it, so apologies if it appears twice. I find it hard to imagine how many houses and shops once fitted into the space over Rose Bridge between the canal and Clarington Brook, but there they are in the black-and-white photo. I was christened at Rose Bridge Methodists and attended Sunday School in the little day-school round the corner. After Sunday School, we used to go up a staircase inside the school which led straight up into the church for the afternoon service.
Comment by:
David Barker
on 3rd October 2020 at 11:39
Good one Dennis, I started my joinery apprenticeship at Jack Almonds Joinery Manufactures in 1974 , in Caroline St , off Holt St in the photo on the right, there was an entry in that row of houses , would bring you out opposite the workshop. Next to the workshop was De Roma's ice cream and Ince Mission building think the Mission is still there. good photo.
Comment by:
Janice
on 3rd October 2020 at 13:29
More conformation that Mick was reared by bad parents who failed to instil any sense of decency towards people especially females. I took note of his certain innuendos towards some female posters on many photos on the album and find them very disturbing, and I'm sure they must make them uncomfortable.
Comment by:
Mick
on 3rd October 2020 at 15:01
Veronica I never said Wigan was filthy, and you are correct I do see lots of mucky parts now,
Comment by:
Elizabeth
on 3rd October 2020 at 16:23
Yes David,the Ince Mission building is still there,but is now a nursery.I agree,Irene I am always amazed at how many houses and shops there used to be along the road.Does anyone remember Harrison's bakery shop along here?Kathleen was a good friend when we were at H.A.G.S.
Comment by:
irene roberts
on 3rd October 2020 at 16:41
Elizabeth, is Kathleen the girl you used to walk down Lord Street with on the way home from school? I didn't know you to speak to back then but remember you and a friend always walked down together.
Comment by:
Edna
on 3rd October 2020 at 20:01
The spire at St Catharine's Church was twisted by mining subsidence.It was maintained over the years, but was a Grade 11 listed building, so could not have been demolished.So it was decided in 2012 to rebuild it because it was unsafe.
Comment by:
Elizabeth
on 3rd October 2020 at 20:02
Yes Irene,I'm sure it must have been,she caught the bus back to Ince at the Bird,this was after we had moved.In the mornings though,I walked down Platt Lane and met Janet Price and we walked down Lord Street to school.
Comment by:
Pw
on 3rd October 2020 at 22:23
Elizabeth,Janet Price,now thats a name from the past.She lived down Liverpool before moving to Platt Lane in the late 50's early 60's.I think her parents were John and Doris.
Comment by:
David Barker
on 4th October 2020 at 10:47
Thank you ,Elizabeth, didn't know that about the Mission, not been down that way for a while, you learn something everyday , take care, David.
Comment by:
Dave
on 6th October 2020 at 18:03
David i remember Almonds joiners i worked with them on a house that Jim Almond bought near Jodrell Bank Jim Almond the brewery owner doent know if they were related.
Comment by:
David Barker
on 7th October 2020 at 23:52
Hi Dave, no don't they where related , when I started we did a lot work for Matthew Brown brewery, and before I started they did work for Greenhalls and probably Almonds , we did the joinery and George Oddie did the building work , cheers David.