Photos of Wigan
Photos of Wigan
Photo-a-Day Archive
Photo-a-Day Archive
Photo-a-Day (Sunday, 19th September, 2021)
Moss Pits Explosion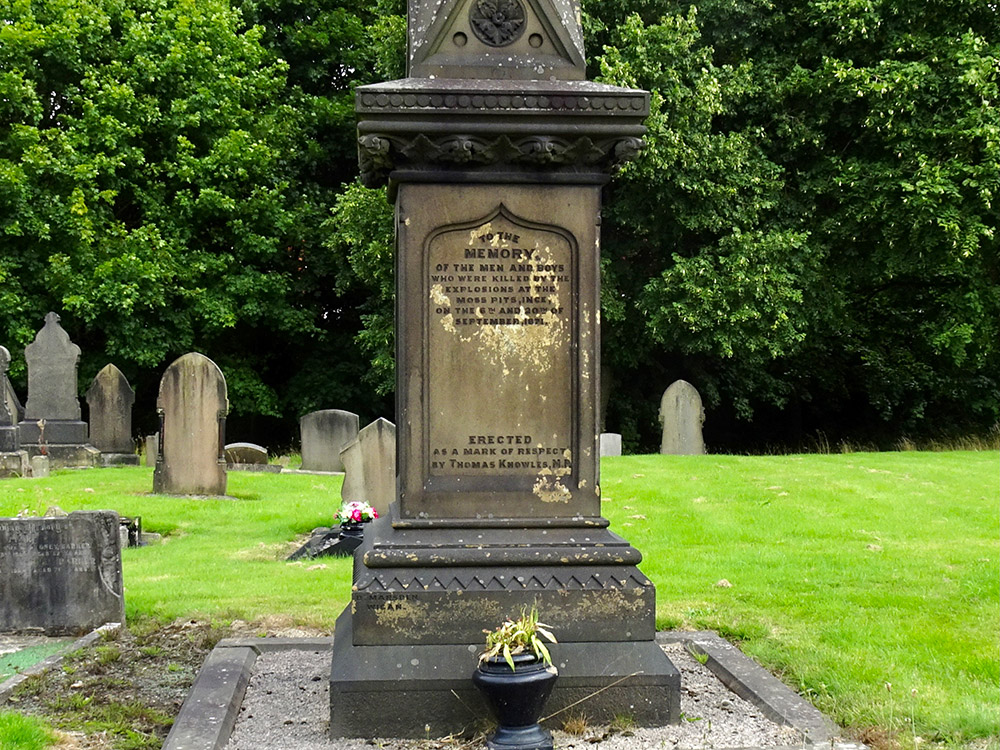 Monument in Ince Cemetery to the men and boys killed in the explosions on the 6th and 10th of September 1871. The Rev David Long has done a good deal of research about this disaster which can be seen on the internet.

Photo: Dennis Seddon (Sony DSC-WX500)
Views: 578
Comment by:
Mick
on 19th September 2021 at 10:41
You cant beat a good walk around a graveyard.
Comment by:
irene roberts
on 19th September 2021 at 11:26
I agree, Mick, actually! I love a walk round a cemetery or a churchyard, especially in Spring sunshine when there are daffodils both growing and also in pots on graves. I find them very peaceful places.
Comment by:
Veronica
on 19th September 2021 at 12:07
It's awful to think those men and boys went out to work that morning with their butties in a snap can never to return. Just the fact that gun powder was used in the process of hewing the coal should have been enough to put any man or boy off going to work, not to mention the surroundings of the deep dark pit. They knew it could happen but still they went down. I read the names of the dead it does bring it home to you what they experienced and on the doorsteps of where they lived. I noticed the names of 3 Morgan's who probably came from Wales as my Grt Grandfather did to work the mines. So very sad.
Comment by:
irene roberts
on 19th September 2021 at 12:43
Yes, it's dreadful to think of them never coming home, as it was with the miners from the Maypole Pit in Abram. We put candles in our windows in Abram every year on the anniversary of the Maypole disaster. My grandad came from Wales too, Veronica, to work in the pits and married my Grandma who was from Spring View. He was a Griffiths, (my maiden name), and now I'm a Roberts so I still have a Welsh name. Unfortunately, my singing voice is from the Spring View side of the family and sounds like a cinder stuck under a door!
Comment by:
Helen of Troy
on 19th September 2021 at 12:59
My Grt Grandfather John Bradshaw was killed in the King Pit disaster at Pemberton Colliery in Oct 1877.
His name is listed along with the other 34 men & boys killed. John Bradshaw of Half Way House left a wife & 3 children, the youngest was 1yr old.
He is buried at St John the Divine at Pemberton...his wife lived on husbandless into her 80's.
An account of the disaster can be read in Lancashire Mining Disasters 1835-1910 by Jack Nadin.