Photos of Wigan
Photos of Wigan
Photo-a-Day Archive
Photo-a-Day Archive
Photo-a-Day (Sunday, 26th July, 2020)
Red Rock Lane, Haigh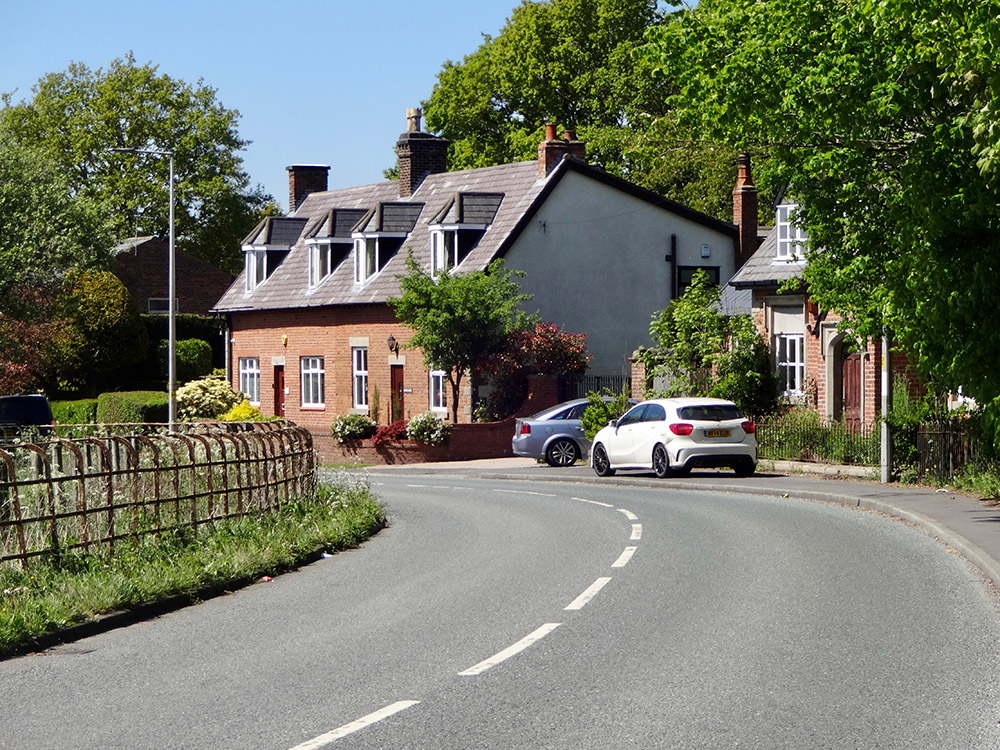 The old School on the right and School House on the left.

Photo: Dennis Seddon (Sony DSC-WX200)
Views: 1,705
Comment by:
Mick
on 26th July 2020 at 07:32
Wouldnt you think the land owners or the councils would keep these historical Cheshire estate fences on the bends of our roads in better condition.
You see many of them that have been crashed into and then repaired by a bit of barbed wire or some bits of wood.
Comment by:
irene roberts
on 26th July 2020 at 08:44
This is a lovely area but quite a bad bend. Those houses look so picturesque in the sunshine.
Comment by:
Veronica
on 26th July 2020 at 09:07
Bet that causes confusion for the postman. Lovely area, lovely photo.
Comment by:
Gary
on 26th July 2020 at 09:18
A good photo showing genuine progress - the house conversions look fine.
Behind the photographer is another sharp bend. In 1969 a friend of mine drove a newly purchased Austin A30 along there at about 40mph in top gear. There were four of us in the car. It screeched on two wheels, almost turned over and finished up on the grass verge with the nearside wheels in the ditch. Misspent youth??
Denis, I'm a 1951 birthday, born on Bolton Road in the house next to St Elizabeth's school. My mother and father sold it in 1955 to Ste and Maggie Whitfield and it became a newsagents.
Comment by:
Dennis Seddon
on 26th July 2020 at 10:41
Gary, I delivered newspapers for Ste Whitfield. I got 12/6 (Old money) a week for doing a morning and evening round on the Balcarres Estate, Duke's Row and Moss Pit. Ste used to leave the Evening papers in the Bus Stop at the Fingerpost while he did his round and trust the workers getting off the buses to leave the money for the papers. Wouldn't risk it today would he?
Comment by:
Gary
on 26th July 2020 at 13:48
Dennis, no chance. They'd be away in a van and sold on.
Ste and Maggie used to do the annual delivery of harvest fruits for the elderly at St Elizabeth's church.
People today wpuld be demanding knighthoods for the extras that many folk put in then.
Comment by:
Cyril
on 26th July 2020 at 16:10
Bad bends on that road yes, along with bad drivers who career round them at reckless speeds and on the wrong side of the dividing lane line at times too.
Comment by:
Alan
on 26th July 2020 at 19:52
Dennis and Gary- there were thieves in the 50s and 60s you know.
Comment by:
Julie
on 26th July 2020 at 21:39
Dennis and Gary I used to live on Bolton road my grandmas and grandad used to live on st marys road they used to get their papers delivered of ste whitfield every sunday he would come for his paper money in his white mini van and he used to have all the sweets in the back and I would buy sweets of him. Do you remember.