Photos of Wigan
Photos of Wigan
Photo-a-Day Archive
Photo-a-Day Archive
Photo-a-Day (Friday, 29th November, 2019)
L/Cpl Thomas Woodcock VC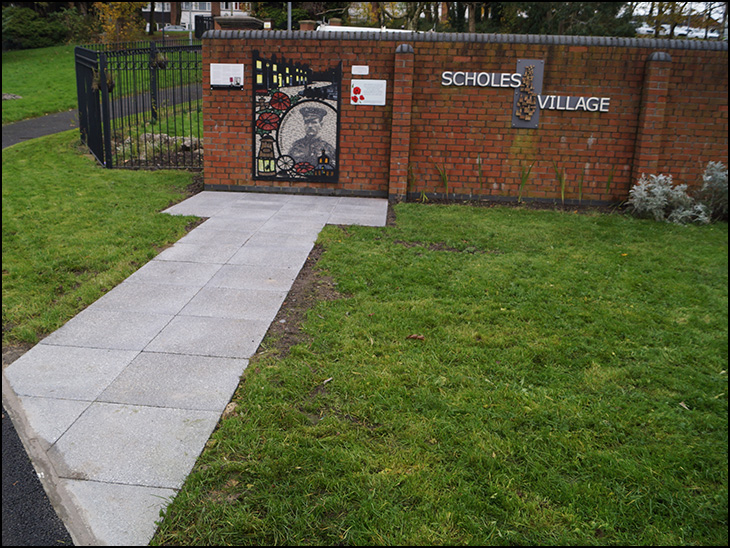 The latest works on his Memorial at Woodcock House, Scholes Village.

From being Wigan's 'Forgotten Hero' of a few years ago, Thomas Woodcock, must by now be one of the most remembered!
After having Woodcock Walk named after him, and a commemorative stone placed there, as well as the existing commemoration in St Patrick's Church, this commemoration, with a mosaic created with pupils from St Patrick's School, has recently been enhanced by having the paving installed across the grass from the pavement. The plaque with the poppies was also added - not a duplicate of the VC stone at Woodcock Walk, as was promised in September.

I am, however, a bit puzzled by the linking of Woodcock House to Thomas Woodcock in recent years - except for sharing the name. I had always thought that the block was named after a prominent former Councillor of Wigan Borough, but can find nothing to confirm this.

Photo: David Long (iPhone )
Views: 1,900
Comment by:
Thomas(Tom)Walsh.
on 29th November 2019 at 00:43
David , I think you may be thinking about another block of flats built at the same time Mannion House named after Alderman John Patrick Mannion , born in Ireland died 1965 . The other blocks Darby House , Crompton House and Brook House were named after local Streets as were Douglas House built earlier and Boyswell House a later.
Comment by:
Veronica
on 29th November 2019 at 08:38
The design on the plaque is very evocative. It looks like all the lights in the street were lit to welcome him home on a dark night, only for him to go back and never return. The house he was born in is still there on Belvoir St. a very humble dwelling at the time for a very brave man.
Comment by:
Veronica
on 29th November 2019 at 14:19
When I worked at Chorley ROF in the mid sixties, there was an older,very interesting man who lived in Woodcock House and sometimes he sat near me travelling to work. It was him who told me about the flats being named after Thomas Woodcock and he told me the story of how he won the VC. It was only then I realised I was at school with his descendants! I don't remember being told anything about him until then. Certainly nothing at school was said. This man would have been one of the first residents of Woodcock House. I can barely remember his name.
Comment by:
tuddy
on 29th November 2019 at 23:12
There was also Woodcock Street which was replaced by Woodcock Square at the bottom of Makinson's Arcade.
Comment by:
Mick LD
on 2nd December 2019 at 10:51
Rev Long - when I worked up Scholes in the 1970s and '80s, there was a plaque over the entrance to the Woodcock House flats, stating they were named after Thomas Woodcock VC.
Tuddy - Woodcock Street was built and named in the 19th century, before WWI. It was named after the Woodcocks who were a family of bankers in Wigan.
Comment by:
TerryA
on 2nd December 2019 at 16:06
Thank you for the photo David.
When I embarked in the quest to re-introduce L/Cpl Woodcock to the Wigan public in 2016 he was indeed the 'forgotten hero'. Over the last 2 years I have constantly pressed Wigan council to provide a memorial more in standing for a National hero.
The Woodcock Walk memorial was a bad idea from day 1, the stone was halfway down the steps, people with mobility issues could not approach the memorial stone.
The steps themselves were littered with rubbish and used needles, Woodcock Walk was more an insult than a memorial.
My meeting with Wigan council in September resulted in this compromise, when illumination is provided and wreaths are placed it will indeed be a fitting memorial for our National hero.
A book of remembrance will also be available in the museum of life on Library St for people to sign and pay respects.
Heroes like Woodcock should never be forgotten.
Comment by:
Rev David Long
on 3rd December 2019 at 10:54
Thank you for all the comments putting me right - thanks to them I have just returned from photographing the large brass plaque in the entrance foyer to the flats.
Regarding Woodcock Walk, TerryA - I visited that for the IWM War Memorials project, and was not impressed. As you say, the location is not good - but I found that the protective panel they have put over the VC stone was almost opaque with condensation and moss, making it very difficult to get a useable image for the website.
Comment by:
Rev David Long
on 4th December 2019 at 11:54
Terry - I'm uploading the Woodcock material to the IWM Memorials Register - and have just noticed that he is described as a Private on the tablet on Woodcock Walk - is that because that was his rank when he won the award - or is it an error?
Comment by:
TerryA
on 4th December 2019 at 15:00
Woodcock was private Thomas Woodcock on the morning of Sep 16th 1917.
His promotion and VC award was approved on Oct 19th 1917.
The actual citation is wrong on many accounts, such was the confusion of the times.
Comment by:
TerryA
on 4th December 2019 at 15:09
Also David. Woodcock Walk was in recognition of him winning the VC.
Although (quite rightly) he is addressed as L/Cpl Woodcock today.
He was only a private when he rescued Pte Hilley at the Broenbeek.
Comment by:
Rev David Long
on 4th December 2019 at 18:16
Thanks, Terry. The entries on the IWM Register are complete, for now. They're WMR 45394, 87144 and 87145.