Photos of Wigan
Photos of Wigan
Photo-a-Day Archive
Photo-a-Day Archive
Photo-a-Day (Saturday, 22nd June, 2019)
Missed!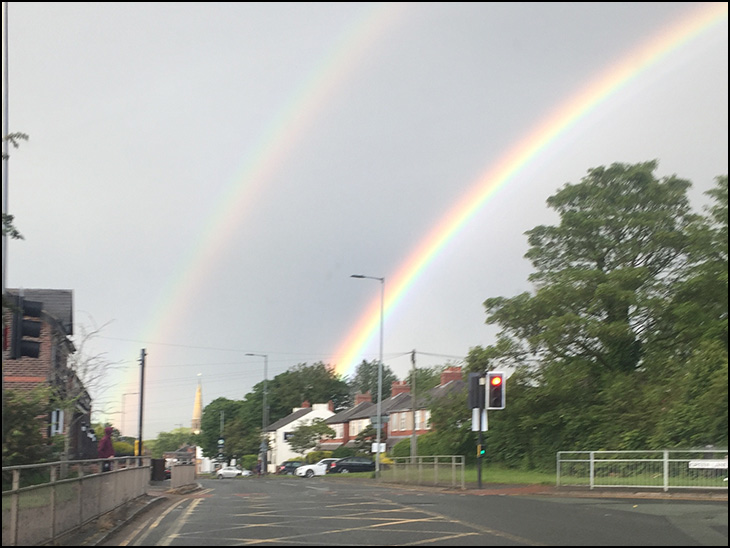 No crock of gold for St Wilfrid's at the end of these twin rainbows.

Photo: David Long (Sony SLT-A65V)
Views: 1,671
Comment by:
Veronica
on 22nd June 2019 at 09:35
Caught in the middle instead with a nice reflected glow!
Comment by:
irene roberts
on 22nd June 2019 at 09:46
If you see them from up in a plane they are a complete circle, which is why there is no end to a rainbow. My friend's late Mum loved rainbows, as I do, and I always think of her when I see them. I have never forgotten seeing three in a row over Melling's Flash in Ince when I was coming home from school on the 'bus, (50 years ago!). A lovely photo.
Comment by:
Maureen
on 22nd June 2019 at 10:40
Talk about a moment in time..brilliant shot David.
Comment by:
priscus
on 22nd June 2019 at 12:32
The triple bows are very rare, Irene.

You get them only where there is a body of water to furnish an additional reflective pane at ground level, between the observer, and the apparent otherwise double bow.
Comment by:
irene roberts
on 22nd June 2019 at 16:14
The three rainbows weren't above each other priscus, as in the photo, but this was three rainbows, small in size, all in a row. I was 16 and coming home from school in Hindley to Ince on the old Corporation bus, where there used to be side seats near the front, so I was looking directly over Melling's Flash. I have never seen that since.