Photos of Wigan
Photos of Wigan
Photo-a-Day Archive
Photo-a-Day Archive
Photo-a-Day (Saturday, 1st June, 2019)
Wildflower sanctuary, Standish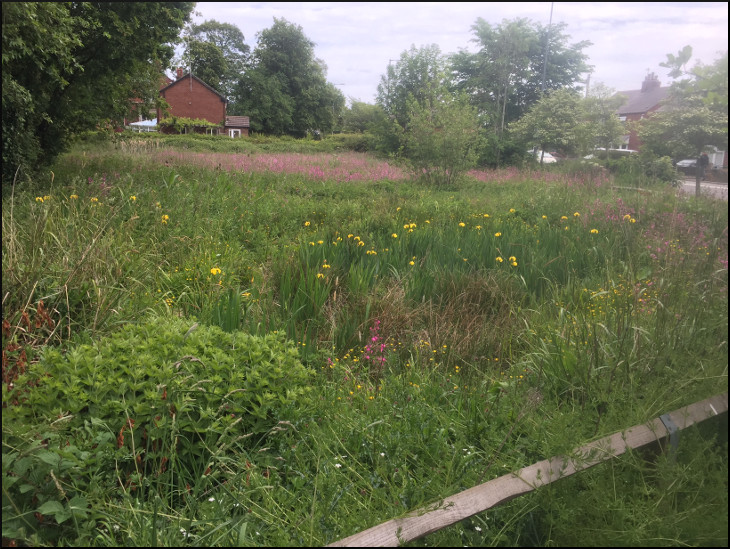 In the angle between School Lane and Almond Brook Road - flag iris, red campions and teasels abound.

Photo: David Long (iPhone)
Views: 1,929
Comment by:
Philip G.
on 1st June 2019 at 06:22
I like the side-views of the house and extensions, as well.
Comment by:
Mick
on 1st June 2019 at 06:47
There space for a few houses on there Rev.
Comment by:
DTease
on 1st June 2019 at 07:46
David, if I owned a plot of land I would leave it to do its own thing, it probably wouldn't go down well with the neighbours but it would make me happy.
Comment by:
Veronica
on 1st June 2019 at 07:56
It's great to see the variety of wild flowers growing. Even so,the ever faithful dandelions,buttercups and daisies never fail to appear. Afraid I'm guilty of pulling them up, but as a real treat for the bees and myself, I plant such lovelies as Lavender and other delights to keep the swarms of bees happily humming all summer.
Comment by:
irene roberts
on 1st June 2019 at 12:03
As John Mills' character says in "The Family Way", "You can't beat Nature for beauty". xx
Comment by:
John
on 1st June 2019 at 14:14
There used to be a pond there. Has it dried up or been filled in, I wonder?
Comment by:
WN1 Standisher
on 1st June 2019 at 14:15
This plot of land was always very damp with a bit of a pond there at one time. I think that's why it wasn't built on in the first place. That and for being on a sharp bend. I believe the house in the distance is to become a vets practice.
Comment by:
Barrie
on 1st June 2019 at 17:38
Growing up in Standish 70 odd years ago, I have a memory in the mists of time of my Dad telling us kids that during the war a bus had to swerve on the bend and went into the pond . I remember the pond being there in the 1950's and 60's. Some years ago I was surprised to see a housing estate had sprung up close by it.
Comment by:
Julie
on 1st June 2019 at 18:05
The only thing that saved my sanity in my life was coloured green . I feel so so lucky that we had fields , trees and wild areas to do what we liked as children, close by. Adventure grounds !! We never had holidays abroad , other than a day in Southport , that was it . But , 'my' countryside of green replaced that a million times, and not just for me .
Now that area is concrete and my adventure ground , is now filled in . Unfortunately, progress brings with it jobs , but also concrete .
Children need to breathe , otherwise you get London . Give them green, places where they can breathe and spread their wings and express themselves , otherwise they will feel trapped and explode ! Young people are filled with life force, growing and energy. If they cannot express that energy somewhere they will look elsewhere . As we move to provide more and more affordable housing ,
we are losing sight of how essential our green spaces are . The balance in today's society is not only essential but critical!
Nature is who we are ! If we try to climb above it by greed.... we will fail ! Governments and Councils have to designate by law green spaces that cannot be touched or handed to developers under any circumstances. The larger they are , the greater the merit of that Government.
Value and judge them on their green areas policy . Concrete , unfortunately is winning .
This we will regret , not for old timers like me , I'm more or less done , but for those holding babies now , they are our future, and I would prefer them to sit on grass as opposed to concrete.
Let the children breathe !
Comment by:
Poet
on 1st June 2019 at 21:47
'move to provide more and more affordable housing'. Tavin a laf lass.
Comment by:
John
on 1st June 2019 at 22:25
I remember seeing a hare running across that field at top speed in the days when everything behind the Beeches was fields from opposite St. Marie's to the railway line. The pond was once quite substantial and was marked on ordnance survey maps.