Photos of Wigan
Photos of Wigan
Photo-a-Day Archive
Photo-a-Day Archive
Photo-a-Day (Monday, 19th November, 2018)
Harry lays his wreath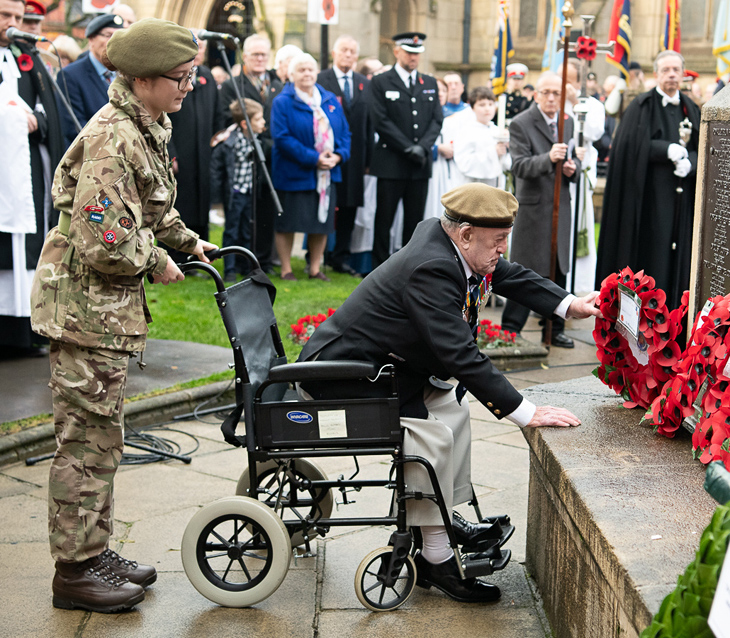 Always good to see Harry has made it to Remembrance Sunday again.

Photo: Dave (Oy) (Nikon D850)
Views: 2,106
Comment by:
Jonno
on 19th November 2018 at 11:18
Two or three years since I saw 'little' Harry, grand chap, nice to see he is still around.
Comment by:
Veronica
on 19th November 2018 at 12:49
'Little' Harry looks a very smart old soldier - something that's stays with ex- service men I think with their highly polished shoes and the sharp creases in their trousers! I bet he was a tough soldier in his day.
Comment by:
Mick
on 19th November 2018 at 16:14
I always remember when I was a little lad taking to an old soldier who was a farm laborer and he was saying when he came back from fighting the Germans in the first world war nobody wanted to know him, some of the factorys had signs up saying no ex servicemen wanted, and he said nobody was wearing poppys or saying we will remember them.
Comment by:
Dave (Oy)
on 20th November 2018 at 17:37
Only two nice comments for Harry. Disappointing.
Comment by:
Mick
on 20th November 2018 at 22:42
Yes only to nice comments Dave and one from somebody who knows a bit of something, shame really.
Lets hope the people who go out there day in and day out dont fed up and stop sending in photos.
Comment by:
WN1 Standisher
on 21st November 2018 at 10:20
Good photo Dave of a top bloke. I see him occasionally in the Brocket. He doesn't get in as often now due to a fall he had a few years ago. He's not as mobile but it hasn't dimmed his spirit. First time i've seen him using a wheelchair and hope it was only to facilitate all the standing for the ceremony. Keep capturing photos like this Dave.
Comment by:
Lynne
on 21st November 2018 at 14:33
I wonder how many people visiting various cenotaph's in the UK, drove to and from those locations in GERMAN cars?
My great granddad and granddad (both murdered by the Germans) would be turning in their graves if they knew how unpatriotic British people have become.
Comment by:
WN1 Standisher
on 26th November 2018 at 09:55
Update: I was with Harry in the Brocket last night ( 25th ) and can report he is in fine fettle, and tells me he was loaned the wheelchair for the ceremony. Top bloke, great company