Photos of Wigan
Photos of Wigan
Photo-a-Day Archive
Photo-a-Day Archive
Photo-a-Day (Thursday, 10th May, 2018)
High & Low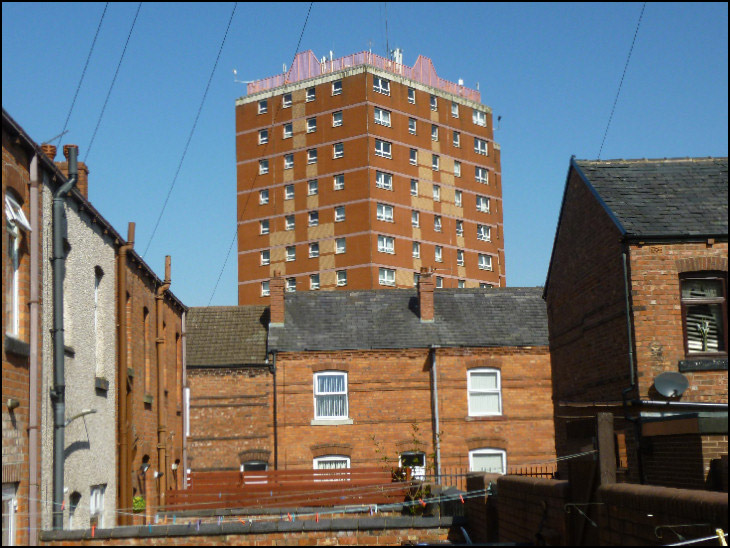 Boyswell House as viewed from the terraced streets of Scholes.

Photo: Steve Carter (Panasonic Lumix DMC-SZ3)
Views: 2,176
Comment by:
kath
on 10th May 2018 at 08:43
love this! I remember when those flats were built.
Comment by:
Veronica
on 10th May 2018 at 09:48
I always preferred those red bricked flats they blend in well to those familiar terraced houses.
Comment by:
Cyril
on 10th May 2018 at 13:23
Can imagine the folks on the top floor not needing a stove top or microwave cooker the electromagnetic energy from all the radio waves up there could well fry the food for them.
Comment by:
peebee
on 10th May 2018 at 19:23
Reminds me of the sixties when a workmate took me up a tower block and we looked down on the Coronation Street set.
Comment by:
DTease
on 10th May 2018 at 20:52
Boyswell?
It takes a huge stretch of the imagination to picture a group of lads standing around a Well at the top of Scholes waiting to draw the Family water ration for the day.
Comment by:
Elizabeth
on 11th May 2018 at 12:02
I agree, the red-brick flats look much better than the concrete-looking ones. Boys Well was an actual well,there were quite a few in that area,as Spring Street and Harrogate Street indicate.