Photos of Wigan
Photos of Wigan
Photo-a-Day Archive
Photo-a-Day Archive
Photo-a-Day (Thursday, 1st March, 2018)
Not so pretty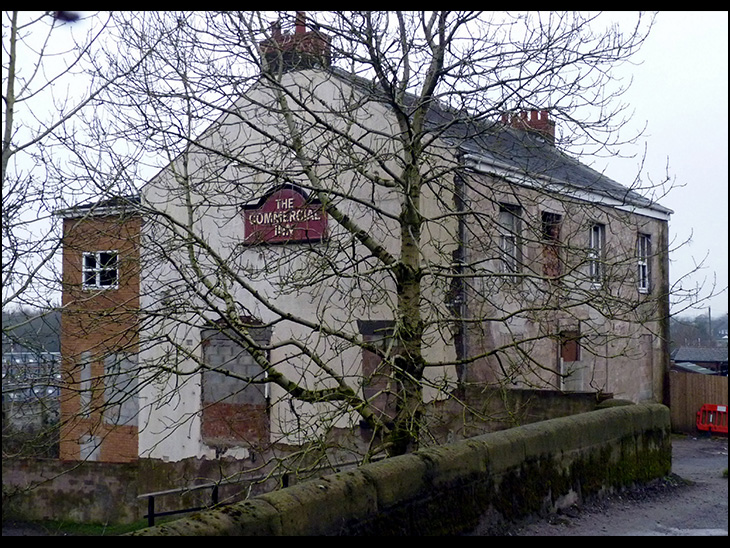 The Commercial Inn at bridge 57 L&L canal, New Springs.

Photo: Harry Cunliffe (Panasonic DMC-FZ38)
Views: 3,020
Comment by:
Ken R
on 1st March 2018 at 04:27
Interesting photo. How old is this pub? Anywhere to check its history?
Comment by:
Janette
on 1st March 2018 at 07:03
This old pub seems to have been given a few attempts at 'makeovers' but nothing has come of it.It was closed a long time before anything was done at all.Hard to imagine the time when there was 3 pubs in such close proximity;The Commercial, The Kirklees Hall Inn (still open) and The Top Lock Inn (demolished years ago.)
Comment by:
Scholes Malc
on 1st March 2018 at 10:09
used to be a good canal side boozer
Remember whenOssie Butler had it for a spell
a couple of years ago a group of 'foreign' builders commenced a conversion but suddenly stopped amid claims of planning breaches.
Talk now of it being demolished to make way for a new enlarged bridge to facilitate the massive housing development planned on the old Kirkless site
Comment by:
britboy
on 1st March 2018 at 13:47
Passed this place many times in the 60's as a still wet behind the ears teen while working at NCB Kirkless central workshops.
Such happy, carefree days and great characters to share my workday with :-)
Comment by:
Mick
on 1st March 2018 at 16:58
The pub would have looked better when the leaves are on that trees
Comment by:
DTease
on 1st March 2018 at 19:19
There is a photo of this Pub in happier times on album-places-New Springs #20425
Comment by:
VeronicaI
on 25th March 2018 at 12:10
You wouldn't have seen the pub if the leaves were on the tree! How silly!