Photos of Wigan
Photos of Wigan
Photo-a-Day Archive
Photo-a-Day Archive
Photo-a-Day (Tuesday, 23rd May, 2017)
The Flying Scotsman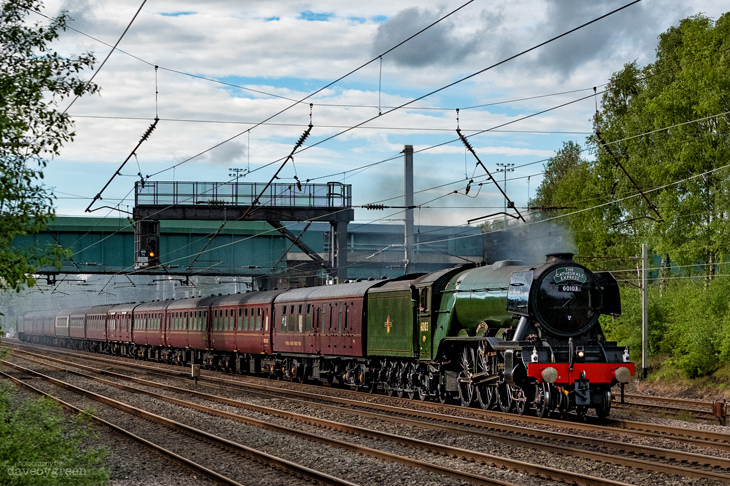 The Flying Scotsman chuffing through Springs Branch Wigan at 18:30 on 16th May 2017 with The Cathedrals Express.

Photo: Dave (Oy) (Fuji X-Pro2)
Views: 2,357
Comment by:
irene roberts
on 23rd May 2017 at 08:17
Comment by:
Alb
on 23rd May 2017 at 10:01
Great shot. Didn't know it passed through. I bet it was a pain getting that shot with all the fences around the lines now, then there's the road bridges that have been recently rebuilt to an height that stops people from peering over the bridge to the lines below, no doubt making it harder for rail spotters and enthusiasts to take any decent photos of beautiful trains like this passing by. Just another typical excuse for safety. Electrified lines have been around for years yet they've never resorted to heightening the bridges. I'm surprised you can get to Springs Branch without permission.
Comment by:
Thomas(Tom)Walsh.
on 23rd May 2017 at 11:26
Thank you Dave , I had every intention of going to see it unfortunately it slipped my mind completely ,so your photograph is the nearest I'll get on this occasion .
Comment by:
WN1 Standisher
on 23rd May 2017 at 12:12
Good shot Dave. Better than the one I took at Rylands Crossing a few minutes earlier than this. It was travelling a bit quicker than I expected with the additional thrust from the engine at the back.
Comment by:
Alb
on 23rd May 2017 at 18:24
Threre's a pretty decent video of Flying Scotsman filmed from a drone over this area, and a few from Northwestern station. Imagine steam trains heading through Wallgate station and people wanting to get onto the platform to watch it. They'd have no chance because they've installed big brother turnstiles there, making it a pain unless you have a ticket to board a train. And I doubt the little Hitlers there would let hoards of rail enthusiasts onto the platform regardless. Make most of North Western to watch these magnificent trains before they end up installing turnstiles there.
Comment by:
owdkewyed
on 23rd May 2017 at 23:29
I don't think the diesel was pushing it was just along for the ride.
Comment by:
Dave (Oy)
on 24th May 2017 at 22:58
The diesel normally provides heating for the coaches - and a backup if there's a problem with the steam loco.