Photos of Wigan
Photos of Wigan
Photo-a-Day Archive
Photo-a-Day Archive
Photo-a-Day (Tuesday, 5th July, 2016)
Hurricane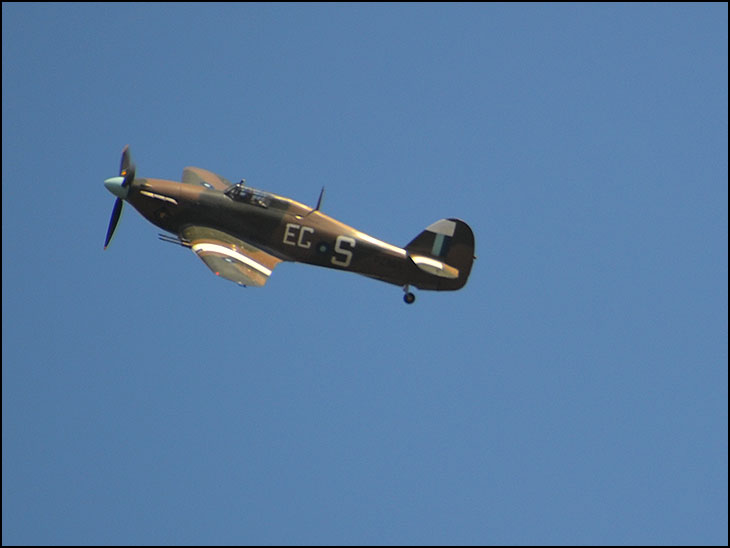 Hurricane flying over Wigan on Armed Forces Day.

Photo: Geoff Charnock (Nikon D3100 with 18 – 300 lens)
Views: 2,990
Comment by:
Ken R
on 5th July 2016 at 00:58
Lovely plane IMO nearly as good as the Spitfire.
Comment by:
Alan lad
on 5th July 2016 at 05:26
Comment by:
Colin Harlow
on 5th July 2016 at 07:32
Very good shot at a fast moving object, well done Geoff.
Comment by:
irene roberts
on 5th July 2016 at 09:40
We see these, and Spitfires, during the forties events we attend. The sound of them sends shivers down your spine. They usually fly over about three times, and on the last lap, the crowd waves at the plane and the pilot dips the wings in a farewell wave.....magic!
Comment by:
Johnny
on 5th July 2016 at 11:46
Brilliant pic Geoff.
And that blue sky!
Those stupid Europeans dictating to a country that won TWO WORLD WARS with help from the above plane. Get a life Juncker!
Comment by:
Vb
on 5th July 2016 at 12:23
Wonderful tribute to The Few!
Comment by:
Sam .h
on 5th July 2016 at 16:01
Johnny agree with the first part of your comments, but wasn't it certain European countries that helped us win the war,oh and let's not forget the yanks ,who did do there bit.
Comment by:
Ken R
on 5th July 2016 at 16:25
Comment by:
Kas
on 5th July 2016 at 18:19
Where do you place the Russians in your observations Sam? Wonderful picture Geoff,,
Comment by:
Steve
on 5th July 2016 at 22:03
The Hurricane was the workhorse of the Battle of Britain. Whilst the Spitfire was given most of the credit !
Comment by:
concerned
on 6th July 2016 at 09:21
Agree with that Steve, but they are machines let,s not forget the young men who flew them.
Comment by:
Sam h
on 6th July 2016 at 11:03
Kaz, didn't place them in the comment, they fought and lost hundreds also with their fight against Germany , what's your point being???
Comment by:
Vb
on 6th July 2016 at 12:43
Sam millions of Russians died and were treated by the Germans appallingly as prisoners especially on the Channel Island of Alderney as slave workers. It was also said that signing a pact with Russia was akin to 'supping with the devil with a long spoon'. Churchill also quoted that Russia was a riddle wrapped in a mystery inside an enigma'. At the end of the day they needed us as much as we needed them.
Comment by:
Steve
on 6th July 2016 at 19:21
I fully agree with you concerned. We must never forget the brave young men who flew these planes,many of them losing their lives R.I.P.
Comment by:
David Barker
on 8th July 2016 at 09:34
Brilliant Geoff,well captured.
Comment by:
Kas
on 8th July 2016 at 18:51
Sam, with the greatest possible respect to all, I believe without the Russian we would have lost the war, or lost many trying. Had America lost as many as the Russians, today they would have war heads pointing out of ever space in America . This is what started the Cold War. Russia void never to let this happen again and spent money on its army where's as others rebuilt . How was it right that west Germany was allowed to prosper yet the poles , under the Russians was not. I welcome comment
Comment by:
Vb
on 9th July 2016 at 11:05
Kas
Very briefly Communism and the spoils of War!!! That is the reason why Eastern Germany did not prosper!
After the Battle for Britain Hitler turned his attention to Russia for 'lebensraum' it was in Russia's best interest to ally herself with Britain and the USA. Russia was unready for War don't forget the Atlantic convoys supplying her needs in treacherous conditions. Those brave merchant seamen taking their chances not only with German Subs but the Arctic conditions- they went largely unrecognized until fairly recently.
Comment by:
Kas
on 9th July 2016 at 16:17
Thanks Vb,
The German subs were so deadly. The bravery of those men with such dangers waiting below the water is quite extraordinary,we owe them so much.
You are right East Germany also did not prosper but a West Germany did. Churchill,at the Yalta talks, was said to be furious that Poland especially ,would go to the Russians. Both economies of East Germany and Poland froze as the Russian spent all the money on defence. We can't blame the Russians for this taking into account their losses. But what was Churchills alternative Vb? Go to war with Russia who were now more than ready for a fight. What followed , as previously mentioned , was the Cold War where the Americans went it panic mode, when all the Russian were doing , was what any country would do after such massive losses of its people. At thr end of the day we went to war over Poland , liberated the Poles ,and handed it to the Russians. Sorry Geoff for going off your picture . Vb , re the B of B , read an article from th IWM , which said that when the Polish pilots arrived , they were very backward in the aircraft sense. Yet , I remember Lord Tebbitf saying that without the Polish pilots we could have lost. You seem to know a lot about this than me so welcome your comments, and correction.
Comment by:
Vb
on 9th July 2016 at 20:20
Communism was feared by Europe and America. Re the McCarthy "witch-hunts' in the early 50's. As Churchill predicted 'an Iron Curtain would descend' and it did. There is so much more to what went on during and after the war than can be discussed in a comment Kas. What Stalin himself was guilty of with his own country men was pure evil. Apologies to Geoff.
Comment by:
Kas
on 15th July 2016 at 18:32
Thanks Vb,
The McCarthy era ,anyone with an ounce of common sense can see , was down to ego and paranoia, the Russian,s are coming . Lovely Peter Sellers film. I stand by my comment, had the Americans , lost as many lives as the Russians , the entire arena today would be different . Of course an Iron Curtain would descend Vb, such is we humans. Do we not build fences to protect ourselves . That is all it boils down to, they , the Russians , lost more lives than we did, as such .... Etc , etc , was because of that. Thanks Vb , enjoyed your counter and insight .