Photos of Wigan
Photos of Wigan
Photo-a-Day Archive
Photo-a-Day Archive
Photo-a-Day (Sunday, 14th February, 2016)
Laying new surface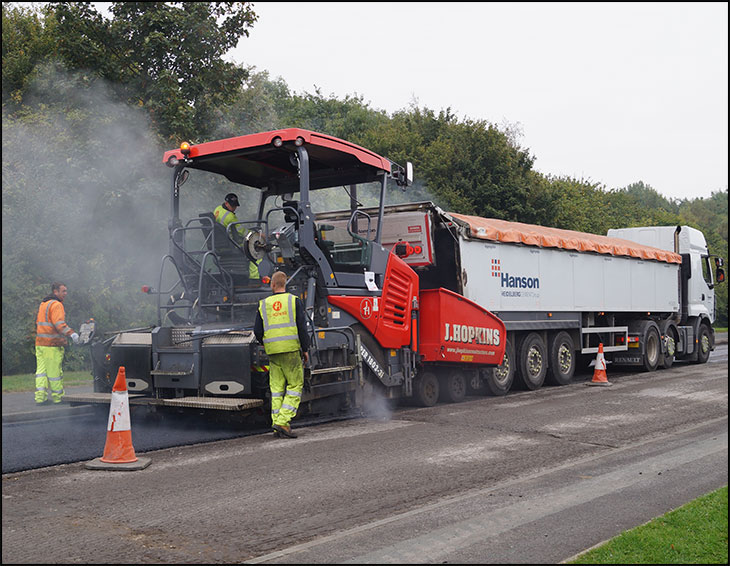 Laying the wearing layer of the new road surface on Almond Brook Road, Standish.

Photo: Rev David Long (Sony SLT-A65V)
Views: 3,479
Comment by:
Ken R
on 14th February 2016 at 01:16
Interesting photo Rev. It's been a long time since they had scores of men spreading the asphalt, pressing it down with a steamroller, and men shaping the edges with tamping irons, and that smell, cleared you nose out pretty quick.
Comment by:
JJP
on 14th February 2016 at 08:12
Rev David, I remember so well back in the 1950s a company named "Trinidad Lake Asphalt" putting the surface down on Crawford Avenue, Aspull, they had much smaller pieces of kit those days, 4 and 6 wheeler tippers were used to bring the hot asphalt from Preston, not at all like the 44 tonner in this photo. I loved that hot tarmac smell. Great photo.
Comment by:
irene roberts
on 14th February 2016 at 11:35
I can remember the smell of the hot tarmac.....people used to think it did you good and cleared the sinuses! I remember it melting onto new white shoes on hot Walking-Days!
Comment by:
Carolaen
on 14th February 2016 at 11:42
Ken R and JJP. Wow instant memory flashback on both counts. I also remember the Trinidad Lake Asphalt company, those steamrolleres and big vats of asphalt that they hearted and they spread out. JJP Although we lived in Scholes my Mums family all lived in Balcarres Road Aspull in the 150's and I spent alot of time there. Do you / anyone remember the Fishwicks who lived in one of the bungaows. Mr Fishwick (Alan i think was a builder) and his wife (Irene ?) ran a hairdressers. I was of a similar age to their son John (who was a bit of a character in later life I believe) and used to go round to their house to play when I went up to Aspull during the school holidays.
Comment by:
Johnny
on 14th February 2016 at 12:02
Interesting photo! I worked for Tarmac Construction in late 60's and they had a subsiduary which laid aspalte. In fact they laid most of M6! Tarmac is a derivative of Tar and John McAdam the Scottish engineer who invented it. And as Irene says it melts on a hot summers day. As a kid I had many black fingers :-)
Comment by:
Kath H
on 14th February 2016 at 12:45
Yes Carolaen I remember the Fishwicks, going to their bungalow to have my hair done by Mrs Fishwick. PTheir daughter Joan was also a hairdresser and had a shop in the row of shops near their finger post, I went there as well. Joan was in the year above me at Aspull Sec. Mod.
Comment by:
Rev David Long
on 14th February 2016 at 13:42
Johnny - you're right Tarmac is a putting together of tar and MacAdam - but not quite as you've put it. The MacAdam system of road building predates the use of tar as a binding agent to the top surface of a MacAdamised road. Prior to that a MacAdam road was one with a camber, built up of layers of different sized stones - getting smaller until you reached the top surface. Before tar came in, the top, binding surface, was small grit and sand. I can remember travelling on single-track MacAdam roads in the Highlands in the 1960s, sending up clouds of dust as there was no tar surface on the top.
Source: 2nd form history lessons.
Comment by:
AB
on 14th February 2016 at 14:16
we got black hands before the tarmacadam roads,the cobbled streets were sealed with tar in the joints which in hot summer melted and rose in bubbles As kids we popped them and got ourselves tarred somewhat, We cleaned with margarine
Comment by:
Vb
on 14th February 2016 at 15:51
I remember making 'tar babies' as well!
Comment by:
Broady
on 14th February 2016 at 17:40
There was also United Asphalt at Crows Nest. They were the asphalting side of Sir Alfred McAlpine who in conjunction with Leonard Fairclough's built many motorways in Lancashire.
Comment by:
Ken R
on 14th February 2016 at 21:24
I had forgotten church walking days, on hot days we all got tar on our shoes, St Elizabeth's on Bolton Rd. walking up to the fingerpost.
Comment by:
JJP
on 14th February 2016 at 22:27
Carolaen, yes I remember the Fishwicks on Balcarres Road and Joan having her own hairdressers shop on Scot lane, like you -- fond memories, where did it all go ?.