Photos of Wigan
Photos of Wigan
Photo-a-Day Archive
Photo-a-Day Archive
Photo-a-Day (Tuesday, 9th February, 2016)
The train...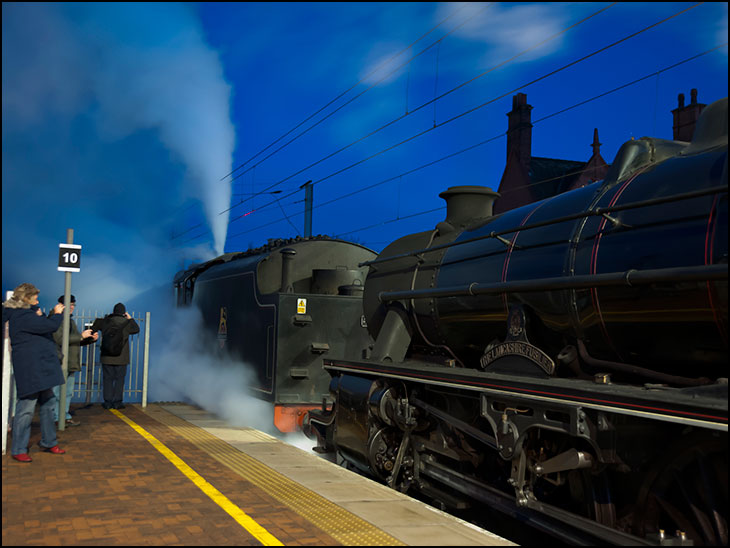 ...departing from platform 5 is the Winter Cumbrian Mountain Express.

Photo: John Morris (Nikon D700)
Views: 3,325
Comment by:
Ken R
on 9th February 2016 at 00:22
Terrific photo, I can literally taste that atmosphere around these two Iron Horses.
Comment by:
James T
on 9th February 2016 at 09:54
Fantastic photo fired these engines in my youth enjoyed .Thank you .
Comment by:
irene roberts
on 9th February 2016 at 11:39
Fantastic! You can almost smell the steam. When we attend the forties events at places like Bury and Pickering, the sound and smell of these trains really bring it all to life. A lovely photo.
Comment by:
Johnny
on 9th February 2016 at 16:25
Very atmospheric...Could be from another era....Youve surpassed yersel again
Johnny boy!
Comment by:
britboy
on 10th February 2016 at 16:09
Looks like the wonderful Riley Black 5's, are taking the load again. These two are always working as all locomotives should be to keep them in fine fettle.
The pair seem to be doing more and more rescue work as others fail, I don't know if this is the case but wouldn't be surprised.