Photos of Wigan
Photos of Wigan
Photo-a-Day Archive
Photo-a-Day Archive
Photo-a-Day (Saturday, 14th February, 2015)
Wigan Rectory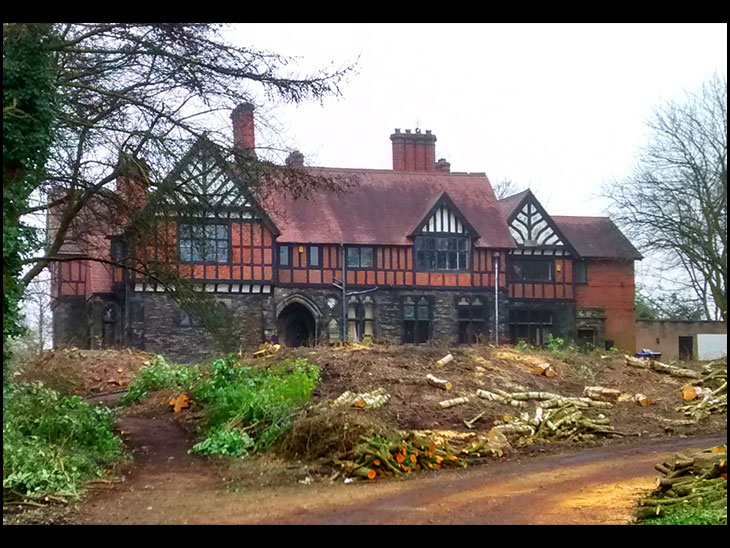 Wigan Rectory which can now be seen from the road because they've chopped down the trees.

Photo: Mark Conroy (Motorolo Moto G)
Views: 4,784
Comment by:
Den s
on 14th February 2015 at 00:40
I suppose we should be grateful that they haven't chopped down The Rectory....yet.
Comment by:
Jonno
on 14th February 2015 at 01:34
That is one Wigan building that needs preserving and you must agree, whatever faith you are.
Comment by:
Pedo Mick
on 14th February 2015 at 03:23
Its due to be knocked down
Comment by:
Derek Platt
on 14th February 2015 at 04:07
I agree with you Dan s about the rectory. Maybe like me the council have forgotten where the building is situated. Great photo of a great building. Just had a flashback, is it on Frog lane opposite the bus station access road.
Comment by:
Peterp
on 14th February 2015 at 08:05
Nice to see one of our older buildings. How many people have been past this structure and did not know about it?
Comment by:
Helen
on 14th February 2015 at 08:44
A good clear photo of a very splendid building. Someone must be able to ask what is going to happen to it. Bother your councillors with the question !

If anyone cares to look on the English Listed Buildings site, they would be amazed at how many listed buildings there are in Wigan.
Comment by:
kath
on 14th February 2015 at 09:26
beautiful building. is it empty?
Comment by:
A.W.
on 14th February 2015 at 10:01
I noticed the other day that The Rectory (Wigan Hall) is now visible from the bus station. I don't normally condone the cutting down of trees but I think it was justifiable in this case; new plants and trees will soon grow in the space.
Comment by:
nephro
on 14th February 2015 at 10:19
I remember back in 1945 as a child we were taken from The Blue coat infants school to the Rectory Lawn just in front of the big house to learn maypole dancing so we could put a show on for the Rector in May
Comment by:
Jod
on 14th February 2015 at 11:56
For all the people giving out misinformation on here,(pedo mick), have a look at this link: http://www.thesportsoffice.com/News/The%20Sports%20Office%20move%20to%20Wigan%20Hall
Well done Phil Clarke!
Comment by:
Mick
on 14th February 2015 at 12:34
I was taking some photos of this bulding the other day and I found it is going top be the new headquarters of the Sports Office owned by the Clark Brothers Phil and Andy and Mr Ian Lenagan

From there website,,,

The company, which supplies online performance management systems to elite sports organisations throughout the world, will transfer its offices to the site, near Mesnes Park in the town. Wigan Hall was recently purchased from the Diocese of Liverpool and is Grade II Listed. It was designed by celebrated architect George Street, whose work includes the Royal Courts of Justice in London.

The Sports Office will convert the building for use by their development and coding team as well as the client management and administration teams. They have pledged to work closely with all appropriate bodies to ensure any restoration does not damage or detract from the building's historical significance.

"We have always been proud of Wigan as our home town and we relish this opportunity to restore what is a fascinating building and bring it back into beneficial use", said Phil Clarke, Director of The Sports Office.

"We appreciate our local history and heritage and we have a strong desire to see Wigan Hall brought back to life in the right way."

Clarke added: "Although our business is relatively new, we are experiencing healthy levels of growth and we are proud to be able to provide even more employment opportunities for people from the local area.

"We will work closely with the appropriate bodies to ensure our restoration of Wigan Hall does nothing to detract from or damage its historical significance".

Restoration and conversion work will begin at Wigan Hall in December 2014.

The Sports Office provides online performance management systems, used across elite sport, which offer a range of functionality to support coaching, athlete/player performance, administration, health and wellbeing, recruitment, squad management and a mobile athlete app.

The Sports Office's dedicated software for elite football is currently used by leading clubs in the Barclay's Premier League, the Sky Bet Championship, the MLS in the United States and Australia's A-League, as well as major football governing bodies, including the Scottish FA.

The company also supplies many high-profile organisations in professional rugby including the RFU and various Super League teams, including Wigan Warriors.
Comment by:
Julie
on 14th February 2015 at 17:11
Good and interesting information Mick, clearly a wait and see one...
Comment by:
Garry
on 14th February 2015 at 18:44
Would you like a drink of water Mick.
Comment by:
Aubrey
on 14th February 2015 at 20:55
Thanks Mark for a good photo.
Jod & Mick,
Well done that answers everything.
Bravo The Sports Office.
Comment by:
Fred Mason
on 14th February 2015 at 21:59
As a young student at Wigan Grammar School in the late fifties, we used to go across Bull Hey at the back of the Rectory and search the bushes for birds nests and their eggs (Completely forbidden today). One day we saw the vicar approaching us through the bushes so we ran as fast as we could.

I often wondered who this gentleman was?
Comment by:
Rev David Long
on 14th February 2015 at 23:02
Rectors of Wigan for your period, Fred:
1946 Frank L. M. Bennett
1954 Arthur Finch
1964 John Raymond Park

I doubt if any of them had more character than Malcolm Forrest, who was Rector from 1975 until 2003 - most of my time in the ministry.
He was the last Rector to live in The Hall - which he delighted in.
Comment by:
Fred Mason
on 14th February 2015 at 23:22
Thanks, Rev.

It must have been:

1954 Arthur Finch.

Bless him...
Comment by:
Bradshaws Girl
on 15th February 2015 at 09:09
Thank God a certain Mr Whelan doesn't own it!
Comment by:
Giovanni
on 15th February 2015 at 11:05
We need to preserve the rich heritage in Lancashire. Wigan does have a number of listed buildings and the most outside London is Liverpool!