Photos of Wigan
Photos of Wigan
Photo-a-Day Archive
Photo-a-Day Archive
Photo-a-Day (Tuesday, 10th June, 2014)
St. Wilfs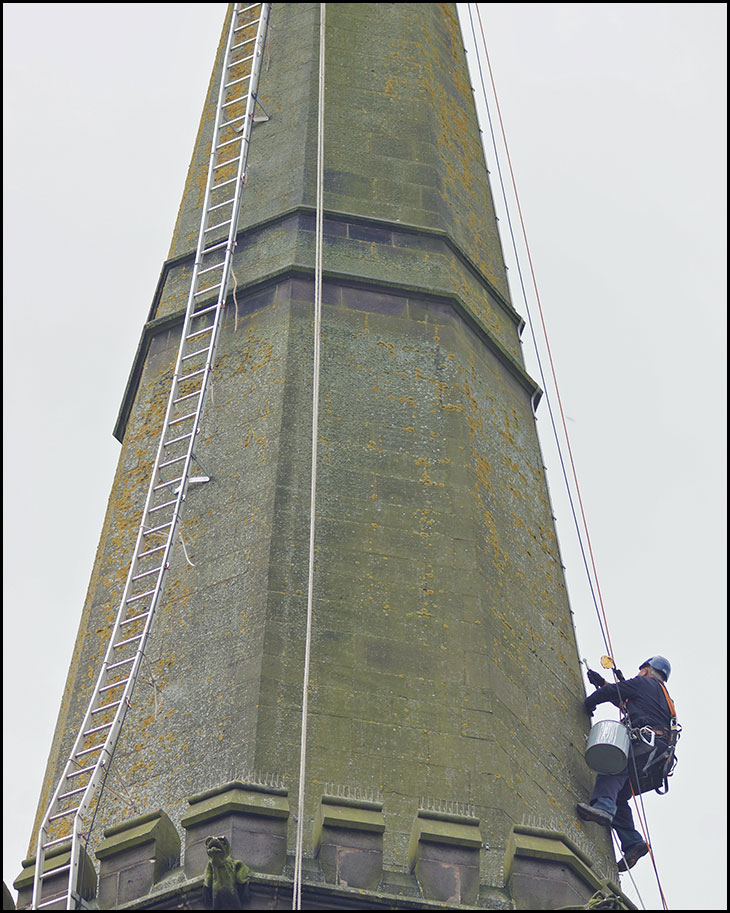 Steeplejack fixing the new lightning conductor to the spire of St Wilfrid's Standish.

Photo: Rev David Long (Sony SLT-A65V)
Views: 4,086
Comment by:
stan disher
on 10th June 2014 at 06:17
This job has it's ups and downs. Great photo David.
Comment by:
Jim Latham
on 10th June 2014 at 07:10
How do they fix the ladder to the steeple? And I thought there was only one Fred Dibnah.
Great photo.
Comment by:
Rev David Long
on 10th June 2014 at 09:16
The steeplejack is Richard Thompson, from Baileys of Macclesfield. I asked him to take my camera up the spire with him and take a set of photos through 360 degrees - of which you may see more here.
The ladders are secured by the ropes you can see to a series of self-securing eyelet bolts which have been set in the stonework every couple of metres.
In this shot Richard is setting the lightning conductor strip into a line of clips he'd previously secured to the spire every 500mm. He's using his hammer here to bend the clip ends over and hammer them down.
He told me previous jobs included Manchester Town Hall and Liverpool's Liver Buildings.
Comment by:
JB
on 10th June 2014 at 09:23
Great picture David. How men have the nerve to hang on the side of buildings like this amazes me.'Fred' was a master too- there is video of him showing how to erect ladders, which, I think, is on Youtube Jim.
Comment by:
Margaret Wall
on 10th June 2014 at 09:32
That job must take some guts. I admit I'm totally ignorant about this but how do they fix that rope up there? I take it they can't use crampons, like mountain climbers do.
Comment by:
JP
on 10th June 2014 at 13:47
JB's right, check out Fred Dibnah doing it. Swinging a club hammer at that height with his leg wrapped around the ladder. No safety harness for Fred. He knocked in wedges to hold in the pins. Special guy.
Comment by:
kath
on 10th June 2014 at 15:05
Fred belonged to an era before elf n safety took over .
Comment by:
Roy
on 10th June 2014 at 17:10
Margaret, i saw him on his first climb on the first day. The ladders go up first in sections, then when they are all in position he climbs up them and secures his rope at the very top. I have a photograph of him securing his rope stood next to the weather vane taken on 3oth May which i tried to upload but failed to do so. I am waiting to see him bring the ladders down, that should be worth seeing.
Comment by:
JP
on 10th June 2014 at 18:08
I couldn't do what this guy is doing in a million years, but he is clearly professional steeplejack and so it's no doubt the norm for him. Plus he will have more safety equipment to swing a cat at, Health & Safety would insist on that. I bet the breaking strain of just one of them ropes would hold an elephant.
Comment by:
Jonno
on 10th June 2014 at 18:19
Dibnah was an accident waiting to happen, he lead a charmed existence. Let's not make him out to be something he wasn't, the television series tried and more or less succeeded to do that, he didn't know what he was himself. Fair enough his programmes were relatively entertaining mainly because of the buffoon like character, he at times, portrayed. I have a cousin an ex mining engineer who knew him and helped him rectify some of his engineering blunders and he didn't rate him.
Comment by:
JP
on 10th June 2014 at 20:17
Jonno, Really, that's interesting to know. I've got a feeling though many will disagree.
Comment by:
Jonno
on 10th June 2014 at 22:45
Many will disagree JP i have no doubt, largely those people who didn't have an insight into the man, he was likeable and entertaining, but i am mainly talking about the risk taking he took and the fact that he wasn't the engineer that the series made him appear to be.
Comment by:
JP
on 11th June 2014 at 00:49
Thanks Jonno, I'm really surprised. I really didn't know that.
Comment by:
Richard Thompson
on 16th September 2014 at 11:56
Thanks people for the comments, now working in Pakistan 650ft high chy.