Photos of Wigan
Photos of Wigan
Photo-a-Day Archive
Photo-a-Day Archive
Photo-a-Day (Thursday, 24th April, 2014)
Three Cheers for Wigan!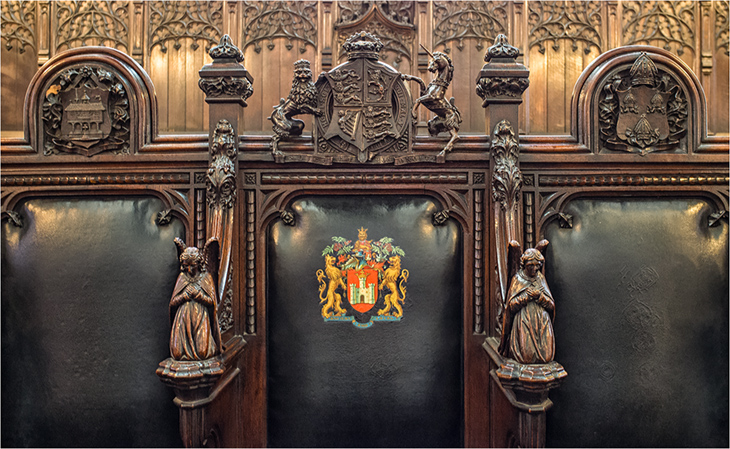 From Wigan Parish Church Website... "In its present form the gallery dates from the rebuilding of 1845. Of special note are the three chairs, originally intended for the use of the Mayor, the ex-Mayor and the senior Alderman, decorated with the Royal Arms and with the Arms of the Borough of Wigan and the Diocese of Chester, the carving of which was carried out by Mr Rattee of Cambridge. This is where the Corporation sits when the Mayor pays a state visit to church.. From time immemorial it has been the custom for the Mayor and Corporation to sit together on such occasions"

Photo: Dave (Oy) (Fuji X100)
Views: 5,478
Comment by:
Owdkewyed
on 24th April 2014 at 00:46
Great photograph and very informative too.
Comment by:
Helen
on 24th April 2014 at 08:00
We had and still do have some great craftsmen.
Wonderful photo, such detail.
Comment by:
kath
on 24th April 2014 at 08:56
Interesting stuff. It's a shame the church is kept locked which prevents the majority of well behaved Wiganers from having access to their history.
Comment by:
Jenny
on 24th April 2014 at 09:23
Interesting! Love your stuff Oy. :)
Comment by:
Andrew Fishburn
on 24th April 2014 at 22:20
Kath, it isn't a museum and it's not kept locked! It's open every Wednesday, twice on Sunday, every Saturday during the summer months, and at many many times during the rest of the year! No-one is preventing well or misbehaved Wiganers (or anyone else for that matter) from having acces to their history. I'd be delighted to give you a personal tour - just ask!
Comment by:
Lizzie down under
on 25th April 2014 at 06:53
Stunning bit of history Dave....great shot...cheers!!