Photos of Wigan
Photos of Wigan
Photo-a-Day Archive
Photo-a-Day Archive
Photo-a-Day (Tuesday, 21st May, 2013)
Open top bus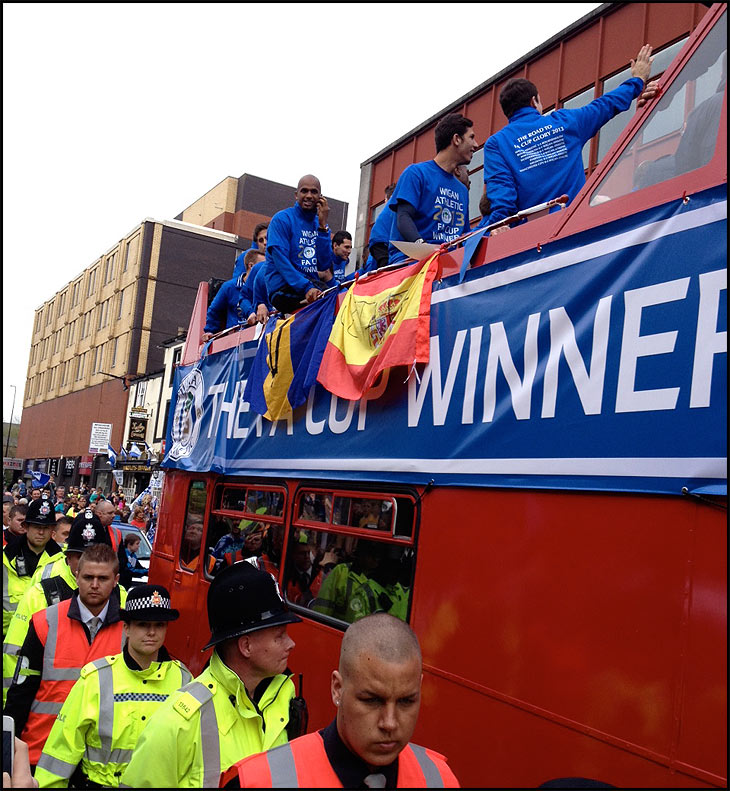 Around 30,000 Wiganers turned up in the town centre to mark Wigan Athletic's historic FA Cup victory.

Photo: Stephen Nash (Apple iPhone)
Views: 3,722
Comment by:
Ellen
on 21st May 2013 at 00:19
Comment by:
Lizzie down under
on 21st May 2013 at 03:17
Straight in my album....thanks so much Stephen....well done lads!!!!...cheers!!!
Comment by:
Janet ( Fl )
on 21st May 2013 at 09:36
Bittersweet, won the FA Cup :-) and relegated :-( all in the space of a week... I hope they had a good turnout and wish my Dad would have been alive to see the team he supported for most of his 84yrs win the Cup....Well done Latics and Good Luck for next year.. Thanks Stephen.....
Comment by:
Kath Pressey
on 21st May 2013 at 09:40
cracking day for all the fans! they'll be back i'm sure.
Comment by:
Fred Mason
on 21st May 2013 at 13:16
Great photo of a great team.

Nice to see the colour blue as opposed to cherry and white though.

Well done, Latics..!!
Comment by:
irene roberts
on 21st May 2013 at 14:57
Comment by:
tricia
on 21st May 2013 at 15:55
Yes, well done , guys, and I hope you will be back up again next season.
Wish my Dad could have seen this as well, Janet.
Comment by:
Brian Lowe
on 22nd May 2013 at 13:52
Have they saved loads of lives somewhere? Helped Britain out of its financial mess? And so on...
No, all they've done is lined their already full pockets with more cash collected from so-called 'fans' (replace fans with gullible!)
Brainwashing springs to mind...
Comment by:
T.A. B.
on 27th May 2013 at 14:06
Well said Brian,
I do believe a certain person used the same mass psychological persuasive methods in the 1930s/40s. In case anyone is wondering.
Yes, I do support a team: It is called The north west air ambulance service
Comment by:
tricia
on 29th May 2013 at 10:52
What on earth is wrong with you guys???? You should be ashamed ..not to be proud of your home team...unless of course your roots are elsewhere. How can you compare the Air Ambulance team to a sporting team...I fail to understand your problem.
Of course the Air Ambulance Team are wonderful and what would we do without them? But you sound like a pair of 17th century followers of Oliver Cromwell.
Comment by:
T.A.B.
on 30th May 2013 at 08:48
Born bred and living in Wigan I am extremely proud of my home TOWN. My lifestyle is most certainly not Cromwellian. I have taken many worldwide cruise holidays meeting other nationalities some of whom know of Wigan. Pier, king cole, king cotton etc. A very small minority, mainly Brits. have mentioned WA
I do not have a problem and am most certainly NOT ashamed or embarrassed by my dislike of football.
How many WA team members have their roots in Wigan?
Comment by:
tricia
on 30th May 2013 at 13:13
As a matter of fact I am not that interested in Football either, but I am proud of what our team achieved. I come from a family of rugby players and am married to an ex player. My family goes back way beyond 1700 in Wigan and I was born there.
I fail to see what Hitler (a terrible insult to anyone who lost family in WW2...) and you gallivanting all over the place has to do with you slagging off our team and people who support them
By the way, the price of one of City Players could probably buy the whole Latics team, therefore they did extremely well.
Comment by:
T.A.B.
on 30th May 2013 at 16:06
Please point out where I have slagged off WA or their followers. I merely agreed with the words Brian Lowe used (May22nd) i.e. gullible, brainwashing. Thus the nearest and most obvious example coming to mind was the 1930s/40s use of collective manipulation.
I do know what WW2 was about, I lost an uncle and a nineteen year old cousin (both at Arnhem) during that awful period.
As for me gallivanting about I simply wished to convey what people from other far flung parts of the world knew about Wigan and I was delighted to enlighten them further. However no one mentioned WA. Several Aussies and N Zealanders did know about the cherry and whites.
I am proud of my home town and of my soldier relatives but a football team, no!
Comment by:
tricia
on 30th May 2013 at 19:11
I also lost a cousin at Arnhem aged 22. His wife was expecting their first baby and my cousin, Larry, grew up without a father and so I am surprised even more by your choice of comparison.
You also agreed with the OP 'brainwashed and gullible ' apart from the other remark.
I have been to Arnhem several times.
At least you could give credit where credit is due.
And just for the record, I married a soldier who saw active service in a war zone.That is all I have to say on the matter so....
Patricia has left the building!
Comment by:
T.A.B.
on 31st May 2013 at 11:26
Tricia,
Even though you have left the debate I need to clarify several points for other readers.
1) You attack other people's lifestyle (you cite Oliver Cromwell) without knowing who or what they are because they do not agree with your appreciations could this be construed as mild defamation.
2) I did not compare the Air Ambulace Service with a sporting team. Your wrong assumption. Possibly the use of the word team confused you. My choice of support, nothing more.
3) You brought WW2 into the debate. I did no more than equate methods used to sway large numbers of population to follow a cult. Again your wrong interpretation.
4) I will once again reiterate, I have never "slagged off" WA or their fans - once again your mistaken assumption.
5) Lastly, of course you fail to understand my problem, because I do not have one.
I close my side of the correspondence.
The building is now really empty
T.A.B.
Comment by:
Eileen Bullen(Shaw)
on 10th June 2013 at 07:12
Turned into a political debate again, Congratulations again Wigan Athletic