Photos of Wigan
Photos of Wigan
Photo-a-Day Archive
Photo-a-Day Archive
Photo-a-Day (Tuesday, 16th April, 2013)
Martha Hogg Plaque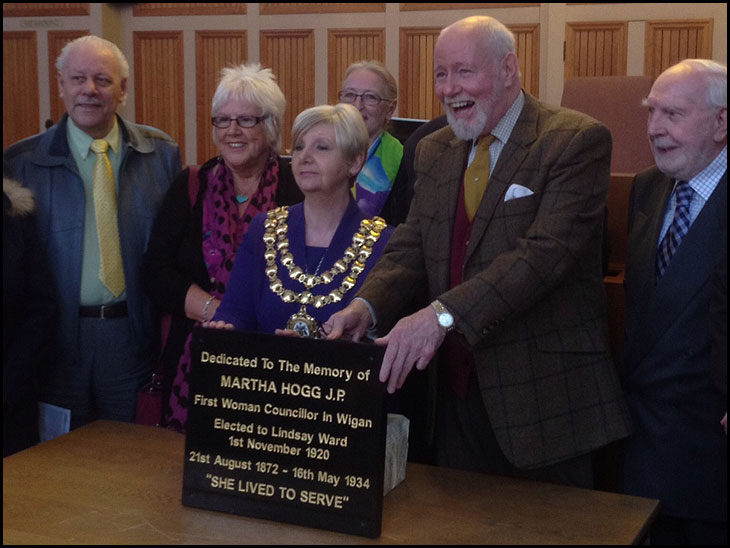 A plaque honouring Wigan's first female councillor unveiled on the 5th April, pictured with the plaque is Tom Walsh. For more info, see: www.wiganworld.co.uk/news/index.php?cid=2880

Photo: Gabriella Lee (Apple iPhone 4S)
Views: 4,587
Comment by:
Lizzie down under
on 16th April 2013 at 00:37
What a great picture Gabriella....in recognition of her hard work and strength....well done, cheers
Comment by:
Derek Platt
on 16th April 2013 at 02:55
I may be cynical but all polititions, no matter what level they are involved, are only interested in what they can do for themselves. Just look at Wigan council, they don't care one iota about the public.
Comment by:
kath Pressey
on 16th April 2013 at 07:16
why are they doing this now? where are they going to put it?
Comment by:
David
on 16th April 2013 at 10:06
I like the photograph, well composed.
Comment by:
Thomas(Tom)Walsh
on 16th April 2013 at 11:00
This photograph was taken by my granddaughter . Kath, the reason for it being presented at this time is because it was thought fitting that it should be recived by a female Mayor, and her tenure of office ends shortly. The Plaque will eventually be placed in The Atrium after renovation .
Martha Hogg was a remarkable women who gave her life to the service of the poorer communities of Wigan .It was the poverty and appaling housing conditions that she saw as a midwife that moved her to politics.
She herself was born in poor circumstances leaving school at thirteen to work in the factory.
Martha Hogg had largely been forgotten,and I must confess I had never heard of her until
stumbling across her grave whilst doing research on another subject . After researching her life I was so impressed by her life that I started on the quest to have her achevments suitably marked ,Fridays event was the combination . There has been no cost to the public purse ,the tablet was donated by a local business .
Comment by:
pat
on 16th April 2013 at 14:10
I too, like the photograph.
Comment by:
kath pressey
on 16th April 2013 at 18:30
that's a great story Tom.Martha was , as you say, a remarkable woman who did something positive instead of just grumbling about things. thanks for telling me the story. where is the Atrium?
Comment by:
john
on 16th April 2013 at 19:19
another waste of tax payers money ,no doubt followd by a few drinks
Comment by:
MarieM
on 16th April 2013 at 19:35
Well done Tom. What a woman to have done that in that day and age when they were all chained to the sink.
Comment by:
Thomas(Tom)Walsh.
on 16th April 2013 at 20:31
Kath,The Atrium is the central courtyard now covered with a glass roof it's quite impressive.
John, as I said earlier there was no taxpayers money involved,in anyway , not in the marble and lettering, not in the commissioning ,not in the transport. Aterwards we had a cup of tea. I had hoped that everyone would have been pleased that someone who had put poor people ahead of herself,from a very humble background was at last being remembered.
Comment by:
Ernest Pyke
on 16th April 2013 at 21:05
Tom, where you walking past Wigan Town Hall towards the baths at 11am this morning?
You must be very proud to accomplish this after your research and your granddaughter too for a fine photo.
Comment by:
sanibel fred
on 19th April 2013 at 15:49
ernest , it should be ,were
Comment by:
Barry Cusick (Treasurer) F O H C P
on 3rd July 2013 at 14:51
Yes this is well deserved,and a Great Picture(Tom)as usual you do us Proud it,s a Pleasure to Enjoy your Company.