Photos of Wigan
Photos of Wigan
Photo-a-Day Archive
Photo-a-Day Archive
Photo-a-Day (Saturday, 6th April, 2013)
Face Painting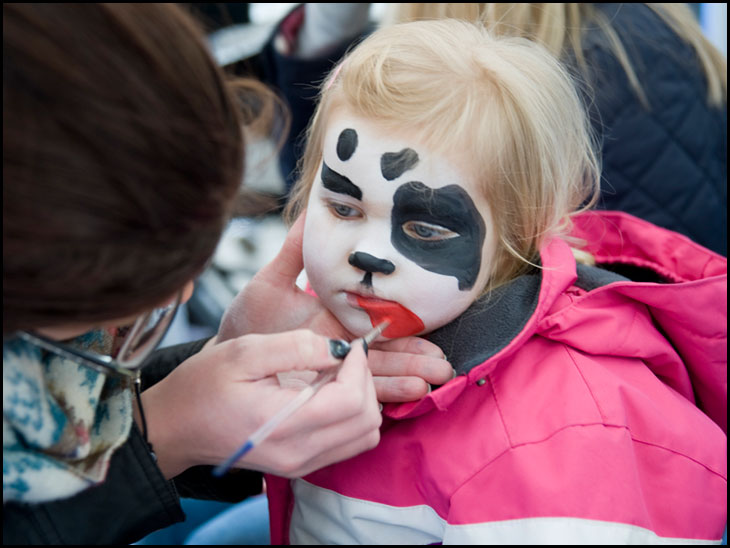 Easter Sunday at the Stables event organised by WLCT and FOHCP.

Photo: John Morris (Nikon D700 with 24-85mm Nikon lens.)
Views: 3,462
Comment by:
Neil Rigby
on 6th April 2013 at 00:28
More info at http://www.friendsofhaighcountrypark.org.uk/
Comment by:
Lizzie down under
on 6th April 2013 at 03:03
This picture is priceless.....such an innocent little face.....I bet somebody's very cherished child and grandchild.....well done John....cheers!!!
Comment by:
Kath pressey
on 6th April 2013 at 07:20
i've spent many hours face painting at the school fetes where i worked. the best one was a girl who was always first and always asked for a reainbow. until one xmas she turned up and insisted she wanted to be a motor bike! happy days
Comment by:
Mick
on 6th April 2013 at 09:34
Trouble is when you start painting kids faces to make them look better next step is for them to go out get themselves Tattooed.

My kids never had there faces painted and so far they havent had any tattoos.
Comment by:
Ernest Pyke
on 6th April 2013 at 12:17
How easy is it to remove the paint?
John, when are you going to post a steam engine photo? How do you find when steam engines are coming thro`Wigan NW?
Comment by:
Fert
on 6th April 2013 at 14:18
Painted faces all run out and get tatoos do they, it is a little lady enjoying her day out, that is all.
Mind you...some kids get a sniff of red pop and a bit of food and then they go on to guzzle red wine, eat, glug, eat, glug eat when an adult, against healthy diet orders and end up being carted off the hozzy do they not. Some grown ups should keep their twisted yap shut. Apologies to others on the PAD, but someone cannot put down a picture of a child enjoying itself without inviting comment themselves. Just telling it like it is.
Comment by:
Garry
on 6th April 2013 at 15:39
What a Fert you are, I hope you don't have kids.
Comment by:
Fert
on 6th April 2013 at 17:26
Gary, it is'nt me saying anything infering about an innocent past time day out by a child. My post was directed at the person above with his people in glass houses and the cap fits him.
Not me trying to belittle an innocent pic of a child, what I wrote was for him alone. Yes, I do have kids as it happens Gary, and the grown up concerned should look to his own lifestyle and habits.
Wind blows up his backside and his tongue waggles sort.
Yeah, glad I am a Fert and perhaps you did not read correctly what I wrote - it was for yonmon Mick. Get his own house in order before he snides at a little child enjoying herself.
Comment by:
kath pressey
on 6th April 2013 at 17:50
Ernest if you get good paints e.g Snazaroo they are water based and come off with a good wash.children love it. it's just harmless fun
Comment by:
Garry
on 6th April 2013 at 18:19
Sorry Fert, I did jump the gun...my apologies to you. Micks always been an idiot.
Comment by:
John Morris
on 6th April 2013 at 18:29
I've stirred up a bit of a hornets nest with this one haven't I? I remember getting "transfers" that you wet and then put them on your arm and they came out a bit like a tattoo. Does anyone else remember them? I would no more have a real tattoo than have my arm chopped off, so I'm sorry Mick but one does not follow the other.
Comment by:
Mick
on 6th April 2013 at 19:09
John Morris we had parents with common sense who would have warned us off having a tattoo especially the female members of a family.

But not now, now it tattoos earrings and dyed hair before they reach secondary school.
Comment by:
Jane
on 6th April 2013 at 19:13
Hi John, I remember the transfers and I don't recall anyone been influenced into getting a tattoo once they became an adult. Your picture is a beautiful little girl having a treat, nothing wrong with that.
Comment by:
John Morris
on 6th April 2013 at 19:31
Ernest, I did submit a steam train picture a couple of months ago but for whatever reason it was not used. Nothing else has been through and the next one is on 22nd April, no times as yet. For information Google "Steam rail tours 2013". Hope this helps.
Comment by:
Fert
on 6th April 2013 at 19:35
Okay Gary, I thought you must have got wrong end of the stick. I certainly do remember the transfers slapped at the top of the arm! and it is a lovely pic of a kid enjoying being a kid and having fun.
Comment by:
Susan Podmore
on 8th April 2013 at 18:08
Horrible photo.I hate seeing kids with face-paint. I think it demeans them.