Photos of Wigan
Photos of Wigan
Photo-a-Day Archive
Photo-a-Day Archive
Photo-a-Day (Sunday, 4th November, 2012)
The Crazy Gang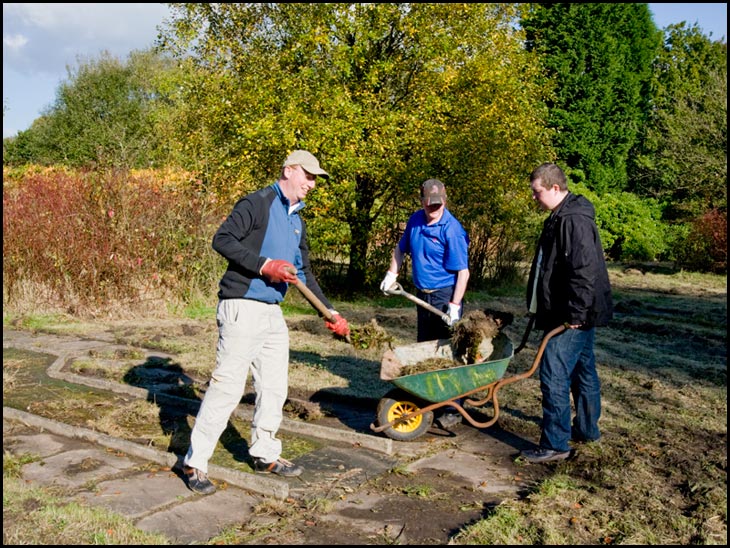 Volunteers from "The Friends of Haigh Country Park" helping to bring the Crazy Golf back to life.

Photo: John Morris (Nikon D700)
Views: 4,253
Comment by:
Maggie K
on 4th November 2012 at 00:41
It will be good to have the crazy golf back at Haigh Hall.budh1
Comment by:
Lizzie down under
on 4th November 2012 at 02:57
Nothing so satisfying than bringing crazy golf back to life!!! I love crazy golf and me and my hubby have a great rivalry when ever we play it. Mind you I have more holes in one than he has..... I say it's all in the wrist action dear!!! Lovely photo, nice autumn colours John, cheers!!
Comment by:
peterp
on 4th November 2012 at 08:05
The volunteers do all the donkey work the council reap the benefit.
Comment by:
dug
on 4th November 2012 at 10:08
well done lads. another fine example of a once superb place to go with the kids, gone to rack and ruin by this c*&p council that keeps getting reelected, Haigh hall is a long way from what it was.Wigan only needs to change one thing to get back what it once had. THE COUNCIL.
Comment by:
Gary
on 4th November 2012 at 11:57
I'm still at a loss as to how our local councillor can also be deputy leader of Wigan council. (David Molyneux) Surely that's a clash of interests?
Comment by:
Janice
on 4th November 2012 at 16:38
Nice record shot John. Will enjoy a game when it re-opens! The golf I play is crazy anyway so one more venue will not go amiss.
Comment by:
Caroline heaven
on 4th November 2012 at 20:54
What a great job these friends of haigh are doing and they always seem such a happy bunch - keep up the good work X
Comment by:
Ken R
on 4th November 2012 at 23:26
Good idea, crazy golf can be very stimulating. No, seriously.
Comment by:
barry Cusick . Friends of Haigh Country Park
on 4th December 2012 at 11:39
We had a (crazy) day @ haigh, and so far we have 8 holes up and running,but the weather is against us @ the moment But we will have the full 18 holes ready for play be next Easter . thanx for all your comments . Barry Cusick Commitee Member.(F O H C P) Bringing Back The Fun For Generations To Come!