Photos of Wigan
Photos of Wigan
Photo-a-Day Archive
Photo-a-Day Archive
Photo-a-Day (Friday, 18th May, 2012)
The Sexcational Pam Shaw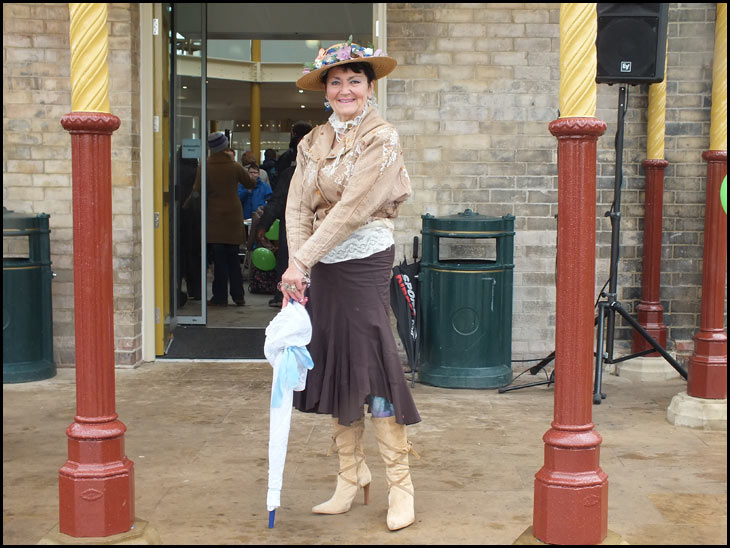 Local actress Pam Shaw in Victorian dress at the opening of Mesnes Park bandstand, April.

Photo: Steven McIntyre (Fuji Finepix HS20EXR)
Views: 5,718
Comment by:
Ernest Pyke
on 18th May 2012 at 02:37
Well framed by the ornate cast iron columns, which support the Pavilion porch, Steven. I`ll let the ladies comment on Pam`s splendid attire ! Pity the weather was poor, that day, otherwise I`d have seen this for real !
Comment by:
Mick
on 18th May 2012 at 06:59
Pam helped to put Wigan on the map over the years.

I wonder if anybody still have a copy of her record The Queen of Wigan Pier.
Comment by:
wcml
on 18th May 2012 at 11:54
nice pic steven,just read the reporter and couldnt beleive my eyes,what mindless moron nicks a van and dumps it in mesnes park,what an absolute shxxhouse why do they do this, is it not bad enough they steal the van damage it but dump it in the park,this is probley someones hard earned work veichle which they need for work its very sad but thats the way scum work these days.
Comment by:
Mary O Neill
on 18th May 2012 at 12:43
Very nice but Victorian dress? I don't thinks so !!!
Comment by:
Loz
on 18th May 2012 at 13:13
That isn't the actual band stand though, is it?
Comment by:
Roy
on 18th May 2012 at 15:15
No Loz, that,s the cafe. I,m certainly no expert on fashion but i,ve got to agree with Mary and say definately not Victorian.
Comment by:
Jean F (Wales)
on 19th May 2012 at 20:32
Very overdressed ,and nothing seems to match......sorry.
Can`t put an era to this one....!
Comment by:
pam shaw
on 5th July 2012 at 17:33
lovely pic steve!!! pity bout ladies? comment!! wen they didnt even bother 2 turn up to support the event