Photos of Wigan
Photos of Wigan
Photo-a-Day Archive
Photo-a-Day Archive
Photo-a-Day (Friday, 30th March, 2012)
Fire!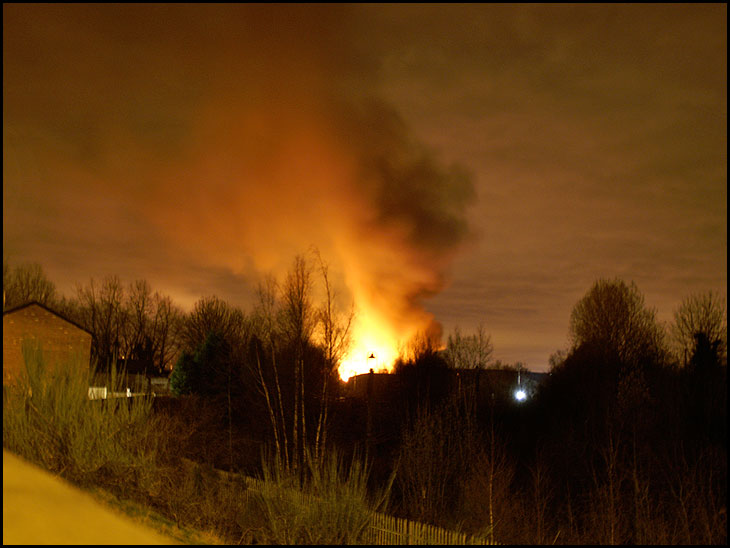 There was a big fire in a yard off the bottom end of Cemetery Road, Lower Ince, on Tuesday night (20th March). At first, looking out across Ince Cemetery, I thought it was the upper part of Cemetery Road, and was concerned for the people who live in the houses there - they might have needed evacuating, and our Hall might be required. However, as soon as I reached the top of the road I could see the fire was beyond there. The pic was taken from the bridge over the Springs Branch line on Warrington Road - the house on the left being on Warrington Road. The fire was over the far side of the West Coast Main Line. On Wednesday morning, the Fire Brigade laid down a thick hose-pipe, which was unreeled from a special tender from Bolton, to supply water to dowse the fire. It is still in use now, 24 hours later.

Photo: Rev David Long (Konica Minolta Dynax 7D)
Views: 4,029
Comment by:
David Fairclough
on 30th March 2012 at 01:59
Interesting shot David, hope everyone was OK
Comment by:
peterp
on 30th March 2012 at 06:39
This would have been Isherwoods (skips).The first of many we think?
Comment by:
Mick
on 30th March 2012 at 07:52
Just before you reach Platt Bridge the canal bank as all been burned.
Comment by:
jed
on 30th March 2012 at 09:37
Excellent photo Rev Long I agree with peterp could have been Isherwoods skips. The hose pipe to the fire started in Cemetery Rd near the Old Hall pub. Long way to go for water I thought.?
Comment by:
Mac
on 30th March 2012 at 11:15
The Fire service ran the hose up Cemetery Rd, down Warrington Rd, then into westwood Lane to the first Hydrant.
Comment by:
David
on 30th March 2012 at 12:48