Photos of Wigan
Photos of Wigan
Photo-a-Day Archive
Photo-a-Day Archive
Photo-a-Day (Tuesday, 24th May, 2011)
Duke of Gloucester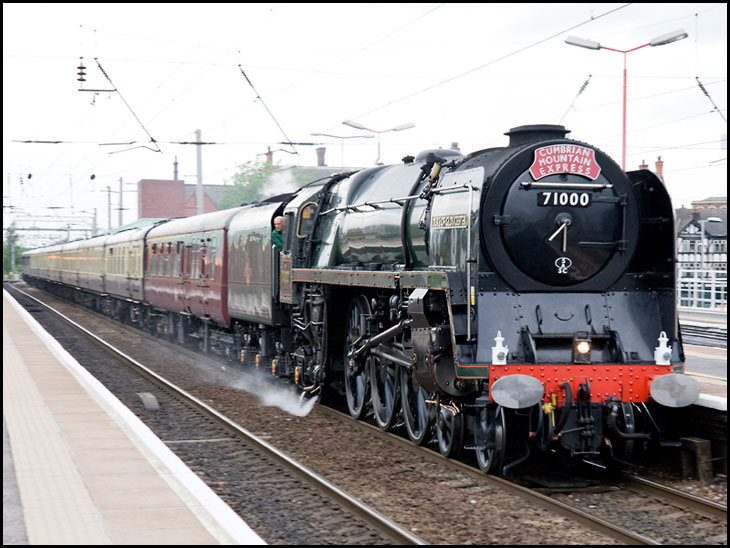 Southbound through Wigan North Western, on Saturday (the 21st).

Photo: John Morris (Nikon D700 with a Nokon 24-85 mm lens)
Views: 4,269
Comment by:
maggie
on 24th May 2011 at 10:11
Thank you so much for this photo. my dad was a Goods Guard & had privilege tickets, so we went everywhere by train. This calls up lovely memories.
Comment by:
Dave Marsh
on 24th May 2011 at 15:19
Nice to see an old carriage as well John.
Comment by:
owdkewyed
on 24th May 2011 at 19:41
Feel the tremble of the platform as it passes, see all that metal in rythmic movement below the boiler, the heat on your face as it rumbles past.
Oh that gorgeous smell of burnt coal/steam/hot oil, the total power and majesty of a man made beast doing what it was created for.
I really feel sorry for all the people who never witnessed and physically felt a steam engine in full flight.
Without doubt the closest thing to a living being that man has ever constructed.
Comment by:
Ellen
on 24th May 2011 at 21:37
Poetic,owdkewyed! But I can still,in memory smell that very distinctive aroma! Went between Wigan and Leeds (or,to be proper,Leeds and Wigan)at least once a month,for about five years in the late 50's early 60's.
Comment by:
honk2
on 24th May 2011 at 22:44
What a good shot John that's what I call "Locomotion". And well versed owdkewyed, couldn't have put it better.
Comment by:
owdkewyed
on 24th May 2011 at 23:01
Know what you mean Ellen,when I was going to school and the bus stopped at the 'Bird ith hand' the smell of fresh baked bread from the bakery there, fresh mown grass, the chippy on your way home at night,two stroke petrol leaking from my uncles 'Francis Barnet' motorbike,the fairground on the market square every year,and the boneworks up Church Street in Owfen......................Blaghhhh
Comment by:
britboy
on 26th May 2011 at 21:12
Living steam! Always a pleasure to see DOG on the move, hopefully in September I will be visiting the UK and with a bit of luck making a visit to see some live steam!! :)
Comment by:
Shirl
on 27th May 2011 at 00:01
I see only beauty when I see such a photograph
Comment by:
John B
on 5th June 2011 at 15:40
Fantastic shot John . . . Love it !
Comment by:
Little Aitch
on 13th July 2011 at 13:58
This staem train leaves an indelible impression upon me. Far more than Concorde or the Space programme. It also resonates with my childhood. The photographer has produced a work of art. Well done.
Comment by:
Judith Appleby
on 27th August 2011 at 15:49
Here in Bury, we are very lucky to hear the sound of the whistle and the chug of the engine as steam engines make their way regularly on their journeys from Bury to Heywood or Rawtenstall. I was born in Wigan and remembers trying to reach the steps on Wallgate station after arriving from Manchester before the noise of the steam being let off. Don't forget the East Lancs Railway in Bury when you want a sniff of nostalgia.