Photos of Wigan
Photos of Wigan
Photo-a-Day Archive
Photo-a-Day Archive
Photo-a-Day (Saturday, 8th January, 2011)
River Douglas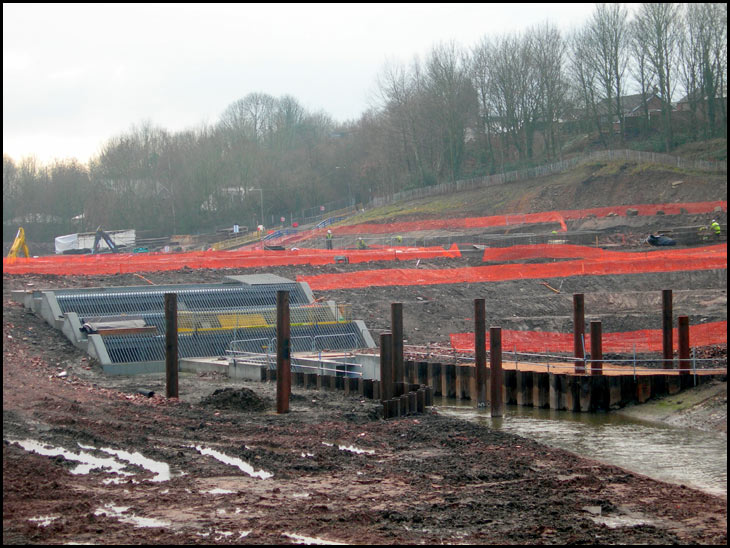 Progress on the flood alleviation scheme on the River Douglas, taken in the rain.

Photo: Harry Cunliffe (Nikon Coolpix 7900)
Views: 4,597
Comment by:
michael davies/melbourne
on 8th January 2011 at 06:11
have the fish come back to the river DOUGLAS YET Its was void of live when I left in the 60s
Comment by:
dave johnson
on 8th January 2011 at 11:04
micheal, loads of fish in the Duggie now. Regular sightings of Kingfisher and Goosander and you would not see these if no fish were present. The river is much cleaner now since they stopped the Dye being dumped and would be even cleaner if the English sport of Supermarket Trolley Tossing could be eradicated!
Comment by:
Cyril
on 8th January 2011 at 11:26
Plenty of mud down there. I've been told that you can no longer get over to Whelley or into the plantations from down Coppull Lane has it is now all fenced off, is that so?
Comment by:
Harry C.
on 8th January 2011 at 11:57
Cyril, the riverside path is closed from the bottom of Great Acre up to the steps down from Chesnut Road.You can get halfway down Coppull Lane and then turn left down to the opposite bank, cross the river and get to Welley up Vine street. H.
Comment by:
Bren
on 8th January 2011 at 12:27
Thats correct Cyril... Should all be finished by Aril i am told and all the usual pathways will be open again
Comment by:
taylor
on 8th January 2011 at 13:44
found in haigh hall today 8/1/
1gb fuji memory card
Comment by:
Helen
on 8th January 2011 at 21:40
Would the River Douglas need a flood protection scheme costing millions of pounds, if we stopped planting concrete & tarmac every where ?
Comment by:
John Walsh's Mate
on 8th January 2011 at 23:50
Helen, the River Douglas flows along a fault line and the ground is moving all the time. The river flows at a very low level when it reaches Pemberton and that area has been liable to flooding for centuries.
It only needs the land around Rufford to rise a few inches and the Robin Park estate would be under water.
Concrete and tarmac isn't to blame.

In my opinion, a reservoir should have been constructed where the football stadium now stands. It would have served a more useful purpose.
Comment by:
michael /melbourne
on 14th January 2011 at 02:15
thank of the onfo on the fish Dave
Comment by:
chris
on 29th January 2011 at 09:20
I tend to agree with you john about the football stadium apart from the great rugby team that plays there.
I can remember when I was a kid plying round there and it was nothing but swamp land in summer never mind winter.