Photos of Wigan
Photos of Wigan
Photo-a-Day Archive
Photo-a-Day Archive
Photo-a-Day (Friday, 20th August, 2010)
Grand Arcade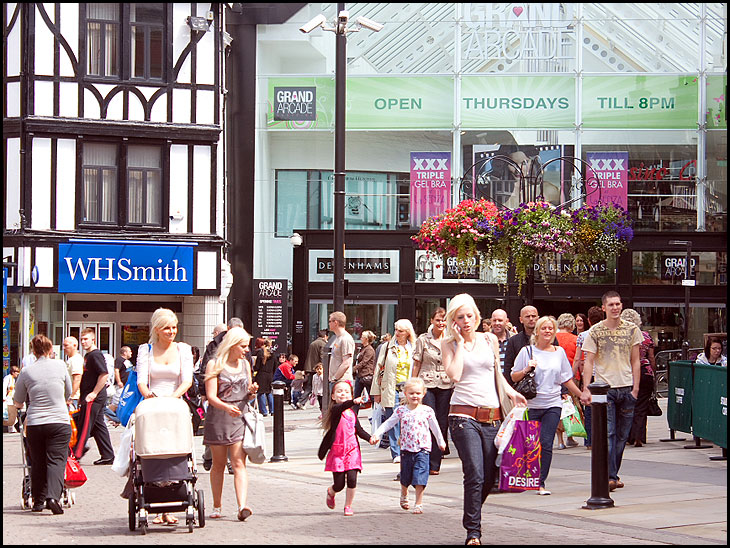 Busy Wigan on a Saturday afternoon.

Photo: John Harrison ( Canon 450D, Lens Std 18 to 55mm, 60th on F8.)
Views: 5,231
Comment by:
Ellen
on 20th August 2010 at 04:23
Haven't been in Wigan in many years; will someone please tell me where this is? The timbered building reminds me of the Woolworth's building of the fifties.
Comment by:
Pat Bradshaw
on 20th August 2010 at 08:02
Wigan on a saturday afternoon.....what memories.
Comment by:
catherine
on 20th August 2010 at 08:22
ellen the building was woolies and the grand arcade is where the ship hotel..the ritz etc were..good photo
Comment by:
John
on 20th August 2010 at 10:08
It's simple... Station Road.
You've not missed much. Bring back Woolies, and all the other fine shops were missing ie, Wigan Market... Thank you John H.
Comment by:
Maureen Andrews nee McGovern
on 20th August 2010 at 10:49
I agree John,Wigan has lost all it's character,nobody can tell me that's progress.
Comment by:
dot
on 20th August 2010 at 14:28
Ellen WH Smith was the Woolworths store. There was a street next to it towards the old station and the dance hall. In effect the new precinct has been built in the old st.
Comment by:
Helen
on 20th August 2010 at 14:41
So that whole glass building is where the road to the Ritz was ?

Wigan Woolies , rough wood floors, wooden island counters, even the sections of the counters were stained wood. Broken biscuits by the lb, nail varnish, hair clips, ribbons, pens, pencils rulers, exercise books, sweets, a really great shop. I loved it.
Comment by:
janet
on 20th August 2010 at 14:46
The younger generations don't know anything any different, only us older ones know how much better it used to be....
Comment by:
David
on 20th August 2010 at 15:41
Woolies. Tea-bar; side entrance from Station Road.
Comment by:
Jabba
on 20th August 2010 at 20:09
I fail to see how old, tatty-looking buildings look "better" than the new one's. Im sure the "younger generation's" will look back in years to come and be saying the same as you are now.
Comment by:
janet
on 20th August 2010 at 21:04
Because the old, tatty-looking buildings weren't 'tatty' back then, old, yes, but Wigan had a council with pride, that cared and looked after things. Same went for the people, people took care of things back then and there weren't the yob's, asbo's and drunken lazy louts the way there is now, littering and vandalizing everything in sight....

The younger generation won't have anything to look back on, as all the new stuff is rubbish built and won't last more than 30 yrs..unlike the well built OLD buildings that have stood for well over a hundred yrs and would still be standing if they would be looked after....
Comment by:
Jabba
on 20th August 2010 at 22:45
Janet i can assure you that i'm not a "yob" or a "lazy lout" that you refer to, nor are any of my friends. Not all teenagers are like what you have described, some actually care for the community and surroundings that they live in. Those who criticize our generation need to remember who raised it! I think old buildings are what make Wigan's history interesting but what is the problem in having a few "newer" buildings, to give Wigan's architecture some variety? The chapels that stand shamelessly in the cemeteries in Lower Ince are a prime example of how much disregard Wigan Council has for it's town, that we all love and want to keep well maintained and updated. I dont wish to argue with you, or anyone else, but i will stick up for my generation. I dont see what is wrong in having "newer" buildings alongside older buildings if they are looked after.
Comment by:
janet
on 21st August 2010 at 00:10
Jabba, I never did say you were a yob or a lazy lout, I don't even know you, so how could I say that of you, nor was I wanting to argue with you or anybody else.. I said there weren't the yobs etc, back when Wigan was a great place to be..for me, that was in the 40s through to the late 70s, then it started going downhill..

You make a fair point that not all teenagers are bad, you must admit though that we read and hear so much about all the goings on in and around Wigan, the vandalism, King St especially is known for all the drunkeness, vomiting all over the place, using the street for a bathroom, girls as well as boys. etc etc, I am 66 yrs old and can honestly say I never saw that kind of behaviour anywhere, anytime..

Today I read of a bunch of lads who threw an elderly gentleman into the canal, just for the fun of it, you never had this happen years ago..

I am happy to see that you and your friends care for your community, I hope you continue to feel that way, Heaven knows Wigan needs people like that. As for the newer buildings, time has proven that they can't pass the test of time, they just aren't built good enough ...sad, but there it is..

So keep up the good work Jabba, maybe your good influence will rub off onto others...
Comment by:
Ellen
on 21st August 2010 at 01:22
Can't believe the Ritz is gone! I remember it as a really "neat" building. I even went to a concert there once, the Liverpool Philharmonic, I believe. As to the argument I seem to have unwittingly caused, I can only say that whilst the newer buildings can be interesting, give me conservation of the beautiful and historic any time! And by the way,didn't there used to be a date on a plaque on the Woolworth building?
Comment by:
John
on 21st August 2010 at 10:00
Well said Janet, you're spot on with your views. Jabba, it's not just Wigan town its other areas as well, the thing about Wigan is they have to cramp as many shops into one building without any though about space and room. I'm sorry but just listen to us mature people on this post...it's nothing about being personal it's facts.
Comment by:
Jabba
on 21st August 2010 at 11:39
Id also like to say that my 73 year old grandmother was mugged in Wigan town centre a few years ago, by a 44 year old man, who got away with it like the rest of them do. So dont think that its only young people that cause trouble around Wigan, because its far from it.
Comment by:
John
on 21st August 2010 at 13:17
Jabba... it's the law of averages, young people cause more damage and disruption than antone eles...fact.
I hope your mother is ok now, but your more likely to be mugged from a younger person that the older generation...fact.
Comment by:
janet
on 21st August 2010 at 13:41
Jabba I'm so sorry to hear of what happened to your Grandmother, what an awful thing to for anyone to have to go through...His age, 44, falls right into the timeframe I said when Wigan started going downhill,in the late 70s. He would have been early teens then, first generation of louts and yobs and his children probably followed in his footsteps, as that is what they grew up with and so it goes on..Very sad....
Comment by:
Alby Down Under
on 21st August 2010 at 14:01
Good stuff. All those coments are great. Ex wiganer of 4o years and been back,ten times.I know what your talking about.
Comment by:
Jabba
on 21st August 2010 at 14:47
John, i think you suffer from tunnel vision and pure ignorance. Im not sure where you get your "facts" from either, but i can tell you that Wigan is full of people who dont care about where they live or for the people in it whether YOUNG OR OLD. That is a fact.
Comment by:
John
on 21st August 2010 at 17:41
Jabba go and peel some spuds, you can't put nowt where there is nowt...fact.
Comment by:
Jabba
on 21st August 2010 at 18:14
John, get your facts right, you dont know nothing. I thought you "mature" elders were supposed to set an example to youngsters, clearly you dont. Its hopeless trying to talk to simple-minded fools like you.
Comment by:
Ellen
on 22nd August 2010 at 00:12
Well said Janet;You have the same out-look as I have.Might I say that todays values seem to be the same in the city I lived in,here in Canada.Where I live now is not quite so bad, but we do have problems with the drug scene,even in our small town.
Comment by:
Helen
on 22nd August 2010 at 08:33
Come on now, we are all entitled to our opinion, after all we live in a country of free speech ( debatable point )
Not all young people are louts & not all 'old' people are ignorant. But it is a FACT that some of the youth of this country of ours have no respect for people or property. In the town where I live we have an old town clock with seating beneath...this year for the first time ever the seating area gates have been locked due to the FACT young louts ( including the female sex) have been drinking, vomiting & shouting foul language at people passing by....& this is in the daytime. This is not a deprived town or part of the country, there are plenty of things organised for young people to do. So how can this sort of behaviour be explained ? It beats me.
Comment by:
Jabba
on 22nd August 2010 at 13:34
Hi Helen. I totally agree with you. And i definitely agree with the fact that a lot of youngsters have no respect for Wigan today. But what im trying to say is that everyone shouldnt tar all youngsters with the same brush, because all youngsters are different, and i think this can be said for every generation. I have often seen older drunken people around Wigan shouting abuse at people walking past minding their own business. My garage was even broken into whilst we was on holiday and my dad had his car stolen and the police found it burnt out over the fields a few days later. They found the culprit and he wasnt a youngster. All im trying to say is... stop putting all the blame on younger generations when it isnt just them who cause trouble. Simple. What is so difficult for you to accept this?
Comment by:
David
on 22nd August 2010 at 15:26
Last hear i listened to radio 'phone in. This is what the headmistress of a school in Hackney east london said: " Children of today have cottoned on to the fact, that whatever they do there are no consequences; and now it's a free for all." I think she had a point!
Comment by:
Jabba
on 22nd August 2010 at 18:04
SOME children of today, David. Not all kids are brought up being vandals, thugs etc.
Comment by:
Ellen
on 23rd August 2010 at 05:02
To Helen, David and Jabba,I agree that many,indeed most teenagers and "older" young people (if that makes sense)are good,hardworking and caring people;I don't believe anyone knowingly raises their children to be anything else. However,the fact remains that fair or not we tend to blame the evils of today on young people. (Maybe we "old folks" are a little self satisfied,having reached a so-called seniority, thinking ourselves beyond criticism ??).... Whatever!!!
Comment by:
John
on 23rd August 2010 at 07:28
Jabba I'll try again, no-ones saying all kidds are the same... well, their not on their own, but put them in a group and things change, Fact. What the people here on WW are saying most kids today get up to no-good, Fact. They dont do as their told, and many think they know it all, fact. Thats why car insurance is so expensive for young people, most do have accidents in the early years, Fact.
Records speake for themselves... and that's a Fact.
Comment by:
Gary
on 23rd August 2010 at 07:53
Its not a matter of putting blame on younger people, its the council and pubs who I blame. For a start, Drinking laws need changing to 21, to pass a driving test 21, pubs and clubs shorter opening hours. They have far too much money to spend on drink, this then turns to abusive langage, thugs, vandals and fighting, now what could be worse...You see it every friday and saturday nights up and down the country... and most are young people male and females.
Comment by:
David
on 23rd August 2010 at 09:18
The spirit of Thomas Gradgrind lives on!
Comment by:
trixie
on 23rd August 2010 at 09:39
For goodness sake it's a lovely photo.It's turned into a slanging match forum!!!!
Comment by:
Mick
on 23rd August 2010 at 09:46
Still reaping in the Thatcher years,destruction of most northern communities.less jobs,police and privatisation making some people very sellfish.
Comment by:
dot
on 23rd August 2010 at 15:10
David my sister worked in woolies tea bar. Her photo is under WIGAN WOOLWORTHS with her work collegues. See if you remember them.
Comment by:
Derek Callaghan
on 24th August 2010 at 16:58
I am an exiled Wiganer living 5 miles outside Birmingham, imagine some of the sights I see. As god is my witness, since moving here in 1971 the times I have been into Birmingham you can count on one hand. I used to love "old" Wigan it is a real pain to drive around now. My dad used to deliver mail in the old town centre in 70's and 80's and still rants on about all the old pubs which are gone. Please look after yourselves up there
Comment by:
Ken R
on 25th August 2010 at 00:47
What a response for such an ordinary photo, many of the comments are legit,many are personal,many are reflective of who we are,all of them good for this site.
Comment by:
Alby
on 27th August 2010 at 07:46
The debate debate ended at long last