Photos of Wigan
Photos of Wigan
Photo-a-Day Archive
Photo-a-Day Archive
Photo-a-Day (Wednesday, 28th July, 2010)
Model Railway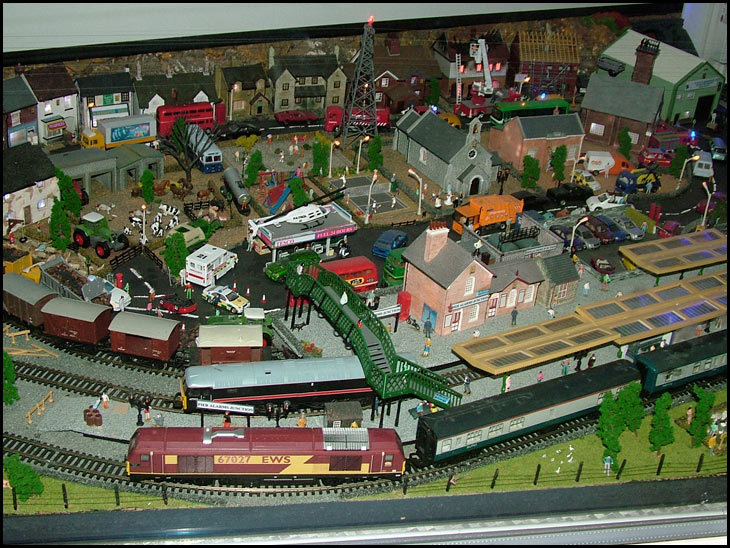 Detailed and busy model railway set up in the premises of Pier Alarms on Wigan Lane. Passers-by can press a button outside to bring the display to life!

Photo: Brian (Fuji Finepix S7000)
Views: 4,169
Comment by:
Colin Harlow
on 28th July 2010 at 10:52
I used to have a model railway in the late 50s early 60s, not as much detail as this one, but the same 00 scale models. At that time they were Triang-Hornby trains I still have some today, and they had to be Steam. Today a set-up like this one can run into thousands of pounds.
Lovely photo, well done Brian.
Comment by:
Pat Bradshaw
on 28th July 2010 at 17:14
Well done to the person who built this.
Comment by:
Ken R
on 30th July 2010 at 00:17
Many years ago Stan Somers would have had a smaller version of this set up in the Oliver Somers store in Market St,or in the upstairs showrooms for Christmas.
Comment by:
Ferg
on 31st July 2010 at 15:26
I had a setup as a kid; an intercity and a small steam train..took up half my parent's bedroom hehe.

Went into a model railway shop in Manchester last week, the prices are staggering! £10 a tree, £8 for a portaloo! Wouldn't want be in the hobby these days!