Photos of Wigan
Photos of Wigan
Photo-a-Day Archive
Photo-a-Day Archive
Photo-a-Day (Friday, 16th April, 2010)
20 Bridges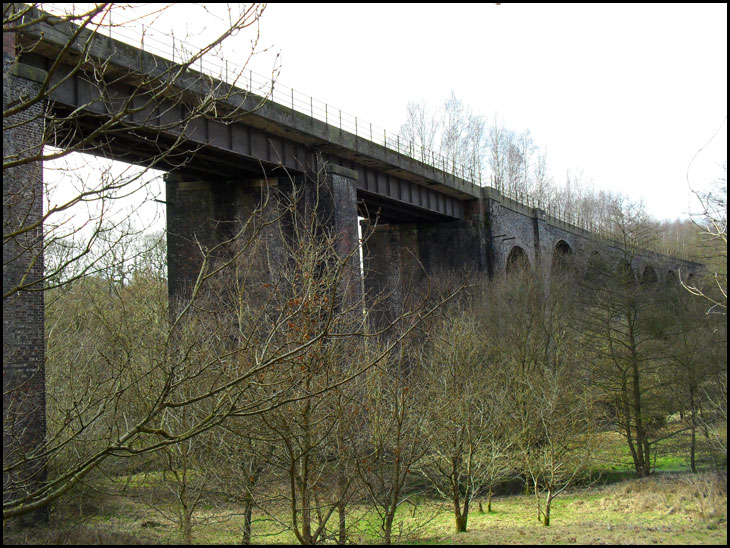 The Railway Viaduct spanning the River Douglas and Pendlebury Lane, also known as Twenty Bridges.

Photo: David Barker (Samsung ES15)
Views: 5,595
Comment by:
COLIN HARLOW
on 16th April 2010 at 08:34
The Douglas Valley Viaduct is an absolute beautiful structure thats mavelled by it's Iron spans and brick arches, and is much appreciated in the design and architect as the famous Settle to Carlisle Viaduct. It was used until the early 70s and carried the line from Standish to Bamfurlong known as the Whelley loop. Built in the late 1800s by railway navvies and without any sort of mechanical help, this impressive viaduct should be saved while it's still intact. The Council, Railways and help from the Lottery heritage funds should set up a restoration project. Its our Viaduct and its here in Wigan, lets save it.
Comment by:
Cyril
on 16th April 2010 at 11:13
It is a wonderful structure isn't it Colin. There is also a photo in the Album showing a similar scene only with cows in the meadow. It is also on the At Risk list on the Save Wigan website, as it would be a shame if we were to lose another fine archetectural structure.

http://www.savewigan.co.uk
Comment by:
Bob
on 16th April 2010 at 15:25
Dead right Colin, I only found out about this bridge a few years ago when a friend showed me some photos of it with a steam train going over it, Couldn't believe it was in wigan. Its a dam shame and i think bottom of wigan council list of things to save
Comment by:
Dennis Miller
on 16th April 2010 at 16:38
A nice photograph David...

When the Ribbleshead Viaduct was under threat they did a study to work out how much it would cost to re-furbish it. They expected it to cost millions, I cannot recall the exact figure they were expecting. However, once the survey had been done it was found it would only cost a third of the expected cost. Remember, this was to restore the Ribbleshead to carry trains.

I don't think we will ever see trains cross 20 Bridges again, but it would be perfect at part of the existing cycleway and footpath. I wonder how much it would cost to restore to a state where it handle light traffic? It has been done in other parts of the country.

It is a damned shame it is slowly falling into ruin that is for sure.
Comment by:
David Barker
on 16th April 2010 at 17:20
Your right Colin and Cyril its a marvellous structure ,thanks for the information and comments.
Comment by:
Brian Winter
on 16th April 2010 at 17:52
You used to be able to walk over this bridge as part of a walk from near Rectory Lane Standish into the Plantations.It was the old trackbed of the former Whelley Loop Line.The path was blocked at both ends of the bridge some years ago.This was a shame as it was a lovely way to get to Haigh Hall.
Comment by:
COLIN HARLOW
on 16th April 2010 at 20:38
Sorry David, forgot to mention the excellent photo, well done mate.

If the council would clear the "out of control trees", you would have an even better shot!
Comment by:
Eric J
on 18th April 2010 at 16:29
Leave them trees alone,Labour council already too destructive,
Comment by:
Mick
on 19th April 2010 at 19:43
Colin did say out of CONTROL TREES and how right he is, in summer you cant see bridge.
Comment by:
Billy Harrison
on 30th July 2010 at 12:07
don't tell the council where it is they'll knock it down
Comment by:
tony
on 19th October 2010 at 18:48
i walked over the bridge when i was a young lad was fined 10 pounds week before christmas