Photos of Wigan
Photos of Wigan
Photo-a-Day Archive
Photo-a-Day Archive
Photo-a-Day (Saturday, 1st August, 2009)
Getting there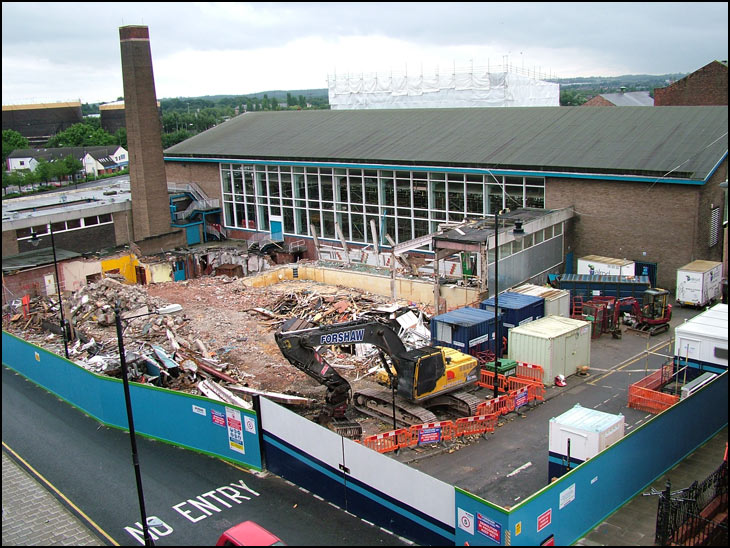 Progress being made demolishing the baths. Taken on 26th July from the Grand Arcade car park.

Photo: Brian (Fuji Finepix S7000)
Views: 4,625
Comment by:
Tricia
on 1st August 2009 at 08:36
Another thing the Powers that be should be thoroughly ashamed of.
Comment by:
colin butcher
on 1st August 2009 at 18:57
Wudnt say it wus the best looking building in wigan.... But yet another of our iconic landmarks bulldozed to the ground.......It held a lot of great memories as a kid..!
Comment by:
Fred Mason
on 2nd August 2009 at 15:24
Some interesting comments over the last few days (and years). Don't worry folks, moves are afoot to save Wigan. Watch this space. WW is thriving.
Comment by:
Dave Meehan
on 3rd October 2009 at 13:14
Split my head open twice in the baths in the 80's. The Baths is a bit of a magical place when you are a kid. Shame its gone, Aren't they replacing with an integrated smaller pool or will it be "International" length this time around?
Comment by:
alan wink
on 4th December 2017 at 15:54
Hi Dave do you come from Kingsley ave by chance?